HYDE PARK — A busy intersection near the Museum of Science and Industry will fully reopen in about two weeks as road work continues ahead of the Obama Presidential Center's opening, transportation officials announced Wednesday.
All lanes of traffic at the intersection of 57th and DuSable Lake Shore drives will reopen on or near the week of Feb. 6, according to the Chicago Department of Transportation.
The outer southbound lane of DuSable Lake Shore Drive between Science Drive to Hayes Drive; the pedestrian underpasses near 59th Street Harbor and at 63rd Street; and Hayes Drive will all continue to be closed, officials said.
Cornell Drive and Stony Island Avenue will remain narrowed; the crosswalk at DuSable Lake Shore and Hayes drives will remain in place; and visitors can still access Jackson Park facilities via Richards Drive, officials said.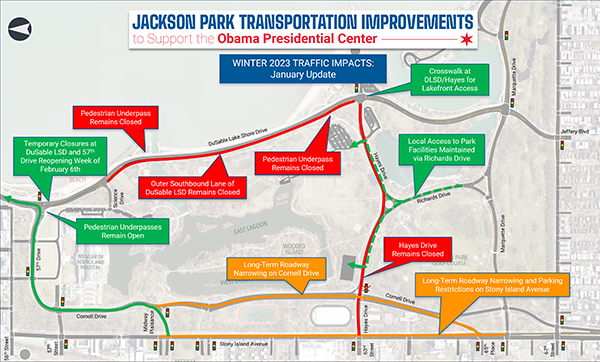 The traffic changes are the latest updates in a redesign of roads in and around Jackson Park for the Obama Center. In addition to widening DuSable Lake Shore Drive and Stony Island Avenue, planned permanent road changes include:
Closing some roads and converting them to park land:

Cornell Drive between the Midway Plaisance and Hayes Drive.
The northbound section of Cornell Drive between 65th and 68th streets.
Marquette Drive between Stony Island Avenue and Richards Drive.
The eastbound portion of Midway Plaisance between Stony Island Avenue and Cornell Drive.

Changes to other roadways, bike paths and walkways in and around Jackson Park.
The project's second phase will focus on road work south of 64th Street and take place until 2025.
The third phase will focus on building pedestrian underpasses south of 64th Street — including ones at Jeffery Boulevard and South Shore Drive — starting in 2025.
The city's transportation department is set to spend $174 million in state funds on the road projects.
For more information on Obama Center-related road work, visit the city's website for Jackson Park.
Listen to "It's All Good: A Block Club Chicago Podcast":