PORTAGE PARK — A beloved Mexican restaurant that paused large events over the summer hopes to bring them back with neighbors' support.
Tatas Tacos owners opened Tatas Kitchen and Social, the business's third location, at 5700 W. Irving Park Road in March. The restaurant hosted music and comedy nights, trivia nights, fundraisers and other community events before being forced to stop in August because it did not have the correct license, co-owner Marci Romero Berner said.
A Public Place Of Amusement license is required for entertainment venues that can charge admission fees and have capacity of more than 100 people.
Tatas' owners were never told they needed that license for their events, for which they did not charge fees, they said. The owners were not fined, but someone complained to Ald. Nick Sposato (38th), who asked them to stop, Romero Berner said.
The business has only hosted small fundraisers since the summer, which has made it tough to keep the large restaurant open since business has been slow, owners said.
"We've been bleeding" financially, Romero Berner said.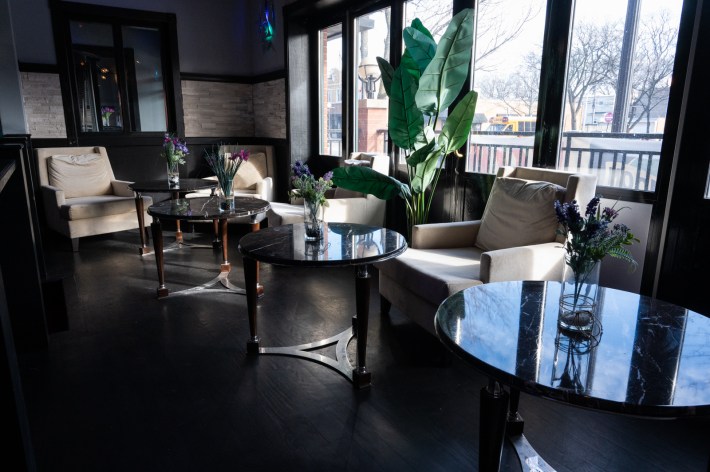 The owners are working with Sposato and a zoning attorney to get the proper license to resume community events.
The restaurant can fit 130 people, but its larger events will likely only hit 90 people because the restaurant only has three servers. Reservations are required for live events, Romero Berner said.
"We need to be able to do these events in order to be able to maintain the business," she said.
At a community meeting last week hosted by Sposato at the Portage Park Senior Center, the owners told neighbors what kind of entertainment they plan to host and answered questions. Although a meeting is not required prior to applying for the license, Sposato and the owners wanted to get neighbor feedback before proceeding, they said.
"I think this will be a benefit to the community," Sposato said.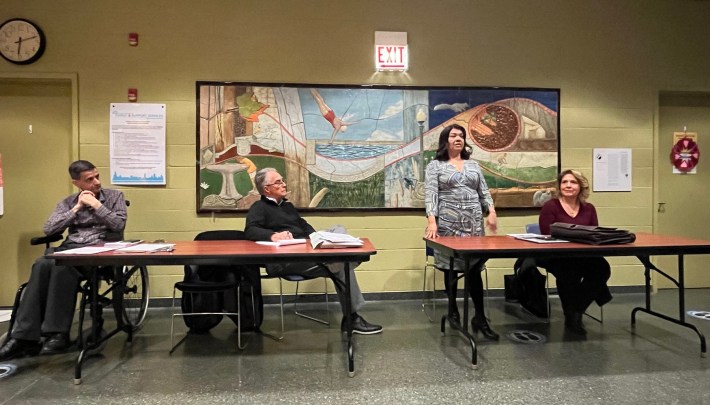 Neighbors said they supported the business and its effort to host social events. Donna Alvarado, who has lived nearby for 31 years and dines at Tatas often, said it hurts everyone if the community doesn't support local businesses.
"We don't want vacant spaces, so thank you for taking up two of them in Portage Park to make a difference," Alvarado told the business owners. "A lot of us do support you."
Tatas also has locations in Six Corners and Lakeview, which receive 10 percent of sales from the larger restaurant when it's able to bring in enough business.
Jan Robertson, who lives near Foundation Tavern & Grille, 5007 W. Irving Park Road, also vouched for Tatas.
"We've never experienced any problem with that business or their parking, their garbage or anything, and many people from the neighborhood do go there," Robertson said. "We need to support our neighbors."
While many of Tatas' customers don't drive to the restaurant, co-owner Julia Paphitis and Romero Berner are working out a deal with the owners of the nearby Dollar Tree and E & J Auto Service to let customers park in their lots for nighttime events.
"We can also supplement that with valet parking that would utilize those lands, so it would actually an advantage to our customers and a way to control it for the community," Paphitis said.
While happy about Tatas' addition to the neighborhood, some neighbors said they were concerned about safety, parking and noise control.
Some also wanted to make sure the events would not become loud or dangerous. The restaurant used to be home to El Viejon and, prior to that, Veranda Tavern — which hosted music shows and problematic private events.
"Sometimes the Veranda owners would have private events indoors and it would be very noisy. … We would have all of our windows closed and still hear the music, and we'd be trying to get our young kids to sleep," said Ryan Collins, who lives a few blocks away.
Tatas owners told residents they will not book rock bands for events and the music will only be inside on the first floor of the building. The owners also said they're "more than willing" to hire security for when events exceed 100 people, but those will likely be only once a month for the restaurant's Saturday music series, which will highlight local folk and indie musicians.
The restaurant is open 11-9 p.m. Tuesday-Friday and 11 a.m.-12 a.m. weekends.
A plan of operations will be written up based on meeting feedback with guidelines for the live events, Sposato said. Should the owners break any of the promises outlined, he will revoke the amusement license, he said.
Romero Berner plans to apply for the license as soon as she's able to get a hearing with the city, she said.
Watch our "On The Block" TV show on The U, CW26 and MeTV.
Listen to "It's All Good: A Block Club Chicago Podcast":