PORTAGE PARK — In what is being described as a misunderstanding, the fight-marred first day for a new bar and grill in Portage Park will be its last for about 30 days.
El Viejon, which bills itself as a Mexican bar and grill with live music, opened Friday at 5700 W. Irving Park Rd., the site of the former Veranda Greek American Tavern.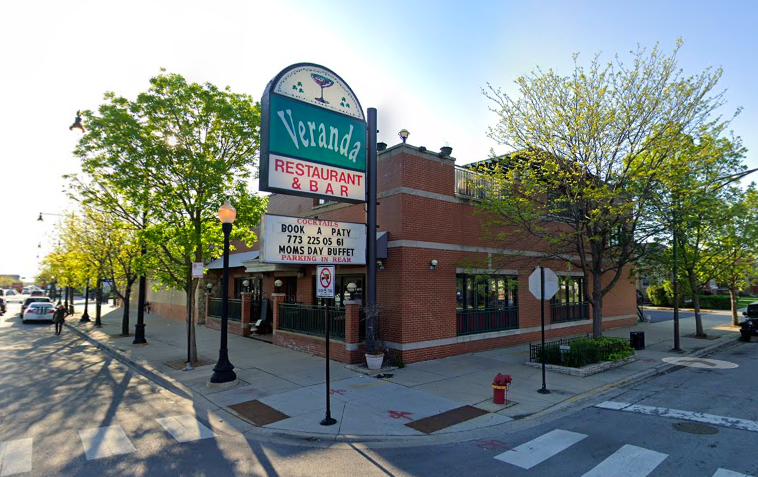 But it opened without a business or liquor license in place, officials said. And its first night was marred by calls to police after two groups inside got into a shouting match that escalated into pushing, threats and then a fight outside, police said.
"The groups were escorted outside, at which time the altercation turned physical, with several people being punched," said Kellie Bartoli, a Chicago Police spokesperson. "A security guard eventually sprayed a chemical substance to break up the fight. All individuals involved refused to sign complaints as well as EMS."
Katherine Blonski, chief of staff for Ald. Nicholas Sposato (38th), said El Viejon has no business or liquor license. 
Veranda's liquor license is still active, Blonksi noted, but "from what I know, you cannot use someone else's license."
Ald. Sposato told Block Club he and Jefferson Park (16th) Police District Commander Maureen C. Biggane met with El Viejon's owner Juan Alvarado on Tuesday to clear things up.
"What happened is that some restaurant seemed like it opened in the dark of the night, but that really wasn't the case," Sposato said.
"They signed a lease agreement with the previous owner who fixed it all up and they made a mistake of putting a sign up saying they have live music and said it was a private party for friends and family to check the place out, even though I somewhat dispute that because it was advertised to the public.
"Anyway, they had the fight there, everyone knew that — business affairs, the police, the neighbors, myself. I called the building owner in and he came in with the new lessor and the bottom line is he's a new restaurant owner and it's going to be a very nice Mexican restaurant."
Sposato said some of the problem may have been the fact that Alvarado did not communicate with his office before the incident Friday night.
"I told him that he didn't have to reach out to me but don't you think it would have been a good thing?" Sposato said. "I would have promoted it, blast it on my Facebook. He apologized, not that he had to, and people open businesses all the time and don't reach out to me, that's nothing new. But it would have been in his best interest."
Had Alvarado communicated with Sposato, he may learned that it wasn't legal to use the previous owner's license.
"He was operating under Veranda's license which is illegal, but he said he brought his expeditors in and they transferred it. The city said they didn't transfer it, so somehow, someway, it was a big clusterf—, but the bottom line that I got out of it is that it will either be transferred or they will get their own license and it should take 30 to 35 days," Sposato said.
Sposato also addressed several comments on social media from concerned residents, saying he explained to Alvarado why the neighborhood was mad, referring to several recent incidents near Portage Park. 
"We explained to him why the neighborhood is pissed. And he was pissed about what certain people said about his business online, they don't know him or his business. I told him, 'Juan, what do you expect them to say?' All of a sudden the place opens up, there's a new sign there on a Friday, you have a big party and there ends up being a fight." 
Sposato said in addition to waiting to get his licenses before opening, Alvarado cannot have live music.
"I explained to him that you can't have live music in there. The city told him, I told him to take that part of the sign down and get his permits."
Reached Tuesday, Alvarado said Friday's event was a private event for supporters of his other restaurant, La Antigua Hacienda Seafood Restaurant at 2249 S. Pulaski Rd. in Little Village. Additionally, Alvarado has a third restaurant in Tulsa, Oklahoma. 
"Things didn't turn out to be what we thought it would be [on Friday], but we had a meeting today and we just have to do things the right way," Alvarado said.
Alvarado also addressed some of the misinformation floating around on social media, with some incorrectly stating that El Viejon means something nefarious.
"Some said it refers to some type of Cholo gangster or mafia king, but it means 'old man,'" Alvarado said. "At my restaurant in Little Village, most of the customers are in their 20s and they see me in my 40s with my gray hair and they call me viejon."
The 46-year-old Alvarado said he's a first generation American who, through hard work, scratched his way up to become the owner of three restaurants.
"When my parents immigrated from Mexico years ago, they struggled. When we made it here, I had a lot of jobs. I was a landscaper. I was a dishwasher. I did pretty much everything," Alvarado said. "In 1998, I came to a company in West Chicago where I started sweeping floors, and 15 years later I became one of the owners. In 2014, I walked away from that company and went into the restaurant business. I also was in construction and had a tour bus company, so I've done a lot of stuff.
"I got into the restaurant business because I like the kitchen. It was something I wanted to do, so when I got the chance to open my first restaurant, I took it. Then, I had a friend in Oklahoma who told me about another opportunity," Alvarado said, saying the owner of an existing restaurant there was looking to retire.
"He didn't ask for a lot of money, like Veranda. He just asked for rent money with an option to buy the building, and that's what we did in Oklahoma. It turned out for the best," Alvarado said, adding that the restaurant, Fabulosos Mariscos A La Antigua, recently won an award for best Mexican restaurant in town. 
The Tulsa World, in fact, said Fabulosos Mariscos A La Antigua, "is, well, fabulous."
"We know what we are doing," Alvarado said.
As for the eventual opening in Portage Park, Sposato agreed with Alvarado, saying that he looks forward to having the business in his ward.
"I'm very confident that he's a reputable restaurant owner. I felt very good about the meeting and am very happy to have a business like this in the ward. He made a mistake and we are moving on. I welcome him."
Do stories like this matter to you? Subscribe to Block Club Chicago. Every dime we make funds reporting from Chicago's neighborhoods.
Already subscribe? Click here to support Block Club with a tax-deductible donation.