CHICAGO — Hundreds of Howard Brown Health workers went on strike Tuesday, pushing for a fair union contract and protesting the move to lay off dozens of employees at the Midwest's largest LGBTQ-affirming health care organization.
Dozens marched in front of the Howard Brown Health Uptown clinic Tuesday morning, one of five demonstrations happening outside four clinics and the Oak Park Brown Elephant resale shop.
"What's disgusting? Union busting," the workers chanted while carrying picket signs under a light rain. People in cars honked in support as they drove past.
The protest is the start of a three-day strike among 440 non-nursing workers from the organization's recently formed union, Howard Brown Health Workers United.
The new union is represented by the Illinois Nurses Association, which has represented Howard Brown's nurses since 2019. The nurses are part of a separate union group and not part of Tuesday's strike, although many stopped by outside of their work hours to show support.
The group members allege Howard Brown Health violated 19 provisions of federal labor law, including ousting workers who participated in union activity and failing to bargain in good faith.
A Howard Brown Health spokesperson said the organization is "confident" that no labor laws were violated. The agency hasn't been contacted by any of the assigned agents of the National Labor Regulations Board regarding the charges filed by the union, officials said.
The group is also pushing for Howard Brown Health to rehire 64 employees who were laid off Tuesday.
Those losing their jobs range from behavioral health providers and people who manage PrEP navigation, HIV testing and STI screenings to most of the In Power team, which helps survivors of sexual harm, according to union leaders.
The organization's clinics will remain open throughout the strike, but some appointments may be rescheduled or delayed, according to a notice on Howard Brown Heath's website.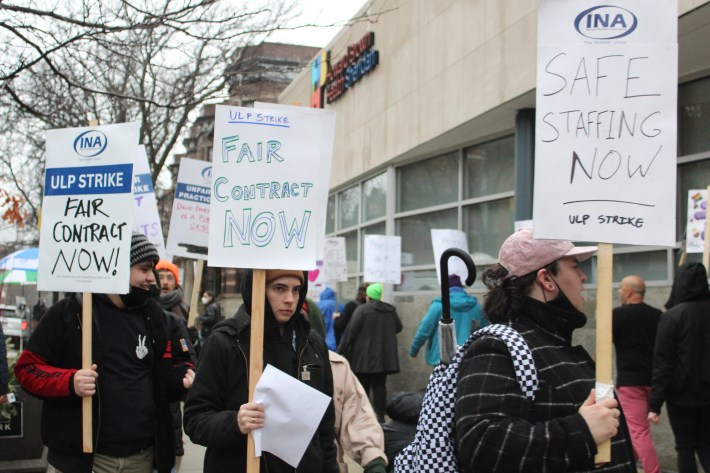 Howard Brown Health leaders have said the layoffs are necessary to close a $12 million revenue shortfall created by recent losses in federal funding.
The revenue shortfall stems from changes in the pharmaceutical industry that allow companies to keep a greater share of federally negotiated savings through the 340B program, Howard Brown Health CEO David Ernesto Munar said.
Additionally, federal COVID-19 relief funding that allowed Howard Brown Health to ramp up its testing and vaccination efforts has run dry, Munar said.
In addition to the layoffs, 15 employees accepted buyout packages, and 38 vacant positions were closed, officials said. Howard Brown Health also is eliminating or reducing spending, implementing 6 percent leadership pay cuts and reorganizing its clinics to boost efficiency, Munar said.
"After looking at every option for cost-saving measures, many which we have already started to implement, we are now taking difficult but necessary actions to reduce expenses with a reduction in workforce," Munar said in a statement. "While painful in the short-term, these cost-saving measures will help ensure Howard Brown's ability to serve our communities for decades to come."
Among those laid off Tuesday was Lindsey Martin, a behavioral health therapist who joined strikers outside her former clinic at 4025 N. Sheridan Road.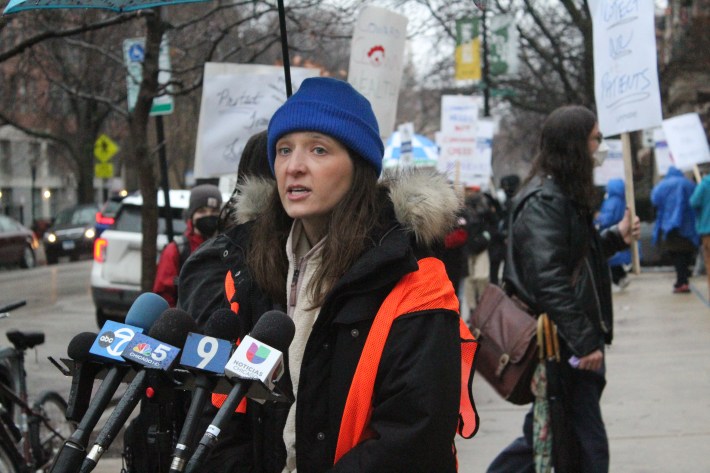 Employees were notified Friday afternoon they had been laid off, and their access to Howard Brown Health's email system and other programs was immediately shut off, Martin said.
"One of my teammates, a therapist, was in the middle of a phone call with a patient and it was suddenly just cut off," Martin said. "Now she has no way to contact this patient and explain what happened. It's extremely traumatic."
Rose Sawyer, the trans and gender-nonconforming hormone navigator at Howard Brown's Broadway Youth Center, said she worried about the layoffs increasing the workload at an organization that's already understaffed.
"It would very much track with the history of Howard Brown that they're just going to try to make everybody who's still here do the work of everybody who's getting laid off," Sawyer said. "That's just going to lead to more burnout and turnover. It's already not sustainable here."
Mera Flores, one of the In Power program's three employees laid off, said she was marching to make sure every worker who lost their job gets it back. She also said she was concerned about Howard Brown Health's patients, especially in the In Power program, which was reduced to one employee.
"To be quite frank, patients are most likely going to die because of this because we make sure to help folks in the aftermath of one of the worst events of their lives," Flores said. "There's only one person now for the entire city of Chicago to help with violence. That's not enough."
Rob Garness, a Howard Brown Health nurse who joined employees on the picket line outside of his work hours, said patients already have trouble accessing the agency's services due to understaffing, especially in the behavioral health programs.
"These layoffs are just going to make it even harder for our community, who historically needs more mental and emotional health services because of the society we live in," Garness said. "So the patients are going to be directly affected by the loss of our already dwindling staff."
Howard Brown Health patient Leah Munsey came out Tuesday to support the workers in their strike. She said she was concerned about how the staffing cuts would affect her ability to seek care.
"It's already difficult to make appointments and our wait times are already super long," Munsey said. "So many people rely on Howard Brown for their hormones, psychiatric care or wellness in general, and it's something that keeps the queer community healthy. But without Howard Brown supporting its workers, it can't support us, which puts our community at far greater risk."
In an interview with Block Club, Munar said the layoffs will not affect patient care because the workforce reduction mostly happened in non-patient-facing roles.
"We started by reducing our administrative team and there are COVID roles that we no longer need and can afford," Munar said. "And then we really had to restructure how we deliver social services and behavioral health, but our core medical teams at our 11 locations were not touched at all."
He said employees will not see increased workloads because the organization is restructuring to increase efficiencies.
"We have a lot of small, very focused teams of three to five people covering the 11-clinic network for a particular identity or disease state, and that was a difficult model," Munar said. "We're reshaping that to embed behavioral health and social services at every clinic and we've also combined several of those small sections."
Howard Brown Health is a federally qualified health center founded in 1974 that serves more than 40,000 people annually with a variety of services, including primary care, dental services, pediatric care, counseling and HIV case management, testing and outreach.
Workers have demanded more proof of Howard Brown Health's finances before accepting any layoffs. They questioned how the organization could be struggling when it's building a 71,000-square-foot building along North Halsted and its tax documents show the organization brought in money in 2021.
Howard Brown Health brought in $29.4 million more than it spent in 2021, according to a 990 tax filing form. Additionally, Munar made more than $309,000, and at least nine other executive leaders made more than $200,000.
Union members called for Howard Brown Health to "cut from the top" with its executive leadership team taking a greater pay cut than the proposed 6 percent.
Howard Brown Health has been planning for the new building, set to open next year at 3501 N. Halsted St., for five years, Munar said.
"We've paid for land, started construction and we have loans, so opening this building at the end of next year will actually help us because it will mean we can deliver more visits, but it's also more revenue," Munar said. "Stopping construction would be a disaster and mean we wouldn't have revenue to pay back the loans, so it would really escalate our current problem."
The strike is expected to continue Wednesday outside two clinics and the Andersonville Brown Elephant shop, and Thursday outside two clinics, the Uptown office building and the Oak Park Brown Elephant shop.
Listen to "It's All Good: A Block Club Chicago Podcast":