CHICAGO — Midway Airport has become an epicenter of the holiday weekend's nationwide travel disaster, with flights canceled, travelers stranded and luggage piling up.
Tens of thousands of flights have been canceled across the country due to the winter storm and other issues, spoiling holiday plans for many — and Midway has been hit particularly hard by the Christmas chaos. As of Tuesday morning, at least 245 flights there had been canceled in the past 24 hours, according to the Department of Aviation.
Many cancellations are coming from budget staple Southwest Airlines, which is flying "roughly one-third of our schedule for the next several days," a spokesperson said. Other reports say the airline is telling many travelers the earliest they can be rebooked is Dec. 31.
The U.S. Department of Transportation now says it will "examine" Southwest's "unacceptable rate of cancellations and delays."
Chicagoan Matt Lindner said he was one of the lucky ones who made it out of Midway on a Monday flight to Fort Myers, Florida.
"It was like being in line at a crowded gas station waiting to buy a Powerball ticket and hoping you'd win," Lindner said. "When they started boarding a plane, everyone getting on board started clapping.
"There was just this sense that if anything can go wrong, it will."
Jessi Manion, of Bridgeport, booked a Christmas Eve flight to see family in Pittsburgh. But the flight was canceled, and she still has not been reunited with her checked luggage, she said.
One bag included Christmas presents for Manion's 7-year-old son, she said.
Manion said she was rebooked for a Monday flight, which was also canceled. She's canceled her trip plans entirely "because we exhausted our options and Christmas is already over," she said.
Manion has been going to Midway every day in hopes of getting her luggage, she said. She was told by workers the bags were in a "staging area" and could not be given back until they first flew to Pittsburgh, she said.
But flights to Pittsburgh continue to be canceled.
"So our bags are in purgatory," Manion said. "The airline keeps taking everyone's bags at the airport before they then cancel flights, which is just making this all worse."
Lindner said when he checked his bags, a Southwest Airlines worker told him, "Just so you know, if your flight is canceled, you might not see these for a couple of days."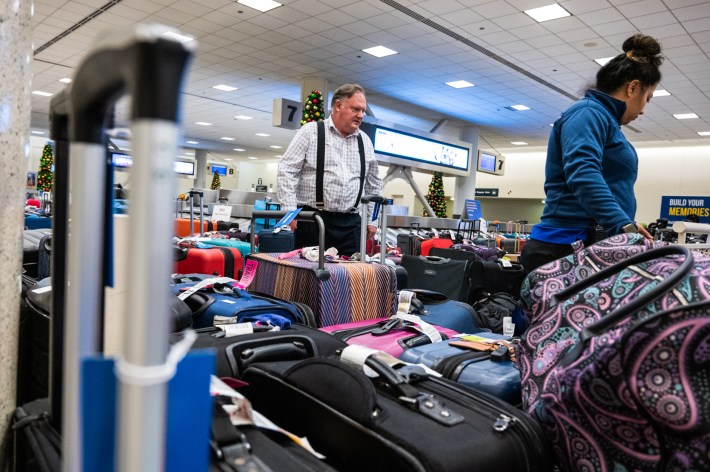 "I can only hope all this brings some sort of change to the aviation industry," Lindner said. "If you're a business not adequately prepared for the highest time of the year, maybe you shouldn't be a business. Southwest did not handle this well."
Manion said she feels for the front-line workers bearing the brunt as complaints pour in and the travelers sleeping in terminals between layovers.
Lines at the airport to talk to representatives can stretch so long you wait for hours and be hundreds of people deep, Manion said.
Many have taken to Twitter to document Midway mania:
Listen to "It's All Good: A Block Club Chicago Podcast":