CHICAGO — The largest union of CTA workers has reelected President Keith Hill for a third term.
Hill had a landslide victory, according to election results shared with Block Club. Representatives for the union, Amalgamated Transit Union 241, did not respond to a request for comment.
Hill will serve a three-year term as president and business agent of the union, which represents 6,100 active transit workers, according to its website. There are nearly 11,000 CTA workers, according to the agency.
Hill did not immediately respond to requests for comment.
Hill, the son of a CTA worker, oversaw contract negotiations in 2018 and again in February. The most recent agreement includes a 9.25 percent pay raise for union members and opportunities to reduce health insurance premiums, according to the CTA.
Some bus operators have criticized Hill for not driving a tougher bargain on protections for workers as violence on transit has spiked since the pandemic.
Hill has been outspoken about the issue at rallies and has pushed for the city to create a separate department for transit police, according to the Sun-Times. Calls for added safety measures have often hit brick walls, Hill told the Sun-Times last year.
The election was not without drama. Union board member Erek Slater was removed from CTA property multiple times and arrested the day before the election while campaigning, organizers said.
Slater was arrested Dec. 5 for entering the break room at North Park Garage to talk to workers, he said. A police spokesperson said Slater was charged with a misdemeanor count of trespassing for "coming onto CTA property with union political agendas that were not welcomed."
Slater said he was free to be at the North Park Garage in his capacity as a union executive board member, even though he was no longer a CTA employee.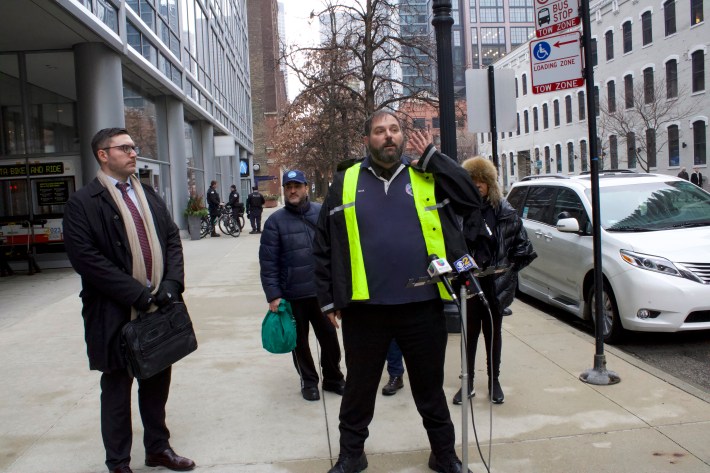 Slater was fired from the garage years ago. The CTA falsely accused him of localizing a national work stoppage during the George Floyd protests, said his lawyer, Nick Kreitman. Slater says he was actually fired for "being a problem for CTA in his attempts to make the union stronger," Kreitman said.
Slater finished second behind Hill with 515 votes to Hill's 1,412 votes, according to documents shared with Block Club.
Slater filed a complaint Friday claiming the CTA interfered in the election, Kreitman said. If substantiated, the complaint would require Hill and Slater to face off again in a runoff election later this month, Kreitman said.
The CTA did not respond to requests for comment about Slater's arrest and termination.
Listen to "It's All Good: A Block Club Chicago Podcast":