HYDE PARK — South Siders have asked city officials to landmark Promontory Point, a move they say could mark "the beginning of a very happy ending" of a decades-long campaign to save the Point's limestone barriers.
The Promontory Point Conservancy, a nonprofit that grew from the Save the Point campaign of the early 2000s, on Monday formally requested the Commission on Chicago Landmarks designate Promontory Point as a city landmark.
The Point, which runs from 54th to 56th streets on the lakefront, features limestone steps that protect the shoreline from erosion and are iconic gathering places for South Siders, advocates said.
Landmark status would ensure "an extra step of oversight" as agencies reinforce Chicago's shoreline to protect against storms, flooding and erosion, organizer Diego Morales said.
Promontory Point, which was listed on the National Register of Historic Places in 2018, is one of two sites still unfinished under the Shoreline Protection Project.
The project is led by the Army Corps of Engineers, the Chicago Department of Transportation and the Park District. The agencies' preferred design for new lakefront barriers is to replace the original limestone and wood with concrete and steel.
Promontory Point features the last stretch of limestone barriers in the city, as it hasn't been renovated since the shoreline project was funded in 1996.
For more than 20 years, members of the Promontory Point Conservancy have demanded officials preserve the Point's limestone as they reinforce the shoreline.
Advocates cited resident-led studies that found doing so would be cheaper and more effective than replacing the limestone with concrete.
The conservancy has gained supporters, including Rep. Robin Kelly, who in May requested $550,000 in federal funds for a study on how to best preserve Promontory Point as the shoreline is reinforced.
Other leaders who have said they're in favor of preserving the limestone include Mayor Lori Lightfoot, outgoing Ald. Leslie Hairston (5th), state Rep. Curtis Tarver, state Sen. Robert Peters and county commissioner Bill Lowry.
A landmark designation will depend heavily on the mayor's continued support, conservancy founder Jack Spicer said.
"She says, 'We're going to landmark Promontory Point,' then [the transportation department] and the Park District will agree," Spicer said. "She's the only one who can really make it happen."
A spokesperson for Lightfoot did not respond to Block Club's request for comment.
Elected officials and other local leaders have voiced approval for the Point's "preservation," but at this point, "nobody really knows what anybody means by that word," Spicer said.
A landmark designation would help resolve that, ensuring "a common language" among stakeholders where "everybody knows what preservation means," Spicer said.
City officials are guided by a set of federal and local standards when ruling on proposed changes to city landmarks.
Among the standards for preservation are ensuring any "distinctive materials … that characterize a property will be preserved," and officials will work to avoid replacing any "intact or repairable historic materials" or changing any "features, spaces and spatial relationships that characterize a property."
Under these guidelines, Promontory Point's barriers could be repaired in the most stable areas, restored in areas that need more reinforcement and rehabbed where the shoreline protection is most compromised, Spicer said.
Repairs, such as reinforcing the limestone already in place with steel piles, could take place on Promontory Point's south side, where waves have caused the least damage, advocates said.
Restoration would require moving some limestone blocks and replacing others that have eroded, and it could take place on the Point's north side, they said.
Rehabilitation incorporates concrete while using as much limestone as possible where waves have caused severe erosion. This could take place on the east end, where concrete could be used to improve accessibility through ramps, ropes and wheelchair access to the water, supporters said.
"We want to save the Point from [a] kind of destruction and defacement of the park, and instead have a cost-effective, community-driven plan that we think would work well to … keep it a beautiful place for people to gather," Morales said.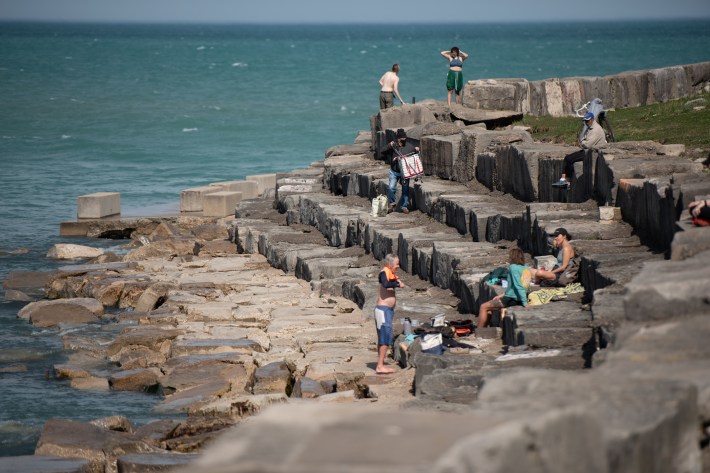 The conservancy asked landmarks commissioners to review a designation for Promontory Point at their next meeting, Dec. 8.
Advocates submitted with their request a 30-page report written by historian Julia Bachrach, who also wrote the Point's successful nomination for the National Register of Historic Places.
The report highlights historical aspects of Promontory Point's limestone revetments, such as the hundreds of handmade carvings on them and their status as "rare surviving examples" of the barriers that were long used along Chicago's lakefront.
"Though the limestone revetments are deteriorating, they … continue to convey a high level of community and aesthetic value, and for decades Chicagoans have been rallying for their protection and future preservation," according to the report.
Department of Planning and Development officials declined to say Monday whether the request will be considered Dec. 8, though a meeting agenda will likely be posted by Friday, spokesperson Peter Strazzabosco said.
If the landmark designation is approved, "it's the beginning of a very happy ending to a 22-year-old saga of the community trying to preserve Promontory Point," Spicer said.
Listen to "It's All Good: A Block Club Chicago Podcast":