AVONDALE — The hospitality group behind The Owl, Central Park Bar and others is looking to open a late-night spot on Avondale's Belmont Avenue.
Four Entertainment Group, or 4EG, is trying to get a late-night liquor license to open a bar at 3810 W. Belmont Ave.
A city notice sent to neighbors states the license would allow the bar to stay open until 5 a.m. Sundays and 4 a.m. Monday-Saturday. David Halpern, Four Entertainment Group's managing partner, said owners actually are seeking approval to operate until 4 a.m. Sunday-Friday and until 5 a.m. Saturdays.
Four Entertainment Group is a local bar and restaurant group that runs several popular bars in the city, most of them on the Northwest Side. The group also operates establishments in Cincinnati, Columbus and northern Kentucky.
The Avondale bar's vibe would be a mix between two existing Four Entertainment Group taverns: Central Park Bar and Remedy, Halpern said.
Central Park Bar is a neighborhood bar with a large outdoor patio that opened last year at the Logan Square and Avondale border, while Remedy is a 4 a.m. tavern that took over an industrial building in Bucktown in 2016.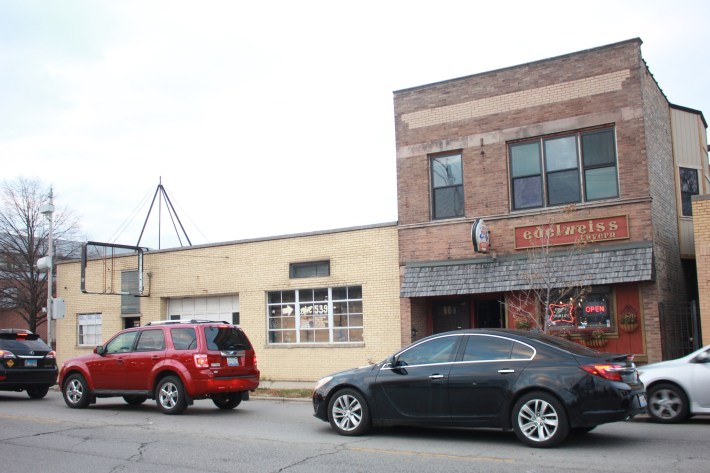 Halpern said they're not ready to divulge too many details about the Avondale project with it being in the early stages, but neighbors can expect an outdoor patio and a solid happy hour, a staple of Four Entertainment Group bars.
Like Estelle's and The Owl, the group's other late-night spots, the Avondale bar will have security to curb crime and rowdiness, Halpern said.
Halpern's group bought the building before the pandemic, in 2019, according to Cook County property records. Prior to the sale, the building was home for an auto mechanic shop for many years, said Ald. Ariel Reboyras (30th), who represents the area.
"Right now, it's a shut-down old mechanic shop. It's a dark corner, which we would brighten up and have our trained security staff there, with our eyes and ears on the street," Halpern said.
Halpern and his team need community support to bring the project to life.
Under city rules, business owners must get signatures from more than 50 percent of registered voters who live within 500 feet of a proposed establishment to secure a late-night liquor license from the Department of Business Affairs and Consumer Protection.
The alderman's sign-off is not needed for the special license, but Four Entertainment Group has the provisional support of Reboyras.
"That place has been sitting there empty; it's an eyesore. We'd like to see how they can run a new business out of there," Reboyras said. "They've done well in their business. They're good operators."
Late-night bars can be a hard sell for neighbors concerned about noise, debauchery and crime. But Halpern said they have a "good track record" of running bars, and neighbors should consider the group's reputation when weighing whether to support the license. Late at night, Remedy, Estelle's and The Owl mainly attract servers and bartenders headed home after long shifts, he said.
"People have their stigmas about 4 a.m. bars," Halpern said. "While some of it can be warranted, if you look at our operations, we are more neighborhood-bar driven and more driven by good happy hours and being staples in neighborhoods than what people may be thinking about."
Listen to "It's All Good: A Block Club Chicago Podcast":