CITY HALL — Ald. Ed Burke (14th), the indicted Southwest Side alderman who has been in City Council more than 50 years, is bowing out of next year's election as he faces a federal trial on racketeering, bribery and extortion charges.
Burke did not file nominating petitions by Monday's deadline to seek what would have been a 15th term in City Council, meaning he will not appear on the February ballot for that race.
Burke, 78, first took the seat in a 1969 special election and was reelected thirteen times between 1971 and 2019. He was unopposed in most of those bids.
He became a City Council powerhouse and evolved into its elder statesman.
He was indicted by a federal grand jury in 2019, accused of using his influence as an alderman to try to force businesses working with the city to hire his private law firm.
Burke is accused of trying to steer real estate tax work to his law firm by holding up remodeling permits and a driveway permit for a Burger King in his Southwest Side ward. His back and forth with workers at the company was captured on tape by the feds, who also conducted physical surveillance and got help from the fast food company workers, according to the federal complaint.
Burke famously ran for reelection in 2019 even while facing the federal federal corruption charges — and he won.
Burke has repeatedly rebuffed calls for him to resign — many coming from Mayor Lori Lightfoot — as the case has worn on. He's pled not guilty and is set to stand trial Nov. 6, 2023.
He's stayed mum on his plans, but skipping the necessary submission of petitions sealed his fate for the upcoming election.
Two hopefuls have filed for the 14th Ward race: Jeylu B. Gutierrez and Raul Reyes.
The charges revolve around an effort to remodel a fast-food restaurant in Burke's Southwest Side ward, according to the 37-page criminal complaint. The Burger King at 4060 S. Pulaski Road in Archer Heights, was renovated during the period detailed by the criminal complaint, according to city records.
Laquan McDonald was fatally shot 16 times by Chicago Police Officer Jason Van Dyke in 2014 near that Burger King.
The restaurant was not identified in the complaint, which notes that the two owners of the eatery are considered by federal officials to have been victims in the incident, and are not targets of the investigation. The eatery is part of a chain with more than 100 locations in Illinois, according to the complaint.
Burke is accused of using his power as an alderman to block permits for the work until the owners hired his private law firm, Klafter & Burke, to represent them in tax matters.
Burke's cellphone was tapped during the course of the investigation and the alderman — who is married to Illinois Supreme Court Justice Anne Burke — was placed under surveillance, according to the complaint.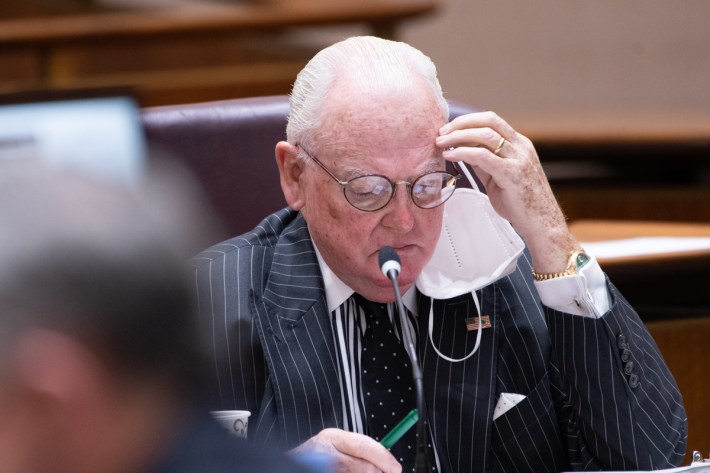 The complaint alleges that Burke was explicit, telling the owners during a phone conversation on June 27: "we're going to talk about the real estate tax representation and you were going to have somebody get in touch with me so we can expedite your permits."
"I know these guys are very powerful and they can make life very difficult for all of our Chicago stores," one of the victims later said, according to the complaint.
However, the restaurant owners did not hire Klafter and Burke, prompting Burke to tell a staffer in his office — identified as only Ward Employee 1 — to interfere with the renovation by playing "hard ball" with the restaurant owners.
That delay — which started in October 2017 and ended in January 2018 — had a "major effect on sales and cash flow" to the restaurant, according to the complaint.
The complaint alleges that Burke and his office shut down the renovation by claiming that the restaurant needed a driveway permit, although the renovations did not involve the eatery's driveway or drive-thru window and the proper permits had been issued in 2012.
The issue of the driveway permit was used as a "pretext" to hold up the renovation and force the restaurant's owners to hire Burke's law firm, according to the complaint.
One of the items seized during the raid on Burke's City Hall office was a hard copy of an email dated Nov. 28, 2017, between Ward Employee 1 and an employee of the Department of Buildings about the driveway permit — which Burke's office insisted they get, but was preventing from being issued, according to the complaint.
One of the owners of the restaurant said they believed Burke was doing something "very shady and inappropriate," according to the complaint.
The owners met with Burke in person in December 2017, and agreed to hire Klafter and Burke. Soon after, the remodeling project was allowed to restart, according to the complaint.
In addition, one of the restaurant's owners told federal agents that he made a $10,000 contribution to another Chicago politician at Burke's request. That contribution was later reduced to $5,600, the limit on contributions, according to the complaint.
Ultimately, the restaurant's owners "strung the process out over several months and did not end up giving Burke's law firm any tax business," according to the complaint.
FBI agents raided Burke's City Hall, ward and campaign offices five weeks before the indictment, papering over the windows. Agents searched the offices for hours before hauling away boxes and computers.
After the raid, Burke was defiant, promising to cooperate fully — but noted that he had been under FBI investigation before and never faced an indictment or charges.
"I am completely confident that at the end of the day nothing will be found amiss in this instance either," Burke said in November 2018.
After the raids, mayoral candidates scrambled to distance themselves from Burke, who rejected calls for him to step down as chairman of the Finance Committee, who controls the city's $100 million workers compensation fund.
Comptroller Susana Mendoza and Cook County Board President Toni Preckwinkle returned contributions from Burke.
It was former 25th Ward Ald. Danny Solis who helped prosecutors build their case against Burke. Solis wore a wire while speaking to Burke, recording their conversations for the FBI over a period of two years.
Solis, who did not seek reelection in 2019, himself was charged with bribery in April, according to WTTW.