BRIDGEPORT — An aldermanic candidate is hosting a community bike ride Saturday on the Near South Side to people attendees think about how Chicago can improve public transportation and bike infrastructure.
The bike ride will take attendees along Ping Tom Park, Eleanor Street Boathouse, the 33rd Street viaduct and Archer Avenue Bridge. Attendees should gather 1 p.m. Saturday at Jackalope Coffee & Tea House, 755 W. 32nd St.
The ride is being organized by Ambria Taylor, a former teacher who is running in the 11th Ward.
At each stop, Taylor will lead a discussion about infrastructure issues and potential solutions, she said. The event is intended to facilitate discussions about the challenges facing cyclists and pedestrians in the ward, Taylor said.
"Biking in a big group is liberating," Taylor said. "Cars will go around you, and you get to feel for the first time what it feels to bike safely."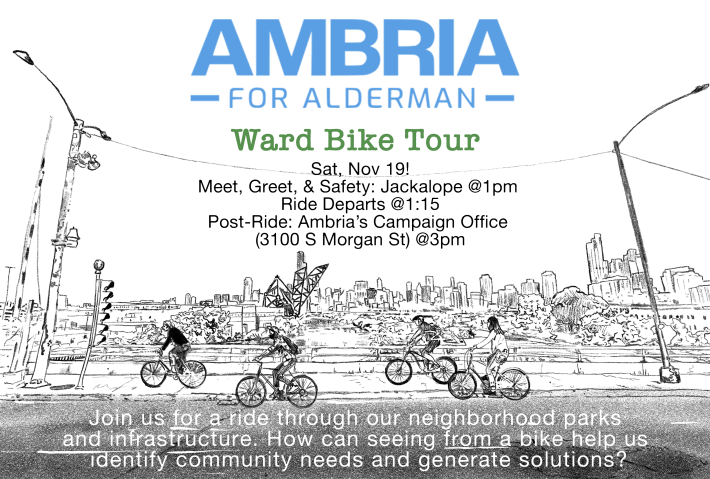 Taylor's campaign centers around issues such as environmental justice, workers' rights and public transportation, according to her campaign's website.
"This part of the city has always given the most support to industries, but industries tend to damage the lives of everyday people," Taylor said. "Through the event, we want to build communities and put the people first."
There's renewed interest in walking and biking due to ongoing problems with the CTA and people becoming more aware of environmental problems caused by cars, Taylor said.
But the city has also seen an uptick in traffic fatalities, with drivers killing at least eight bicyclists this year in Chicago. In August, a driver hit and killed a 55-year-old bicyclist in Armour Square.
Taylor said she'll fight for more investment in public transportation while working to eliminate traffic-related death.
Taylor will be vying against at least two other candidates in the February election: Anthony Ciaravino, who works with the Police Department, and current alderperson Nicole Lee, who was appointed by Mayor Lori Lightfoot in March to replace former Ald. Patrick Daley Thompson.