SOUTH LOOP — A job training center coming to the South Loop next year will offer the city's Black and Brown youth an opportunity to explore careers in the trades, developers said.
Construction is underway on the 40,000-square-foot HIRE360 Training and Business Development Center, which will take over a former shipping warehouse at 2520 S. State St. The campus will feature commercial training kitchens, retail space, conference and meeting rooms and a playroom/parent center, developers said.
So far, $3.5 million from state and federal coffers has gone into the center's buildout, with $550,000 coming from the Illinois Works Pre-Apprenticeship Program. Hire 360 Chairman Don Biernacki said he estimates the total cost will be $7-$8 million, which will include funding from philanthropic efforts
Hire360 was created in 2019 to provide more opportunities for Black and Brown residents in the trades through mentorship, direct investment and specialized services.
Biernacki, also the senior vice president of construction for Related Midwest, said the center will focus on four areas: workforce, business development, supply chain engagement and youth education.
"The intent of all of it is to put a path to the future for good union apprenticeships, develop emerging and established small [minority-owned] businesses and also show the young people on the South and West sides the opportunities construction, real estate and architecture industries can have for them as they look at possibilities for the future," Biernacki said.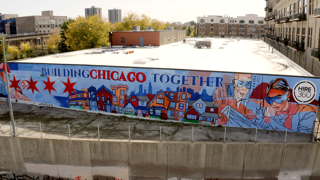 Residents will also be able to explore a career in hospitality through Unite Here's 12,000-square-foot Chicago Hospitality Institute, an apprenticeship program that will train candidates in the culinary arts. The program, which is already underway, will also give career seekers a chance to receive training as room attendants and other service industry jobs that keep the city running, Biernacki said.
More than two dozen firms and organizations will partner with Hire360 on the project, including IBEW Local 134, the Mid-America Carpenters Regional Council and McHugh Construction, which is also part of the team behind a new affordable housing development coming to Bronzeville next year.
Ahead of the training and career center's 2023 opening, Hire360 teamed up with Related Midwest, the Related Affordable Foundation and After School Matters to create a mural on the north side of the building to celebrate Chicago's reputation for being hardworking.
Designed by local artist and After School Matters instructor Erick "ROHO" Garcia, "Building Chicago Together" depicts bungalows and two-flats against the Chicago skyline, with an instructor and his apprentice on one side and and a worker on the other.
"Going back and forth on the design and what the mural could be about was a no-brainer for me. The grand scale of this mural is beautiful, and the location of it is the icing on the cake," Garcia said.
Garcia guided 30 teens from across the city to work on the mural.
"For these teens to not only work on something this large but to see it in person is just a lovely sight to see," he said.