GRAND BOULEVARD — Bronzeville's first equitable transit-oriented development has finished the first part of construction.
The team behind 43 Green — a $35 million, 10-story retail and residential development coming to 43rd Street and Calumet Avenue — held a "topping ceremony" Friday with city officials to celebrate finishing the development's structure.
The development will create 99 apartments — 50 of them affordable — and will have 7,000 square feet of retail space on the ground floor, along with off-street parking for 24 vehicles.
It could get its certification of occupancy as soon as this fall, said Charlton Hamer, senior vice president of Habitat Affordable Group. And the first phase of the project is expected to be completed by February.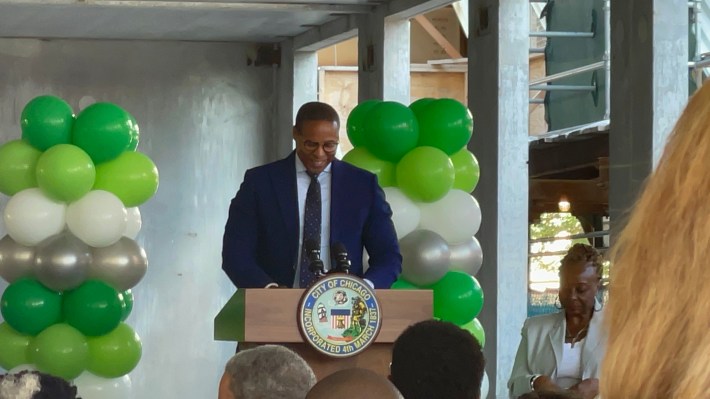 Hamer said being able to provide quality housing that will let residents enjoy where they live and commute to work from easily is important to him and the 43 Green team.
"This is momentous," Hamer said. "Everybody has been trying to find a way to bring this community back to its vibrancy. … This is one of the first [transit-oriented developments] in this community where someone can literally get out of bed, go up to the train platform and be in the central business district within 20 minutes."
The team broke ground in January. McHugh Construction and Black-owned BOWA Construction are in charge of the buildout, while interior design will be handed by JMF Designs' Jacinta Mercier-Fisher. Local artist Roger Carter will oversee the installation of a mural.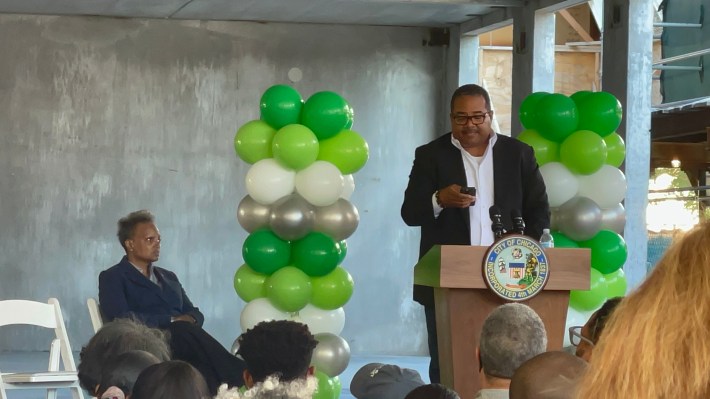 The lack of equitable transit-oriented developments on the South and West sides has long been an issue for the city. Mayor Lori Lightfoot has made it her mission to level the playing field; at Friday's topping ceremony, she said the project is a "labor of love, sweat and tears."
Hamer and P3 Markets principal Phil Beckham hope the development will contribute to the cultural renaissance of 43rd Street, they said.
Across the street, efforts to restore The Forum are moving along, and plans to open the country's first museum honoring African-American contributions to the performing arts several blocks east of 43 Green are underway. Those projects will join other retail and residential projects coming to the neighborhood.
Beckham said he hopes the residents who have shared their opinions and suggestions regarding 43 Green will continue their involvement.
"Stay involved. Because the more you get involved, the more great things happen," Beckham said.
Listen to "It's All Good: A Block Club Chicago Podcast":