NAVY PIER — A Grand Rapids family is suing Nav Pier after their 8-year-old son suffered serious injuries after falling from the top of a climbing wall in July.
Erin Brewer and Gideon Brewer said Navy Pier failed to follow basic safety protocols after failing to harness and secure their son, George Brewer, to the climbing wall.
The family frequents Navy Pier during the summer, and their three sons had often referred to the climbing wall as the highlight of the trip, the family said. The Brewers had been to the wall the night before the fall with no issues.
A video taken by Erin Brewer shows her son on July 27 climbing to the top of the 24-foot wall and then letting go to be lapeled down. Instead, with no safety rope, he hit the concrete pavement, breaking his tibia, pelvis and chin; shattering his femur; suffering a concussion and cracking his teeth. Doctors have told the family their son also suffered possible damage to his growth plates, they said.
"He just dropped. It felt like a nightmare. I kept thinking, 'Oh, my gosh. This is one of those times where I'm having a horrible dream and I'm going to wake up any second.' … And I did not," Erin Brewer said.
"We thought he was dead," Gideon Brewer said.
George Brewer has undergone four surgeries and has another scheduled in January. He's in extensive physical therapy and used a wheelchair for two months, his parents said.
"It's like his innocence was taken from him. … This should have been a fun experience, and it couldn't have been any worse," Erin Brewer said.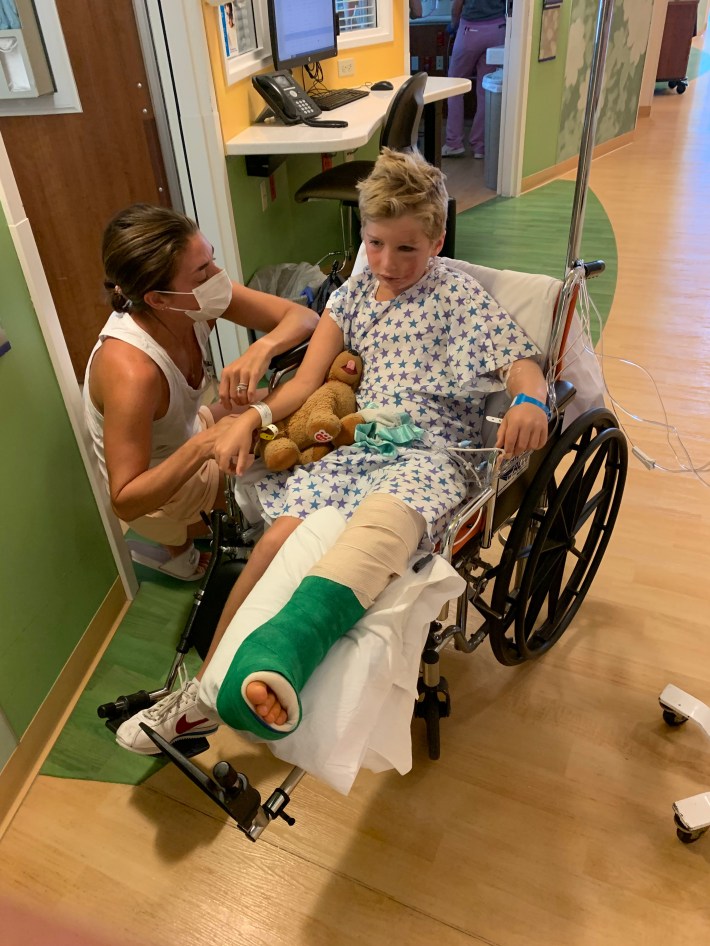 The lawsuit, which the family filed Tuesday in Cook County, accuses Navy Pier of "breaching their duty in the operation and supervision of the climbing wall" despite staff's "superior knowledge and training in the use and operation of the climbing wall."
The lawsuit alleges the staff at the climbing wall did not check if the auto-belay cable was hooked and locked to the child's harness before he started climbing.
The 10-count suit names Navy Pier and both climbing wall attendees that were on duty that night as defendants.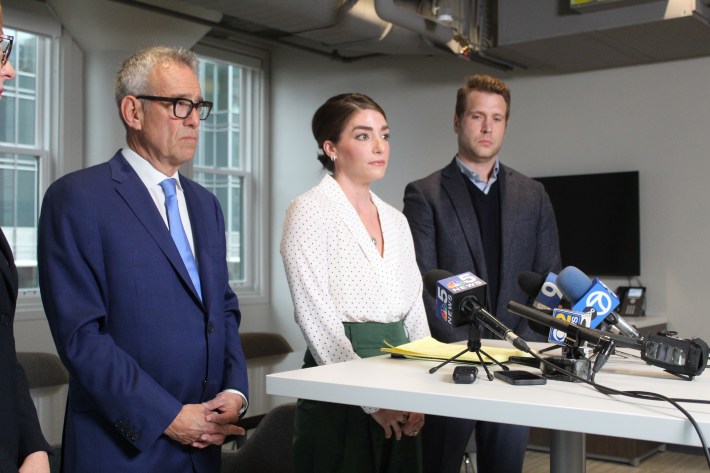 Steve Levin, the lawyer representing the Brewers, also said Navy Pier has not reached out to the family about the incident or offered any answers to their questions. Through a records request, Levin said he found out an internal investigation was conducted by Navy Pier, but it is unknown what disciplinary action, if any, occurred.
"We have not seen a lawsuit. It is our standard practice not to comment on litigation," a Navy Pier spokesperson said in an email.