SOUTH LOOP — Parents, faculty and students at Jones College Prep are looking for a way to move forward after a student wore a Nazi-like uniform and goose-stepped at the school's Halloween parade.
Longtime Principal Joseph Powers was relieved of his duties Nov. 4 after footage of the student's outfit and march spread on social media. Veteran CPS administrator Arthur Slater was appointed the school's new principal. The removal of Powers meant the removal of Jones' Independent School Principal status, with full control of the selective-enrollment school reverting to the district.
It is unclear if the student will be disciplined. Chicago Public Schools referred Block Club to a statement released by CEO Pedro Martinez the day Powers was suspended.
Attendees at Jones' local school council meeting Tuesday were asked not to comment about specific people who were part of the incident since it is part of an ongoing CPS investigation.
Remarks during the meeting's public comment portion were contentious at times, but most attendees called for unity and vigilance.
"There's something sorely lacking [with] all the talk going on in regards to recent challenges, and that is forgiveness," said Michelle Parada, a Spanish teacher. "What will have the best impact on our community: continuing to cause more harm or empowering others with positive, constructive actions?"
Another teacher, Brady Gunnink, asked school leaders to listen to students and teachers who have sounded the alarm for years about offensive behavior at the school.
Gunnink said teachers of color have left the school after their complaints went unaddressed by administrators and cited the results of a recent internal survey gauging school wellness using five indicators, including leadership and instruction, which revealed leadership ratings dropped to an all-time low.
"I've been teaching at the school for 13 years, and it's been one of the great privileges of my life to work with so many incredible students, parents and colleagues," Gunnink said. "But a persistent theme throughout my time here has been the inability and/or the unwillingness of those in power to listen and, more importantly, to learn.
"We cannot move forward as a school with the continued leadership of administrators who storm out of meetings, ignore clear evidence of problems, communicate poorly, are chronically absent and overall seem more interested in keeping their jobs than in doing them better."
Several parents called on school council members and the school community to advocate for students speaking up on issues affecting them while encouraging thoughtful reflection and decision making.
"Sweeping judgments or rash decisions can create more divisions and also perpetuate harms," said Lainie Weinstein. "We must work together to benefit from and build on the many meaningful relationships within the Jones community."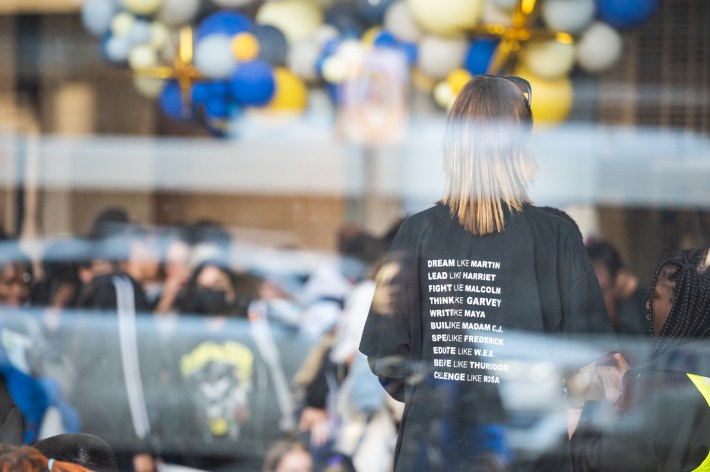 Powers had come under fire during his tenure for failing to address incidents of racism, sexism and antisemitism at the school, including the behavior of a theater teacher known for making offensive comments towards students. Frustrated students created an Instagram account where they submitted anonymous accounts of racial encounters and circulated a Change.org petition demanding Powers' firing.
Some of those students participated in a schoolwide sit-in days after Powers was dismissed, calling for further action against remaining administrators who they say aren't taking the incidents seriously.
In the days following Powers' removal, CPS officials introduced new safety protocols, adding extra security and implementing full entry screening for students and visitors. Representatives from the Office of Social and Emotional Learning have been onsite to assess the climate and culture of the school while helping staff devise interventions to deescalate situations if necessary, a CPS spokesperson said.
The school is also working with the Office of Student Protections and Title IX to improve staff responses to bias-based behaviors, providing space for students to discuss and process the incidents that have affected them, a CPS spokesperson said. All complaints shared by the students are being sorted out by the department.