BUCKTOWN — One of the first recreational cannabis dispensaries to be issued a social equity license by the State of Illinois is now open in Bucktown.
Ivy Hall Dispensary, 1720 N. Damen Ave., opened Friday in a spot formerly home to a Marc Jacobs store that closed in 2015.
Ivy Hall sells a variety of smokeable flower, tinctures, topicals and other THC and CBD products.
The dispensary's social equity license is one of the first two issued last week by the state after a series of delays that held up almost 200 other licenses.
Sixty-one percent of Ivy Hall is Black-owned. The ownership team includes Nigel Dandridge and his family, who are from Chicago and applied as the dispensary's social equity licensees. Dandridge has worked in the cannabis industry in Denver and elsewhere, but Ivy Hall is his first foray in Chicago, he said.
"Even though I've been in the industry for years, my family hasn't been able to participate. And this has just been a really exciting way for them to do so. And we're just excited to be able to have this opportunity for not just me but the rest of my family as well," Dandridge said.
Ivy Hall is open 9 a.m.-9 p.m. Monday-Thursday, 9 a.m.-10 p.m. Fridays and Saturdays, and 10 a.m-6 p.m. Sundays.
Green Rose, 612 N. Wells Street, was also issued a social equity license last week and held a grand opening Saturday. The dispensary is is co-owned by restaurateur Phil Stefani, according to the Tribune.
After lawsuits delayed the process, the state began awarding conditional licenses to 185 social equity applicants in July and August.
Dispensary owners were then given 180 days to find a physical location, although they have the option extend that by another six months if they cannot immediately find suitable space, according to a press release.
Rep. Kelly Cassidy, who represents the Far North Side in the state legislature, called the holdup "the perfect storm of delays" ahead of a Monday ribbon cutting at Ivy Hall.
Cassidy was chief sponsor of the Illinois House bill that ultimately legalized recreational marijuana in Illinois at the beginning of 2020.
"None of us could have predicted it would have taken this long. But I'm grateful for the folks that have made it through. I'm grateful for the folks that have tweaked the law to make it possible to have even more licenses ready to go. And I really look forward to this not being novel," Cassidy said.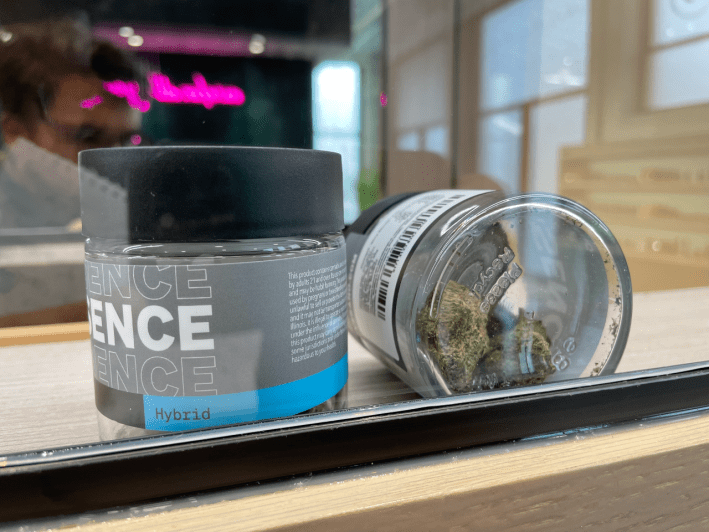 Ivy Hall sits just a few blocks from the busy center of Wicker Park, but on a stretch of Damen Avenue that has struggled to keep retail in recent years. North Face recently closed its store about a block south, and a several former storefronts at 1741-1749 N. Damen Ave. are set to be converted into a daycare.
Officials hope the dispensary will be an anchor for businesses on the street and across the larger neighborhood.
"These dispensaries are tools for economic development and corridor revitalization. We know that this is filling a chronically vacant retail space. We know that the spillover foot traffic will help the surrounding businesses," Deputy Mayor Samir Mayekar said Monday.
Ivy Hall leaders said they plan to expand their brand over the next year and a half, with the goal of operating 10 dispensaries in Illinois, director of retail Omar Delgado said.
In the meantime, customers can order online or directly at the Bucktown store. All customers must be over the age of 21.
Watch our "On The Block" TV show on The U, CW26 and MeTV.
Listen to "It's All Good: A Block Club Chicago Podcast":