WICKER PARK — Twenty years ago, it was a novel concept: what if people could sing karaoke with a live backing band?
Instead of having to match the timing and pitch of a machine, you could sing your favorite songs with real musicians, and for a few minutes feel like you were fronting your very own rock and roll band.
That was the idea behind Chicago's long-running "original" Live Band Karaoke, which started playing shows in 2002 at the Underground Lounge in Wrigleyville.
Two decades later, the group has played everywhere from basement gigs to football stadiums, with a lot of sweaty bars in between.
Now, the band is playing its 20th anniversary show 9 p.m. Saturday at Piece Pizzeria and Brewery, 1927 W. North Ave., in Wicker Park.
For some members, it feels like a homecoming after years of residencies at Piece and the long-shuttered Pontiac Cafe.
"Even though we started in Wrigleyville at Underground, and then got really big at Stanley's in Lincoln Park, Wicker Park really was the main place where we really got it going," said Todd Smith, who's been one of the event's hosts since late 2002.
For Smith, longtime drummer Tim Lydon and owner and manager (and bass player) John Miller, there have been plenty of ups and downs while playing hundreds of shows over the years. But the buzz of performing still hasn't worn off.
"We get all type: people that are amazing, like they came from American Idol, and then, you know, Joe Schmo at the corner of the bar that can't sing at all, but he's having the time of his life," Smith said. "And I always let them know, my tagline is "'once you go live, you never go back.'"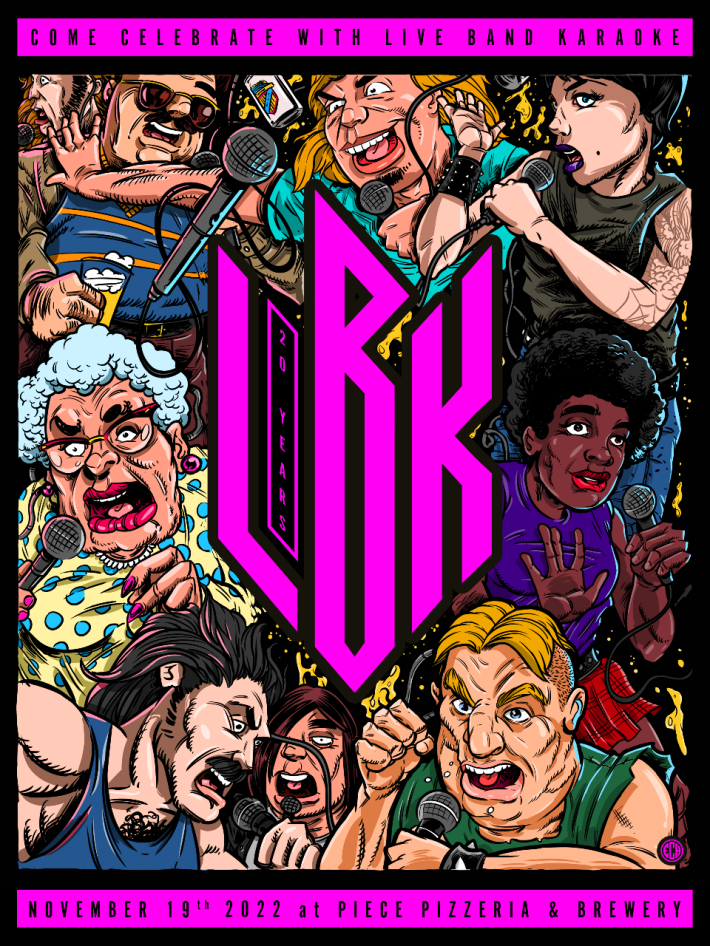 What became today's Live Band Karaoke event started off as a side gig for many of the musicians to make some cash and play music while they focused on other bands and projects.
But the concept proved popular during the early shows at the Underground Lounge. Soon, the band was packing the bar at each performance.
"I went down one night to check it out. And the place is packed, they're playing all these songs you grew up on. And I'm just watching people lose their minds singing and stuff. I'm like, this is amazing," said Lydon, who started playing drums with the group in 2003.
That popularity led to other residencies at Pontiac Cafe, Stanley's Kitchen and Tap in Lincoln Park, Reggie's in the South Loop and Piece Pizzeria.
By the mid-to-late 2000s, the band became a full-time job for many of its members. At its peak, they were playing seven nights a week and sometimes twice on Sundays, Miller said.
"We just started doing shows, adding more and more shows because it was more popular than we thought it would be. We figured we would do it for a little while, for a few months or a year maybe as a side thing. And that would be that and we'd all go back to our lives," Miller said. "It just kind of took on a life of its own as they say, you know, a monster on its own legs and it just took off."
The band also played with celebrities passing through town. That included everyone from NHL players to famous musicians, like Eddie Vedder, Billy Corgan and Kid Rock.
Cheap Trick guitarist Rick Nielsen, a co-owner of Piece Pizzeria, has also joined the band numerous times over the years.
Soon the group started going on tour throughout the country, playing at colleges, venues and even football stadiums for special events, including Soldier Field and Ford Field in Detroit.
The band comes to every gig prepared to play from a list of hundreds of songs. Even then, they can sometimes improvise when they get a specific request.
"People still, I think, every single night ask me if they could do a song that's not on the list," Smith said. "But these guys are so damn good that lot of the times I'll look at them and be like, 'hey, can you pull this song off?' And I'd say it's almost 50/50 depending on if it's like some really new pop song that they just don't know."
There's also an advantage and an energy that comes with singing with a live band, Smith said. Instead of following the rigid timing of a pre-recorded song, the musicians can follow along with the singer's pace and play catch up when they make a mistake.
"If the singer jumps a verse or you know skips a verse or jumps into a chorus, the band can look at each other and go with them. Whereas as you're doing it to an instrumental on a karaoke machine, you'll mess up the whole song," Smith said.
The pandemic forced the band to cancel shows in 2020. But the Live Band Karaoke crew has been back at it in recent months, including a residency at Reggie's. The band plans on dusting off a few classic numbers they used to play in their Pontiac Cafe and Stanley's Tap days for the 20th anniversary show Saturday.
"Every band has a history, you know, you go through the good years, you go through the lean years, then you get your renaissance, and that's kind of where we're at now," Lydon said.
As for the actual material, the band members all have their favorite songs and genres, ranging from the Beatles and Replacements to more obscure music.
Of course, there are a few crowd favorites they groan at when they're requested, like Neil Diamond's "Sweet Caroline" — and Journey's "Don't Stop Believin'."
"We stopped believing a while ago," Miller said, laughing.
But the band will still play them, no matter how many hundreds of times they've done it before.
"We've got to give the people what they want," Lydon said.
Listen to "It's All Good: A Block Club Chicago Podcast":