JEFFERSON PARK — A national program to deliver meals to people in need for the holidays is pedaling through the Far Northwest Side this year.
Cosmic Bikes, 4641 N. Milwaukee Ave., will host a Cranksgiving ride Nov. 20. The event will get cyclists out to buy food that will be delivered to New Hope Community Pantry, 6125 W. Foster Ave., ahead of its big Thanksgiving meal giveaway.
Cranskgiving is a "food drive on two wheels," according to its website. Part bike ride, part grocery run and part scavenger hunt, the initiative began in New York City 23 years ago as a fun way for cyclists to support food pantries during the holiday season.
Since then, the movement has spread to nearly every state. A record 112 cities participated in 2019, and more than 1 million meals have been delivered since the organization launched. The movement expanded overseas last year with an event in London, according to the 2021 map of participating cities.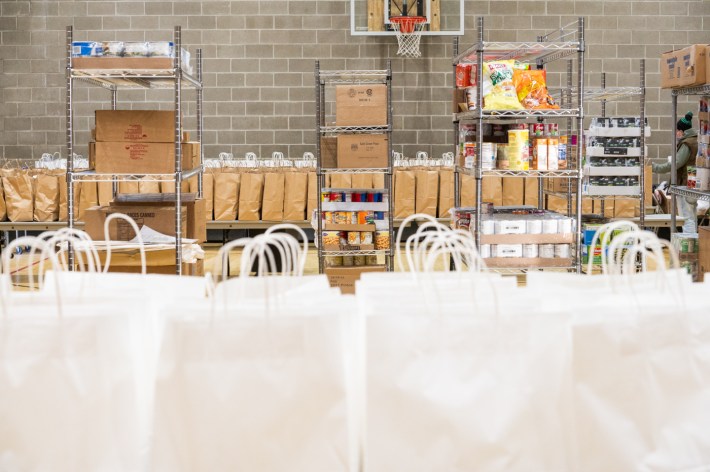 A group of cyclist racers and bike messengers launched a Cranksgiving event in 2006 that lasted for a few years, an organizer said. But there have been no recent Cranksgiving events.
That was surprising considering the city's large bike-friendly community, said Cosmic Bikes co-owner Justyna Frank.
Frank learned about the initiative through a bike shop in Iowa and decided to organize the first Chicago event and help New Hope Community Pantry, Frank said.
"This is a time when they could probably really use the help," Frank said. The event "generates a lot of interest, goodwill and gets people out on bikes with a purpose, like a community-building solid reason." 
Cyclists can sign up for free and then head to Cosmic Bikes at 10 a.m. Nov. 20 with a backpack or side bags, where they will be given a list of items to buy from five to eight Northwest Side grocery stores accessible via close roads and trails.
People can also show up on the day of the event, Frank said.
Local grocery stores Montrose Deli, 5411 W. Montrose Ave.; Shop & Save Market, 6312 N. Nagle Ave.; Happy Foods, 6415 N. Central Ave., and other mom-and-pop stops will be on the list to encourage riders to shop small, Frank said.
"The idea is to keep it really neighborhood-y," she said.
Whoever hits all of the locations on the food scavenger hunt — which are suggested but not required — will receive a bonus prize from Cosmic Bikes, Frank said.
There will be a closing party at the bike shop with pizza, beverages from local breweries and a raffle. People can win bike-themed prizes and prizes from local businesses, Frank said.
Local business owners who want to donate a gift card or an item to the raffle can contact Frank at justyna@cosmicbikes.com.
"I encourage a turnout for everyone to see each other again," Frank said. "It's nice we can get together again and start to rebuild the community a bit after the last couple of years."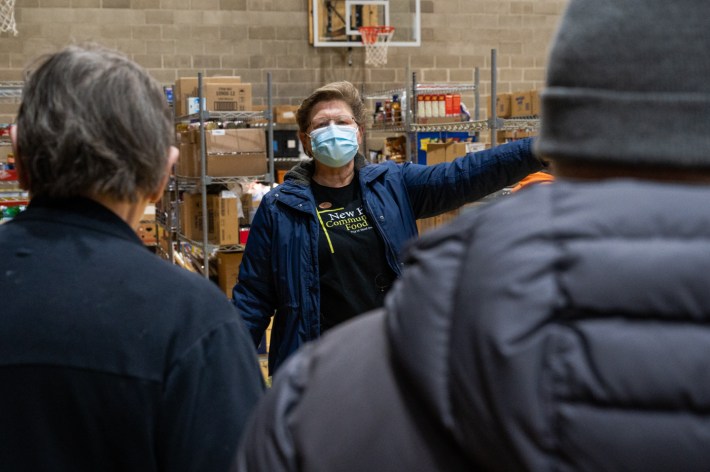 Donna Oberhardt, director of New Hope Community Food Pantry, said she is grateful for the opportunity to get more help from the Cranksgiving ride.
The event reminds Oberhardt of her son, a cyclist in New York City who works at a bike shop and cycles from Manhattan to Brooklyn for work every week — adding another "cool" factor to the Cranksgiving partnership, she said.
"Thanksgiving has typically been our busiest day of the year, so for [the cyclists] to donate at this time of year is really great," Oberhardt said. "A lot of people in this community think of Thanksgiving [and] contact the food pantry."
Every year, the pantry organizes a special Thanksgiving dinner for the families it serves, giving away 50-100 turkey dinners with traditional sides, Oberhardt said. It's busy, so the more donations, the better, Oberhardt said.
The pantry will also give its clients a $10 gift card to Aldi so "they can get the protein of their choice" for the holiday, Oberhardt said.
The pantry, which moved to a bigger location in Jefferson Park at the beginning of the year, has continued to serve an influx of new families struggling with food insecurity, Oberhardt said.
The pantry hit a new record Tuesday with more than 300 clients in one day. That's higher than numbers from the pandemic surge, Oberhardt said.
"Every single day that we have been open since January, we have registered 10-15 new clients," Oberhardt said. "It's exploding."
Listen to "It's All Good: A Block Club Chicago Podcast":