WICKER PARK — Roberto Clemente Community Academy has reopened its library after winning a free renovation of the space, which includes new furniture, a culturally relevant collection of books and more.
Clemente, 1147 N. Western Ave., was one of 10 finalists from around the United States for the Cloud Cuckoo Land Library Makeover contest, sponsored by nonprofit Heart of America. The school won the contest in September, receiving almost half of the total votes, librarian Andie Townhouse said.
Students now will find new books, shelves, paint and a mural at their library, Townhouse said.
The new space "is so alive and vibrant and beyond my wildest dreams," Townhouse said. "My heart can't stop smiling at the ways in which the kids are going to enjoy this space."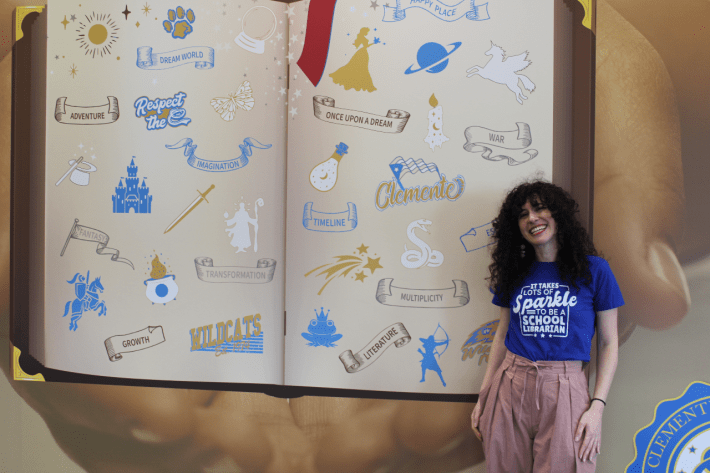 Townhouse said the upgrades are long overdue at the high school, which sits on the border of Wicker Park and Humboldt Park. Townhouse was the school's first librarian in 13 years when she was hired last year, she said.
Townhouse found a neglected library that included books associated with the Church of Scientology and ones promoting racist and ableist stereotypes, she said. The infusion of new books inside a brighter, more open space means Clemente students can fully take advantage of the library as an educational resource, Townhouse said.
"It was spoiled milk. It was a collection that just sat on the shelves and curdled for years and years and years. And now it's actually alive," Townhouse said. "This is a progressive, validating mirror reflecting back onto our kids that is culturally responsive. And culturally relevant."
The renovation frees up the space to host a wider range of programs, from a horticulture club to yoga to a 3D maker club, Townhouse said.
Since entering the contest earlier this year, Townhouse has been been outspoken about the importance of investing in school libraries and librarians in Chicago. A Sun-Times report in July found there are only around 90 full-time librarians across more than 500 non-charter Chicago public schools.
"CPS librarians are very rare to find in CPS. And so if you're not here managing a living, breathing collection, you are essentially letting it die, and I think that they let this library die," Townhouse said. "And now it's resuscitated."
Watch our "On The Block" TV show on The U, CW26 and MeTV.
Listen to "It's All Good: A Block Club Chicago Podcast":