Editor's Note: This story was updated to add a statement from Hideout co-owner Katie Tuten.
BUCKTOWN — A former employee at The Hideout in Bucktown is criticizing leaders of the music venue, saying they've done little to resolve a toxic workplace culture, engaged in tokenism and failed to fix other issues.
Local rapper and musician Mykele Deville posted a lengthy social media post last week detailing his time working as program director at The Hideout, 1354 W. Wabansia Ave. During his eight months on the job, Deville said he was spit on by a customer, berated by a resident artist, asked to take on extra work duties and experienced a tense work environment, among other issues.
In response to the viral post, numerous artists and musicians have canceled performances at the venue.
Deville declined a request for an interview. Hideout's leaders responded to Deville's claims on social media, saying that they take the complaints "very seriously" and are committed to doing better. After this story published, owner Katie Tuten, who owns the bar with husband Tim Tuten, said in a statement they are hiring a human resources advisory firm to review the business.
"For 26 years, we have worked to build a cultural and artistic community that is welcoming and inclusive for all–including our own staff and other team members, as well as visitors and artists," Tuten said in the statement. "We want to assure the Hideout community that while we have a different perspective on the concerns our former employee has raised, we take them extremely seriously and are working to better understand and respond to what took place during his time at the Hideout."
Deville was hired in summer 2021 as The Hideout's program director, in charge of booking shows and curating its entertainment lineup, he said in the post.
At the time, Deville was "ecstatic" about the job, but he felt pressure for being what he believed was "the first and only Black program director they ever hired," Deville wrote.
"I felt enormous pressure to succeed and open the door to people who had felt historically excluded from this space," he wrote.
Deville said The Hideout's "leadership team" created strained working conditions where it was difficult to work and succeed.
"In our shared office, the leadership team often communicated by shouting, crying and bickering, creating a tense and distracting office culture. I would tell them that I found the ways they communicated harmful, yet they persisted," Deville wrote.
Deville wrote he was often expected to complete duties outside his job description, including having to clean and set up the performance space, take tickets and check IDs at the door, and clean the green room for performers, among other tasks.
When Deville asked for support, he was told it was "cost prohibitive" to hire additional staff to assist him, he wrote.
Deville cited multiple incidents where he felt unsupported by Hideout leadership, leading to an "incessant sense of dread" before work and anxiety throughout the day, he wrote.
When a customer spit on Deville for enforcing mask guidelines, "leadership did nothing to support me," he wrote. The same went for when an unnamed "long-time, white resident artist cursed and berated me in front of staff," he wrote.
And a few months after Deville started working there, Hideout leaders were slow to act when the venue was vandalized with white supremacist graffiti in October 2021, he wrote.
When The Hideout did issue a statement, Katie Tuten "reprimanded" an employee for adding the phrase "Black Lives Matter" to the post, Deville wrote.
"Katie (the owner of The Hideout) called the employee on Thanksgiving Day and reprimanded them for this alteration as if the statement was harmful to their intentions and bottom-line. This stuck with me and made me feel wholly unprotected," Deville wrote.
Thanksgiving Day was about a month after the statement was posted on the Hideout's social media.
Deville also wrote he believes he was only hired to give The Hideout "the appearance of being anti-racist" in the wake of 2020's nationwide racial justice movements.
"I realized that Hideout never had any intention to set me up to succeed, but only wanted to trade on my racial identity, and the trust and respect I'd built within the arts communities of Chicago," Deville wrote. "I now understand that once they realized hiring me meant actually evolving as a company, they just disposed of me and went right back to their old, comfortable systems."
In a follow-up social media post Tuesday, Deville wrote he "has ultimately decided not to speak to the press about this. I think a part of the power of this moment is reclaiming my narrative and speaking out in my own words and summation. The press still intends to write about all of this. Be vigilant that I won't be involved."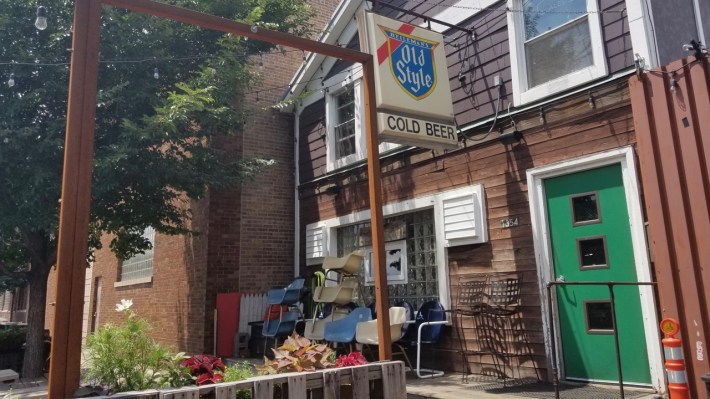 Hideout Responds
Deville was fired this spring after the owners cited a "disparaging remark" he made about The Hideout and his work performance, he wrote.
"They cited poor work performance (the show that I had booked for that night was already sold out)," he wrote.
Deville said Hideout management offered him a small severance package on the condition he sign a non-disclosure agreement, which he refused.
"I was livid, embarrassed, and felt betrayed — used and discarded. I was offered a minimal severance package — on the condition I sign an NDA, prohibiting me from speaking about my experience at Hideout that wouldn't cover my basic expenses and embedded it with language that amounted to an NDA … I refused to sign it, and went without severance of any kind," Deville wrote.
Signing the NDA "would've robbed me of the last thing that was uniquely mine, my voice, my story. I could not let them have that," Deville wrote.
In a social media post last week, Hideout owners acknowledged Deville's post and apologized for his experience there, although they did not refer to Deville by name.
"We take these complaints very seriously because we never want anyone to feel this way," according to a statement from the venue. "We first want to honor the contribution of his work during his time with us. His passion to build a more inclusive and equitable community of performers was undeniable, and we are thankful for that.
"His experience does not reflect what we believe in, which is building a healthy company culture for all staff and performers. We are committed to do better now more than ever and are in the process of deep reflection on how to make this a more supportive and energizing workplace."
The Hideout leaders said they are open to participating in a restorative justice process with Deville "to better understand his concerns, so that we can best address them."
Katie Tuten, in her Wednesday statement, said the venue will work with a "human resources advisory firm with a diversity, equity and inclusion lens that will conduct a full review."
"We know this has been a very difficult moment of reckoning for the Hideout community, and we want to acknowledge that it has been particularly challenging for the Hideout staff, who are hard working and dedicated to the vision of the Hideout as a nurturing, vibrant space for artists and patrons alike," Tuten said in the statement. "We thank our community members for your patience and feedback as we pursue this process in earnest."
In Deville's post Tuesday, he wrote he believes in restorative justice and there is a "way forward" for the Hideout, but it will come "at the cost of their reputation, structuring and entire ideology as an organization."
Deville also said he's cut off all contact with The Hideout and had not seen the statement they posted last week.
"The Hideout should at the very least acknowledge the real harm they have committed and genuinely apologize," Deville wrote. "For my own sanity had to cut off all ties to them which means I don't follow their socials. I'm sure they have responded and I'm sure it was inadequate. Don't defend your bottom line, do better."
Canceled Shows
Deville wrote part of the reason he spoke publicly about his experience is because he wanted other musicians, fans and employees to know how he was treated at The Hideout.
"I put this out there so that anyone considering working at Hideout, performing at Hideout, or patronizing Hideout has some knowledge of how it operates and its true culture, one that values status and returns more than people, and exploited me to achieve its own version of success," he wrote.
Since the post, artists and musicians have canceled upcoming shows and programs booked at the venue. Singer-songwriter Liam Kazar, country singer Tommy Goodroad, and indie pop artist Liska are among musicians who have cancelled upcoming shows.
Local sound artist and musician Kikù Hibino, who had booked a concert at The Hideout for Nov. 29, also canceled, he said.
Hibino said after he saw Deville's post, he reached out to collaborators and other musicians booked to play the upcoming show. They decided not to move forward with the concert.
"Playing at The Hideout, it's really important to me because it's one of my favorite places in Chicago, because I saw a few of my favorite artists playing there," Hibino said. "And it was my dream to do something like that. So I was very reluctant, but bottom of my heart, I have to just cancel it, go ahead and cancel it."
Hibino is working on rebooking the show and said he's been in touch with a few other local venues.
On top of The Hideout apologizing to Deville, Hibino said he would need to see the venue's words become actions before deciding to play there again.
"We need to learn what they are doing, what they're learning, what they're changing. We need to see it. So until that, I just can't step foot" in The Hideout, he said.
In Deville's post last week, he wrote he's now working as the program coordinator at Urban Growers Collective, a nonprofit that builds and maintains farms mostly on the South and West sides.
Deville said his experience at The Hideout has "complicated" his relationship with making art, but he's in a better place.
"I was taught the lesson that I AM THE ART, not where I do it at. So I'm trying to make peace and create when my heart, mind, body says I'm ready to do that," he wrote.
Editor's note: Block Club Chicago held an event at The Hideout in 2018. A Block Club editor hosted a long-running show at The Hideout, The Girl Talk, from 2016-2020. Block Club reporters have moderated panels at The Hideout.
Listen to "It's All Good: A Block Club Chicago Podcast":