JEFFERSON PARK — A group of Far Northwest Side neighbors have a message for the person targeting a home with hate crimes: Love wins.
Erica Hungerford's home has been damaged and vandalized with anti-LGBTQ and political messages five times since May. The family, who moved to their home near Bryn Mawr and Milwaukee avenues less than a year ago, said a man has damaged their Pride flag, spray painted conservative, far-right slogans on their garage and left political harassment on their property.
Hungerford planned a community paint party Sunday to deter the man from coming back. About 20 neighbors, aldermanic candidates and police LGBTQ liaisons stopped to beautify the family's garage and front awning, she said. A neighbor also dropped off snacks and beer for the crew, Hungerford said.
Volunteers painted "Love wins" in big letters on the family's garage and a large Pride rainbow on its side. Hungerford said she was thrilled with the turnout, even as she worried the bigger, bolder messages could make their home more of a target.
"The support was amazing," Hungerford said. "It sends a statement: 'The more you mess with us, the gayer I am going to make this place.'"
Hungerford was grateful four LGBTQ police liaisons stopped by to help paint the garage while not on the clock. The family has worked with the officers and detectives from the 16th District to catch the man believed to be responsible for the five incidents, Hungerford said.
"Most of them were off-duty, [so] I appreciated that as individuals," Hungerford said. "It was an interesting crew. They put a lot of work into it and added intricate details. Their work was very appreciated."
Jesse Livingston, of Jefferson Park, helped paint Hungerford's garage because he wants to be more active in the community and use his art to support the LGBTQ community.
"I have very personal connections to the LGTBQ community, both immediate and extended family, and defending Erica as an ally was tantamount to defending them in my heart, so I am honored that my art can be used to do so," Livingston said.
Livingston hopes the beautification tells the vandal and others that love "is a connection we can all relate to" and hate will not stop people from expressing themselves, he said.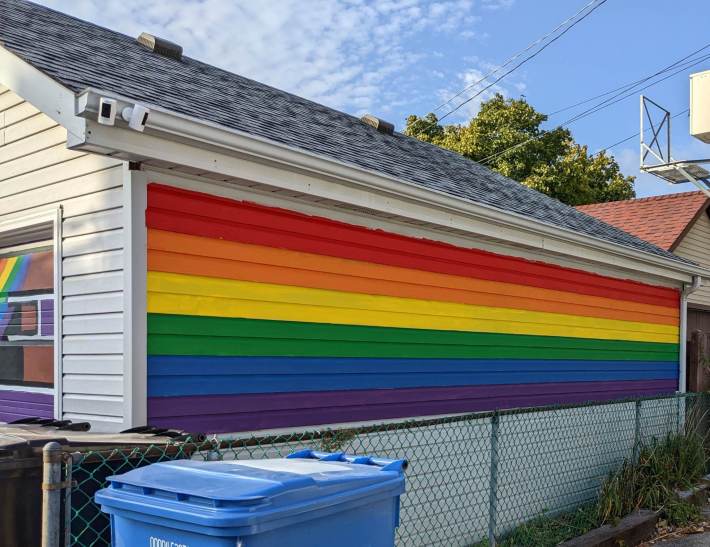 Detectives sent out an alert about the vandal to the area and requested extra patrols for the family's block on the weekends, Hungerford said.
The family received several messages of support, including from Mayor Lori Lightfoot, after Block Club reported on the vandalism last week.
The experience and attention have been great but also "bonkers," Hungerford said. She said she hopes the next time her name is in the news is when the vandal has been caught and the family does not have to worry about him.
Listen to "It's All Good: A Block Club Chicago Podcast":