LINCOLN PARK — Newly appointed Ald. Timmy Knudsen (43rd) said he will install new cameras throughout Lincoln Park, Old Town and the Gold Coast as one of his first initiatives.
Knudsen, who was sworn in Wednesday, told Block Club he's looking into how other lakefront aldermen have used their aldermanic menu dollars to improve public safety. He's also talking with Chicago Police community policing commanders to plan the new camera installations.
"I live in the Old Town Triangle and know public safety is the biggest concern among neighbors," said Knudsen, who is a lawyer. "So the first thing we're doing is looking at the menu dollars provided to each member of City Council to see where we can put them to ensure that families and children are safe."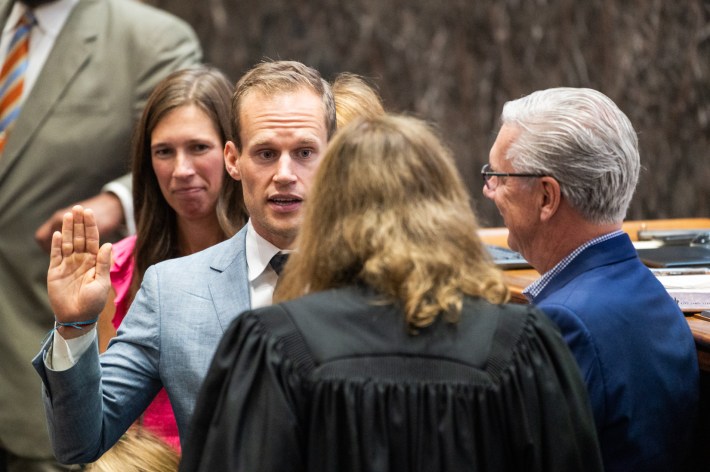 North Side neighborhoods like Lincoln Park have seen an uptick in armed robberies and carjackings, as previously reported by Block Club.
So far this year, the 43rd Ward has seen 70 robberies, compared to the 42 reported by this time last year, and 15 carjackings, up from the 11 reported by this time last year, according to Chicago Police data.
Knudsen plans to use his role on the City Council Finance Committee to leverage city money into short- and long-term investments that will reduce violence, he said.
"I think that will be huge because investment is everything in public safety, and everybody I'm talking to in the ward really agrees with that," Knudsen said.
Frustrated by the increase in crime, some neighbors have taken it upon themselves to hire private security to patrol their streets.
Earlier this year, neighbors along Burling Street, Orchard Street, Arlington Place and Fullerton Avenue started raising money to hire P4, a private security firm, to deploy one officer in a marked vehicle to patrol their streets for eight hours a day, every day of the year.
Knudsen did not rule out using menu dollars to support private security efforts, but said he was only looking at safety issues more generally on his first day.
"As alderman, on my first day, my real focus is just public safety generally," Knudsen said. "We've got to look into all the different techniques, but today I'm just focused on general public safety."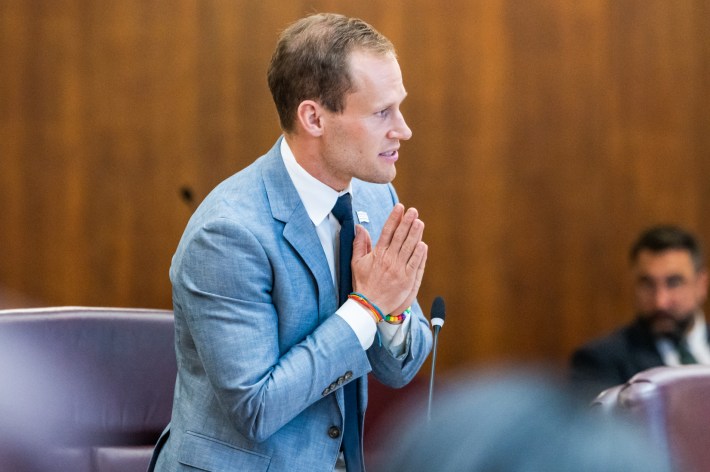 Knudsen was confirmed as 43rd Ward alderman Wednesday. He fills a vacancy left by former Ald. Michele Smith, who retired in August.
Knudsen served as chair of the city's Zoning Board of Appeals and worked on Mayor Lori Lightfoot's campaign finance team when she was elected in 2019. She appointed him to replace Smith, saying he "has singled himself out as an exceptional leader in the 43rd Ward community."
He's a partner at Croke Fairchild Morgan & Beres law firm, where he's counseled start-up companies, founders and their investors. He founded the firm's pro-bono practice, which represents LGBTQ asylum seekers in Chicago and Tijuana, Mexico.
At 32, Knudsen is the youngest City Council member. He's also the first openly gay representative of the 43rd Ward — making him the sixth member of the city's LGBTQ Caucus.
With Knudsen's appointment, most of the northern lakefront is now represented by LGBTQ-identifying aldermen, including Knudsen, Ald. Tom Tunney (44th), Ald. James Cappleman (46th) and Ald. Maria Hadden (49th).
Knudsen hopes he can use this connection to collaborate with the other aldermen on common issues among their wards.
"Even in my law practice, I'm a coalition consensus builder — that's how I work," Knudsen said. "The LGBTQ numbers in Council will potentially drop with a few retirements, but I think we can coalesce strongly, no matter who is part of the group going forward."
In addition to public safety, Knudsen highlighted public schools and "giving back to the community" as his top priorities as a new alderman. He's already been working with staff to launch a donation drive for the more than 750 migrants who arrived in Chicago from Texas, seeking asylum.
More details on the donation drive are expected later Thursday, said Knudsen, who's used his practice as a lawyer to help more than 40 LGBTQ asylum seekers.
"I've seen first-hand the turmoil these families are going through, […] and I know that members of the 43rd Ward and across Chicago feel the same way that we've got to mobilize and support them," Knudsen said.
Listen to "It's All Good: A Block Club Chicago Podcast":