CHICAGO — The Park District is laying out plans for a lot more pickleball, and you can help officials decide where to install dozens of courts.
The Park District will build 50 courts for pickleball by 2025, officials said Thursday. The courts will be at parks throughout the city and will join 80 courts already in action, according to a Park District news release. But only four of those courts are dedicated to pickleball, while the rest must share space with its bigger, older cousin: tennis.
The type of court installed — whether a shared converted court or dedicated pickleball court — will be based on input from the community, Park District spokesperson Michele Lemons said. Suggestions for where the pickleball courts should go can be made online.
The new perks for pickleball include three facilities capable of hosting tournaments, according to the Park District. The remaining individual courts will be newly built or converted tennis or basketball courts in neighborhood parks, according to the Park District.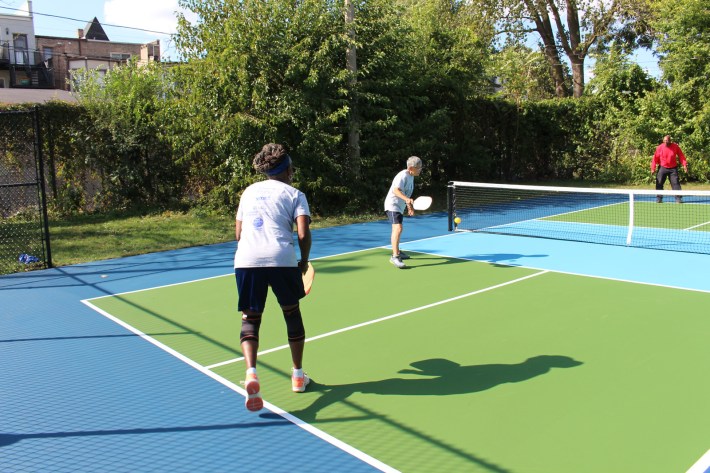 Pickleball is a hybrid of tennis, badminton and ping pong that's easier on the knees and accessible to people of all ages, said Steven De Mar, a local enthusiast and administrator of the Chicago Pickleball Facebook page.
"It's also like poker because it takes two minutes to learn but forever to get good at," De Mar said. "For casual players, it's a nice, leisurely day out."
The new courts are "nothing to turn your nose up" at, but the amount of space promised for pickleball is still "woefully inadequate" given Chicagoans' interest in it, De Mar said.
Shared spaces have left many pickleballers wanting more, De Mar said. Tennis courts have taller nets and hastily fit four makeshift pickleball games at once, De Mar said.
Smaller cities with large retirement populations in Arizona and Florida have compounds with dozens of courts dedicated to pickleball, De Mar said.
The Chicago Pickleball Facebook group has more than 4,000 members, some of whom worked with the city to paint permanent pickleball lines on 14 tennis courts in Maggie Daley Park, De Mar said. Pickleballers can take the courts only 9 a.m.-noon weekdays, and it's "always at 100 percent capacity with a wait, unless the weather is bad," De Mar said.
De Mar's group has fundraised to build eight permanent courts — with nets and dimensions for pickleball — in Grant Park, but the plans have stalled with the Park District, he said. The game is growing and drawing younger players, and the Park District "needs to get ahead of the puck," De Mar said.
The APP Chicago Open pickleball tournament is being held this week in suburban Highland Park, offering $50,000 in prize money.
"It couldn't be in Chicago because the city is behind," De Mar said. "If 100 courts came here tomorrow, it would still be so far below the need. It's like spitting in the ocean."
A list of pickleball programs offered by the Park District is here.
Listen to "It's All Good: A Block Club Chicago Podcast":