JEFFERSON PARK — A Far Northwest Side police officer and Republican committee official has been cited by a police oversight agency after a series of homophobic posts on social media.
Amelia "Ammie" Kessem, a sergeant in the 16th District, was lightly disciplined by the Civilian Office of Police Accountability earlier this year for postings the agency called homophobic and offensive, violating department social media policies.
WBEZ's Chip Mitchell was first to report the violations. Kessem did not respond to requests for comment.
The investigation focused on comments Kessem made on her personal Facebook account in June 2021 about her visit to the Oriole Park library with her son. The library had rainbows in its windows and other Pride month decorations, including in the children's section.
"Went to the library today and this man who worked there tried to indoctrinate my 6-year-old with his gay pride decor! NOT OK!!! I had to tell him 3 times to stop!" Kessem wrote Facebook on June 7, according to screenshots of the post reported to the Civilian Office of Police Accountability.
Kessem is the 41st Ward Republican Committeeman for the Northwest Side GOP Club.
"The left thinks it is their duty to do things like this. The fact that this is even allowed to be inside a public building let alone the children's section is absolutely absurd! I cannot wait to leave to this Sodom and Gomorrah," she wrote.
The comments, which were reported to the police oversight agency through the Inspector General's office, caused the officer to lose her other job as a realtor for Dream Town Realty, according to the watchdog's investigation report.
Kessem told the watchdog agency's investigators she thought the library staffer was trying to "groom" her son and she did not want his first conversation about Pride Month coming from a stranger, according to the report.
"I do have some personal faith-based opinions about things, that should be made aware. I don't hold any biases against people in a protected class, especially when I am on duty," Kessem told investigators, according to the report. "I respect all people, especially those in the LGTBQIA community. I would never do or say anything to them on duty that they would feel is disrespectful to them or their lifestyle."
During the interview, Kessem was emotional and said she should have not made the Facebook post, according to the report.
The Police Department's social media policy states officers — whether on- or off-duty — cannot post remarks that disparage the department or people based on class, religion, sexual orientation, gender or other factors.
Although the posts were on Kessem's personal account, her page had videos and other posts where she was "representing the department even through her social media," officials said.
The oversight agency found Kessem's posts to violate department social media rules, discrediting its image and insulting the LGBTQ community.
The violations were sustained and noted in the officer's personnel records, the agency said. It also recommended Kessem complete a course on Implicit Bias Training.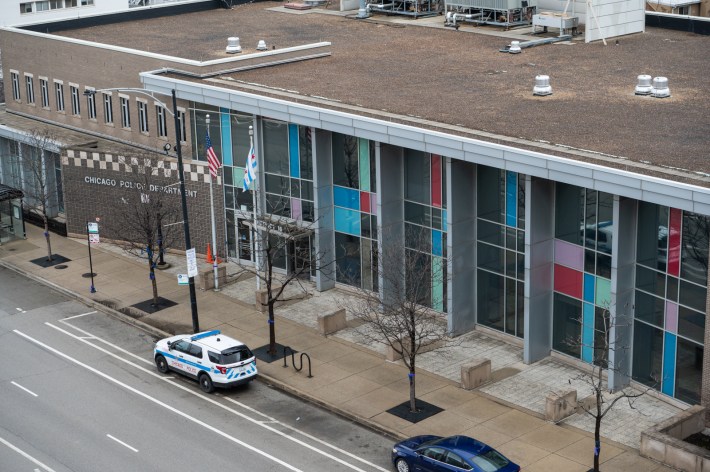 Kessem did not receive further punishment because she has no disciplinary history, has received multiple department awards and "demonstrates that normally she is attentive to duties and responsibilities as a sworn member of" the Police Department, the oversight agency concluded in its report.
Kessem was one of the officers who responded to an incident in summer 2021 in which a woman mowed down a Jefferson Park's family garden with her SUV, threatened them over their criticism of a Northwest Side alderman and hit a neighbor's car in the middle of the night.
The Police Department's Bureau of Internal Affairs opened an investigation into how the officers handled and reported the case after a complaint was made by the victim that the officers did not properly record the woman's license plate number, despite reading it out loud at the scene.
After an interview with one of the officers, investigators found omitting the license plate number was not intentional and Kessem, who signed off on the police reports about the incident, did not instruct the officer to leave out the information, according to the investigation report obtained through a Freedom of Information Act Request.
Kessem's online posts have been investigated in the past as well. In December, a group of students and local Republican groups announced their desire to start a Turning Point USA chapter at Taft High School, 6530 W. Bryn Mawr Ave. 
Kessem, on her political Facebook page, praised students for trying to start the chapter, saying she "could not be more proud" of them. The chapter was controversial and did not start, though the Police Department launched an internal investigation into Kessem's social media posts about Turning Point.
The investigation was closed the same month it was opened, spokespeople said. It was not immediately clear the findings of the investigation.
Social media comments Kessem made in mid-December for a separate incident were also under investigation internally, sources said.
Kessem was also investigated after a local educator said she'd harassed him online, leading to him receiving threats.
Subscribe to Block Club Chicago, an independent, 501(c)(3), journalist-run newsroom. Every dime we make funds reporting from Chicago's neighborhoods.