OAK STREET BEACH — Portable toilets that recently popped up along the Lakefront Trail are creating a safety hazard as thousands flock to the area for the Air and Water Show this weekend, some locals said.
The toilets were placed along the lanes marked for cycling, partly blocking the southbound lane near Oak Street Beach. Anyone using the potties risks stepping directly into the path of fast-moving traffic in the bike lane, which forces crowds of people to navigate around each other and risks bicyclists being hit by someone exiting a stall.
Ron Hall, a spokesperson for the agency partnering with the city's Department of Cultural Affairs and Special Events for the Air and Water Show, said "additional portable toilets" were brought in for the weekend. He did not respond to questions about when they will be removed.
The Air and Water show is back Saturday and Sunday after two years of canceled and modified schedules. The shows are 10 a.m.-2 p.m. both days at North Avenue Beach, and along the lakefront from Fullerton to Oak Street.
Local segway tour guide Mike Perrino, who often rides on the lakefront path for work, said he saw the potty installation earlier in the week and said he immediately thought, "Wow, this is stupid, this is horrible." 
"Why would they put a door zone in the only place that's supposed to be safe to ride a bike?" he said. 
When Perrino saw officials setting it up, the lakefront trail was "infested with trucks and golf carts." 
"You could easily put those in the grass between the trail and the drive," Perrino said. 
The company that owns and installs the potties, Service Sanitation, did not immediately reply to a request for comment. 
Like Perrino, bicyclist Rick Rosales pointed to the grassy spots as a better alternative for where the stalls could have been set up.
"It's not an insurmountable challenge," Rosales said. "There is a lot of open space on the grass. … Thank god I haven't seen anyone get doored, but it's just a matter of time. It's not a trail that's just for experienced riders."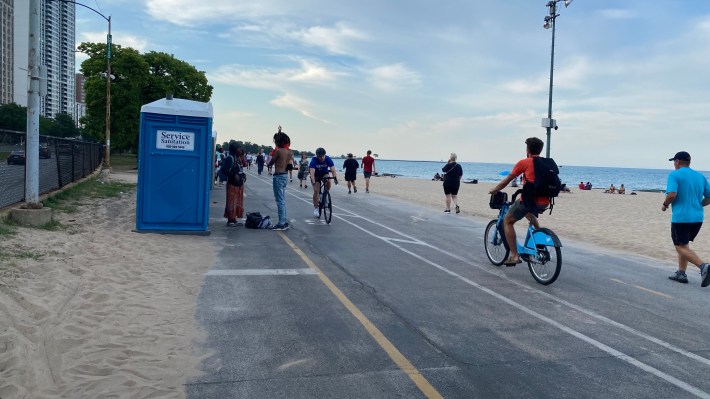 Allen Leyva, who lives on the Southwest Side, frequents the lakefront to go swimming. He said he was "relieved to see" the portable toilets, though he said they could have been placed in a more convenient spot off the trail.
Leyva also said the porta potties should be available after the Air and Water show because they're always needed. 
"Everyone is out here exercising," he said, and it's reasonable at some point in the workout to need a bathroom break. 
Though no one was opposed to more toilets, cyclists said they wish they were considered more by various city departments.
"People who install these don't walk or bike the trail," Rosales said. 
Listen to "It's All Good: A Block Club Chicago Podcast":