GRAND BOULEVARD — Mario Coleman was looking for his next act when several close friends launched their first restaurants.
Watching how they were able to generate income by creating a quality product and good food, Coleman was moved to try it on his own.
With his new Bronzeville Soul at 4655 S. King Drive, he's off and running. The soul food spot opened in mid-July. A grand opening event is scheduled for Aug. 20.
The restaurant offers a rotating menu of classic soul food like chicken, mac and cheese and corn muffins. The grand opening will be a celebration as Coleman is excited to see where this entrepreneurial journey will take him, he said.
The Bronzeville native owned a roofing company for more than a dozen years before he got the itch to pivot to food as the physical demands of the roofing job becoming harder to meet. At the same time, the owner of Slice of Bronzeville was ready to get out of the restaurant business, freeing up a restaurant location just a few yards away from where Coleman's grandfather used to spend hours tailoring suits after his post office shift.
The memories of Coleman's younger self helping his grandfather sweep up after a busy afternoon still makes him smile. He thinks he got his love for hustling from his grandfather and grandmother, a seamstress.
It has been a long 18 months since Coleman decided to pivot and found that perfect spot — but for him and his longtime girlfriend, Angie Price, it's been worth it, he said.
Price has helped Coleman with the day-to-day operations; and, though neither come from a food service background, both are learning as they go.
"There have been some frustrating moments, but we've been learning how to be patient. [Angie] has been patient with me because we're not doing what we used to do. I'm really just trying to absorb whatever comes my way," Coleman said.
The Kenwood Academy alumnus knew he wanted to go into the restaurant business but he didn't want to open another burger joint. He briefly toyed with the idea of doing jerk chicken — then he realized there weren't any soul food restaurants in the immediate area. Given King Drive's rich history, soul food seemed like the perfect fit, he said.
Coleman wanted to provide a place where families could eat and relax.
After months of searching for the chef who could execute his vision, he met Rekia Jenkins, a West Side culinary grad whose Southern grandmother taught her everything she knew.
"It's been good working here. I like the environment, and the people are welcoming," Jenkins said.
Jenkins, who trained at St. Leonard's Ministries' Michael Barlow Center, sees Bronzeville Soul becoming a franchise in five years, with her still on the team.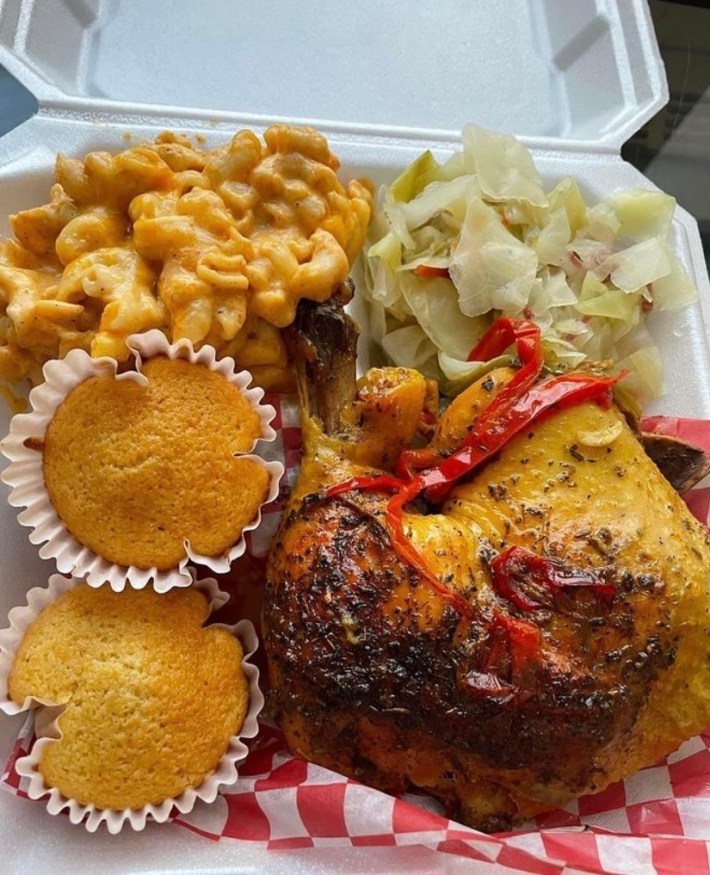 Bronzeville Soul's menu is Jenkins' spin on the recipes entrusted to her by her grandmother, who taught her the recipes step by step.
Menu offerings rotate daily, with baked chicken, grilled lamb chops, salmon and fried catfish meals — complete with greens, mac and cheese and sweet potatoes — available depending on the day. Coleman said all meals are less than $30 to keep things affordable. Desserts will be added to the menu eventually.
"You can't get lamb chops anywhere for under $30," Coleman said, laughing. "I checked."
Despite the usual lull restaurants experience during soft openings, Bronzeville Soul has been "doing well" with carryout orders as the team gets its dining room ready for customers. Coleman hopes to entice more potential customers when the Bud Billiken Parade comes to King Drive on Aug. 13.
"If you want great soul food with a great vibe, Bronzeville Soul is the place to be," said Price.
Bronzeville Soul is open noon-7 p.m. Wednesday-Monday.
Watch our "On The Block" TV show on The U, CW26 and MeTV.
Listen to "It's All Good: A Block Club Chicago Podcast":