CHICAGO — Ald. Raymond Lopez (15th) is running for mayor of Chicago in 2023, hoping his promise to be tough on crime can oust Mayor Lori Lightfoot from City Hall.
Lopez, one of Lightfoot's biggest critics, announced his candidacy Wednesday afternoon in Back of the Yards. He tweeted early in the morning: "Chicago, I'm in!"
"I love my city and, like most Chicagoans, I am sick and tired of watching Chicago flounder at the hands of a rudderless ship," he said. "The time is now to provide our great City with the compassion and leadership it deserves. I'm in, and I hope Chicago will join me."
Lopez, a two-term alderman who grew up near Midway Airport, was first elected in 2015. He represents a Southwest Side ward that includes Back of the Yards, Gage Park, Brighton Park and West Englewood. Before being elected, he was a skycap for Southwest Airlines.
If elected, Lopez would be Chicago's first Latino mayor and its second openly gay mayor. But he faces long odds, as no sitting member of the City Council has ever been elected mayor and he hasn't raised the millions that is expected of mayoral runs, the Sun-Times notes. Under rules, Lopez can't run for mayor and alderman at the same time.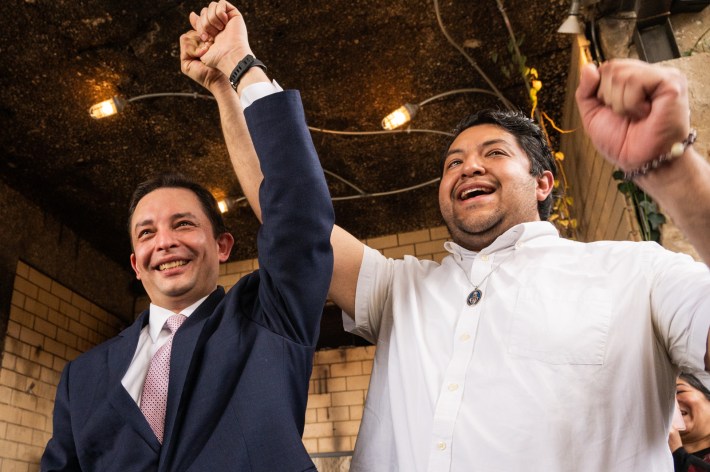 Dozens of supporters and residents surrounded Lopez at a press conference Wednesday afternoon.
"As mayor, my core principles will be simple: focus on safety, rebuilding our economy and supporting our first responders and city employees that serve the taxpayers of the city of Chicago," Lopez said.
Lopez squarely made crime a center of his campaign — something he has repeatedly criticized Lightfoot on as much of the city has struggled with a spike in shootings, carjackings and other violent crimes during the pandemic.
"As mayor, I will be 100 percent committed to taking ownership of the lives and safety of the people who call Chicago home, for the people who come here for work everyday and for those that choose to visit us for business or vacation," Lopez said.
Lopez lamented the high rate of police leaving the force and said Police Supt. David Brown would be "the first to go" if he is elected. He also criticized the city's slow pace in completing major projects, promising to ease bureaucratic processes and potentially lift certain city employee requirements, like residency.
As alderman, Lopez hasn't shied away from the cameras and often appeared on Fox News.
He has frequently fought to derail Lightfoot's agenda, from opposing the city's employee vaccine mandate to harshly criticizing the mayor's approach on dealing with looting and unrest in summer 2020.
Most recently, as Lightfoot announced a plan to reimburse residents for home security cameras, Lopez tweeted screenshots of past articles where he proposed the same idea several years ago.
Lopez has a reputation on City Council for being one of the most conservative members, particularly on crime. He takes to social media frequently to share his thoughts on the topic, including the times his office and home have been vandalized — as recently as January. Lopez was also recently in the media spotlight this winter after being dubbed an "anti-dibs" alderman.
With Lopez running for mayor, the 15th Ward aldermanic seat could be up for grabs in 2023.Lopez said he will likely endorse someone in that race, but couldn't say if he has anyone in mind he'd like to see succeed him.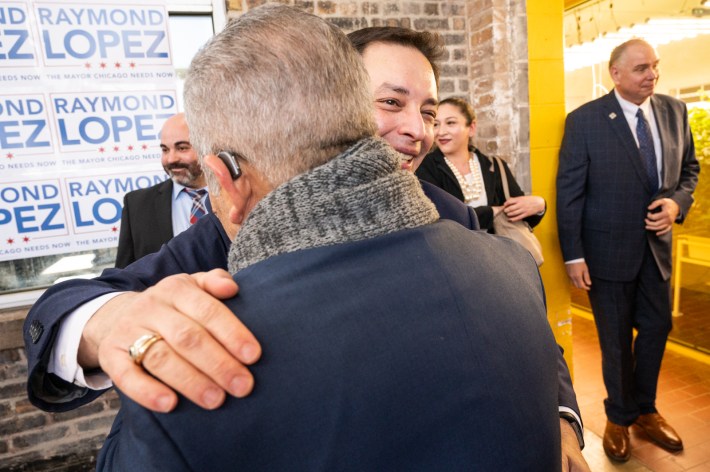 Asked if he was concerned how 15th Ward residents will feel about his mayoral bid, Lopez said he regularly gets asked if he can or will run for higher office.
"I don't think my residents would allow me to stay if I didn't run for mayor," he said, which was met with laughs and claps from the crowd behind him.
Despite no alderman ever having been elected mayor, Lopez said he sees a path to becoming a serious contender and raising the necessary funds .
"I go into this knowing what the goal is. I'm not deluding myself into thinking this is just a 'pie-in-the-sky' campaign, but I believe that people will resonate with my message for Chicago," Lopez said. 
Brighton Park resident Maria Estrada said she would definitely vote for Lopez. She said he is an honest man and is always there to help neighbors.
"In reality, we need him," Estrada said.
Keith Kersee, from West Englewood, said he's always been a big fan of Lopez and thinks he'll be a great mayor.
"I call [Lopez and his office] and they respond. And I know how hard that is because of how many people live in the ward," Kersee said. "He cares about the community, he cares about the people in the community."
The list of other potential mayoral candidates is shaping up to be long. Names that have been floated or who have announced they will run include businessman Willie Wilson, Ald. Roderick Sawyer (6th), Ald. Brian Hopkins (2nd), U.S. Rep. Mike Quigley, state Rep. La Shawn Ford, state Rep. Kam Buckner, former CPS CEO Paul Vallas, Chicago Teachers Union Vice President Stacy Davis Gates, former Chicago Building Commissioner Judy Frydland, Fraternal Order of Police President John Catanzara and Cook County Commissioner Brandon Johnson, according to the Tribune.
Listen to "It's All Good: A Block Club Chicago Podcast":