HYDE PARK — The Kilwins in Hyde Park will close the rest of this year as its owner recovers mentally and emotionally after gunfire hit the store Tuesday.
Kilwins, 5226 S. Harper Ave., was one of two businesses damaged by lunchtime gunfire on 53rd Street Tuesday. A few dozen shots were fired, but no one was wounded.
For owner Jackie Jackson, it was a tragic moment of déjà vu. She previously shut down the Old Town Kilwin's she owned in 2013 after a robbery, and she was "trapped on Michigan Avenue" when her Downtown outpost was looted last summer.
Jackson is thankful she wasn't in the Hyde Park store when bullets destroyed the shop's front window.
"I probably would have had a stroke or a heart attack," she said.
RELATED: Congressional Candidate Jahmal Cole Shot At As Violent Day Shakes Hyde Park; 2 Dead In Other Incidents
But the violence and its aftermath, combined with the trauma of her past experiences, has taken a severe emotional toll, Jackson said. She will close the shop through 2021 to focus on her "mental well-being" and figure out a path to reopening.
Officials have promised to bring more police officers and cameras to Hyde Park after the the South Side's "downtown" was shot up and two people died in three violent incidents Tuesday.
RELATED: More Police, Surveillance Cameras Are Coming To Hyde Park After South Side's 'Downtown' Shot Up, 2 Killed In Separate Incidents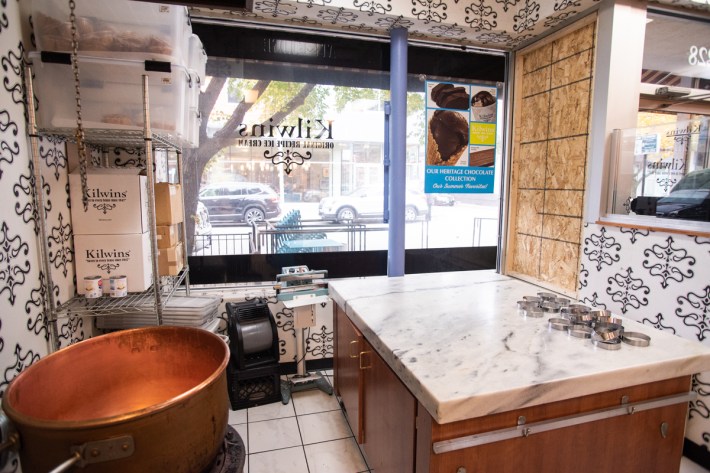 Jackson said it's devastating to close the shop's doors just ahead of the holiday season.
"I'm just tired and I had to make a decision. So for the remainder of the year, I won't be around. I have to just take a timeout to figure it out," she said.
Jackson's lease in Hyde Park, with a monthly rent payment of $8,200, is soon to expire, she said. The Kilwins franchise is also requiring her to remodel the location, which she estimates will cost $200,000-$300,000.
Jackson plans to reopen the shop, as she fought too hard to convince Kilwins to support her mission of opening in Hyde Park, she said.
The company initially questioned expanding beyond its typical tourist hot spots and into the "inner city" before giving her a chance, she said.
"I'm not giving up on the community," she said. "Just because I'm at Navy Pier and I'm at Michigan Avenue, I will never forget where I started, where my roots are. This is my community, and it's important to me. My goal is to come back and [have] this be the flagship store, and [have] it look just as nice as Navy Pier and Michigan Avenue.
Echoing other neighbors at Wednesday's news conference, Jackson said the community's path forward after this week's tragedies will require collaboration.
"I just think that we need to get together as a community and as a village, and we need to reclaim our community back," Jackson said. "I just shouldn't be complaining about the shootings and what's happening in the community. What can I do as a resident of this area and as a business owner to prevent this from happening?"
Listen to "It's All Good: A Block Club Chicago Podcast" here: