HYDE PARK — More police officers and cameras are coming to Hyde Park in the short term after two people died and the South Side's "downtown" was shot up during a violent Tuesday.
But in a year that's seen five people killed in Hyde Park, and three UChicago students or recent students murdered, a specific plan for preventing violence is still a couple weeks out.
The violence started Tuesday morning, when a 31-year-old man was stabbed to death in an incident of domestic violence in the 5300 block of Cottage Grove Avenue. In the afternoon, 24-year-old Shaoxiong "Dennis" Zheng — a native of China's Sichuan province and recent University of Chicago graduate — was shot and killed during a robbery in the 900 block of East 54th Place.
In between the two fatal incidents, a few dozen shots were fired on 53rd Street at Harper Avenue during lunch hour. No gunshot victims were reported, though bullets pierced the windows of Kilwins and the nearby Hyatt Place and damaged multiple cars.
RELATED: Congressional Candidate Jahmal Cole Shot At As Violent Day Shakes Hyde Park; 2 Dead In Other Incidents
Congressional candidate and activist Jahmal Cole said he was shot at during the 53rd Street incident, though he didn't know if he was the target of the shooting. Ald. Sophia King (4th) said Wednesday it was her understanding "that the intended target was not Jahmal Cole."
After more than a decade in Hyde Park, Kilwins will close the rest of this year as its owner recovers mentally after the gunfire, owner Jackie Jackson said.
RELATED: Kilwins Hyde Park To Close Through 2021 As Owner Prioritizes Mental Health After Lunchtime Gunfire Tuesday
In response to the violent day, King and Ald. Leslie Hairston (5th) on Wednesday called for more police presence and a better collaboration between government officials and residents during a news conference at 53rd and Harper.
"We're not going to police ourselves out of this. We're not going to program ourselves out of this. It takes a bunch of work," Hairston said. "It's like several different tentacles at once."
Hairston said surveillance cameras will be installed along 53rd Street, which is branded "Downtown Hyde Park" and is a main hub for goods and services on the South Side.
"I recognize that people have different opinions about cameras, but you know what … if we have those cameras, we can see the license plates, we can see who these people are; [the cameras] can be watching what's going on," Hairston said. "For right now, this is a state of an emergency. This is a crisis, and we're going to respond as such."
But Hairston acknowledged the limitations of additional policing. "If somebody drives down the street, jumps out of a car and starts shooting, I don't know if anybody can prevent that," she said.
Beyond surveillance, specific policing strategies and details on other violence prevention efforts were few at the news conference. Aldermen, UChicago officials and "stakeholders" at the city, county and state level will meet again in a couple weeks about "a more comprehensive" safety plan for the community, King said.
"We sat down with university and other safety stakeholders, and we asked them to come back with a plan in two weeks — kind of a short-term plan to triage," King said. "Coming together with these different bodies of government, I think, is probably the best thing that we can do on the horizon."
Hairston encouraged residents to call her office at 773-324-5555, King's office at 773-536-8103 and the offices of other local officials to participate in drafting the safety plan.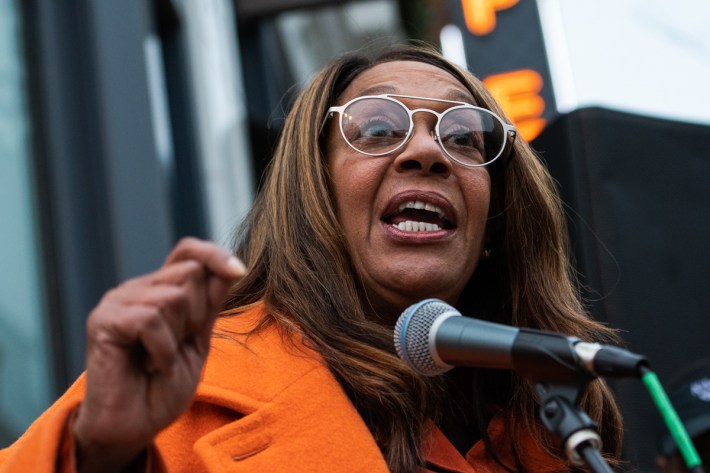 UChicago Police To Increase Off-Campus Patrols
Within three hours of Zheng's killing near 54th Place and Ellis Avenue, UChicago officials announced the university's private police force would "immediately" increase its off-campus presence. Zheng recently completed his masters degree at the university.
"The city is formalizing, with the University's involvement, a number of short and longer-term public safety strategies specifically for Hyde Park and surrounding communities," UChicago president Paul Alivisatos said in a statement Wednesday.
"We will share specifics soon," as the university will work with residents, faculty, elected officials, corporations and other institutions to "strengthen public safety," Alivisatos said.
Chicago and university police will increase traffic enforcement in areas with many pedestrians and install more surveillance cameras throughout Hyde Park, university officials said at a safety webinar Thursday afternoon.
Spokespeople for the university and its police department did not respond Wednesday to Block Club's questions about policing strategies as off-campus patrols increase.
Students have criticized the frequency at which Black people are stopped by UChicago police officers, as well as the department's extensive patrol area, which goes far beyond the university's central campus.
A University of Chicago police officer shot student Charles "Soji" Thomas in 2018 after he reportedly smashed windows and refused to drop a tent stake during a mental health episode. The shooting sparked protests at the school, with outraged students saying officers could've restrained Thomas without shooting him. Cook County prosecutors dropped charges against Thomas in May.
Protesters calling for the private police force's abolition held a 19-hour sit-in and occupied the university provost's block for a weekend last summer.
Hyde Parkers hold negative and positive opinions of university police officers, but their presence can deter crime, Peter Zeigler said. He's worked near 53rd and Harper for 45 years and was eating lunch Tuesday with his boss at Rajun Cajun, on the intersection's southwest corner, when he heard gunshots ring out.
However, Zeigler questioned the effectiveness of simply putting more officers on the street.
"People who are doing all this wrong stuff, they know that [police] are here, but they pick the times and the places they [commit crimes] where they don't see the presence of the police," Zeigler said.
People committing crimes know the Chicago Police Department is "stretched out" and facing staffing gaps, Zeigler said. King also said the number of officers in the city's 2nd District, which covers Hyde Park, has declined.
Officials face a challenge in balancing Hyde Park's public safety concerns with those of other neighborhoods, said Bennie Currie, founder of the community safety initiative CollaBOOration.
Currie's program's model — "activating" blocks with regular celebrations, meet-and-greets and other activities that encourage neighbors to know each other and establish a presence on their streets — can informally fill in the gaps, he said.
The model has its limitations, as congregating can prove dangerous if "you have the kind of insanity that you saw" Tuesday, Currie said. But in tandem with other safety efforts, it can deter crime while promoting community in Hyde Park, he said.
"In most cases, wrongdoers don't want to be visible," Currie said. "They want to do things in the shadows. That's where I think our strategy of being present and keeping the neighborhood vibrant can be an asset."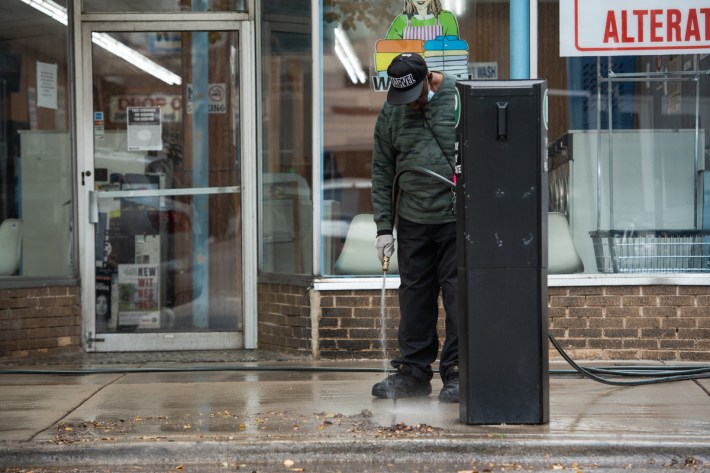 No suspects have been arrested as police investigate the 53rd Street shooting and Zheng's killing. There is no evidence at this time to suggest Zheng's killing was racially or ethnically motivated — a concern raised by some in the international community, said Eric Heath, UChicago's vice president of safety and security.
The Chinese American Association of Greater Chicago organized a GoFundMe to pay for Zheng's family's travel and legal expenses. It raised more than $13,700 as of Thursday morning.
The university community "will come together soon to remember [Zheng] and to honor his life," Alivisatos said. He encouraged grieving students to seek counseling by phone at 773-702-3625, schedule a counseling appointment through the university's website or speak with an academic or religious adviser. Employees can receive support by calling 800-456-6327.
A 28-year-old was arrested Tuesday on suspicion of stabbing the 31-year-old on Cottage Grove Avenue. The two men were brothers, according to the Hyde Park Herald, though Chicago police spokesperson Steve Rusanov said the department could not confirm their relationship.
Leo Thomas, a lifelong Hyde Park resident and Hyde Park High School graduate, said he hopes the recent string of violence "won't happen again."
Thomas said he welcomes an increased police presence.
Hyde Park is "one of the safe havens," he said. "It's sad that [violence] is trickling to everywhere in Chicago. Downtown, here; the places that are normally quiet and you can go out and walk the kids, now you have to literally think about walking the kids or taking the lady out on a date. It's rough."
Five people have been killed in Hyde Park this year, while 30-year-old UChicago doctoral student Yiran Fan and 46-year-old Aisha Nevell were killed in neighboring Kenwood during a citywide shooting spree in January.
In July, University of Chicago junior Max Lewis, 20, was shot and killed on a Green Line train at the 51st Street stop near Washington Park.
With more than 950 murders throughout Cook County this year — including 735 in Chicago — "there is no such thing as a safe neighborhood," county board President Toni Preckwinkle said.
On Tuesday, "Hyde Park experienced brazen acts of gun violence in broad daylight," Preckwinkle said in a statement. "But from University Village, Burnside, Bronzeville and West Englewood to Belmont Central, South Austin, Little Village, Back of the Yards, East Garfield Park and more, roughly 50 shootings terrorized neighborhoods this past weekend alone."
Preckwinkle offered few immediate action steps following another week of tragedy, but she vowed "to continue and also revisit my outreach to relevant stakeholders to bring everyone together and establish real world results."
Preckwinkle, a Hyde Park resident and former 4th Ward alderman, is no stranger to violence in her community. In September, an off-duty officer fired shots while on security duty outside her home, two months after an on-duty officer in her security team was attacked on the same block. 
"History will judge each of us on what we are doing today to stop the violence and bloodshed," Preckwinkle said. "Collectively, we all must do more – now."
The violence underscores how the neighborhood is not isolated from the socioeconomic troubles that plague the South Side and city, officials and neighbors said.
"Yesterday was predictable," given years of disinvestment from neighborhoods throughout Chicago, county commissioner Lowry said.
"We've got crime of various sorts all over the city, and it's important that everyone is kept as safe as possible," Currie said. "I don't want to see another community suffer because Hyde Park has had an uptick."
"There are 76 other communities in Chicago that are going through what we went through yesterday, every day," radio host and activist Mario Smith said. "… Our neighbors are all watching what's happening in this neighborhood and going, 'I can't believe that happened here.' That's foolish. It can happen anywhere."
Listen to "It's All Good: A Block Club Chicago Podcast" here: