LINCOLN PARK — A sushi restaurant has opened in Lincoln Park and donated 100 percent of its first day's sales to Lurie Children's Hospital.
Blue Sushi Sake Grill opened Monday at Lincoln Commons, 2351 N. Lincoln Ave., and raised $5,000 that day for Lurie Children's Hospital, according to a news release from the restaurant.
The restaurant is part of Flagship Restaurant Group, the largest sushi restaurant group partner of the Monterey Bay Aquarium Seafood Watch, a sustainable seafood advisory group.
Flagship has already opened more than 16 Blue Sushi Sake Grills across the United States, including in Dallas, Denver and suburban Naperville. The Lincoln Commons location is the first Blue Sushi Sake Grill to open in Chicago.
"It is an honor to get to welcome our Blue Sushi Sake Grill concept to Chicago," said Nick Hogan, CEO and co-owner of Flagship. "We feel so part of the community already, as we've spent a lot of time here over the years and have wanted to be here for such a long time."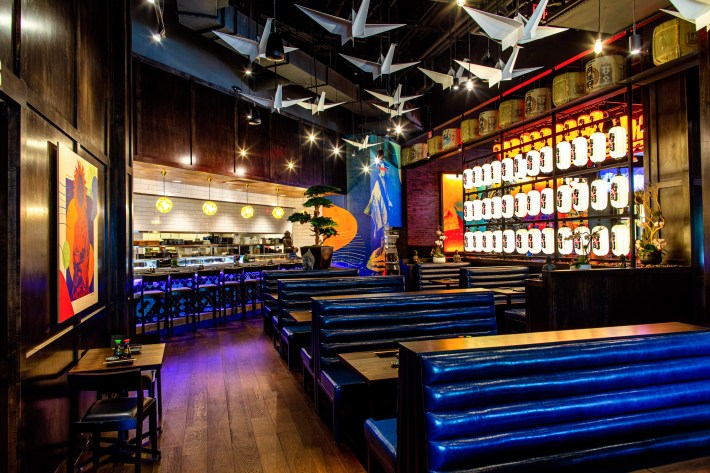 The restaurant's interior is designed with Japanese cues filtered through an American lens, according to the news release. It features a backlit collage of Godzilla overlooking Mt. Fugi, large geisha murals and a collage of vintage Japanese newspaper prints.
Its tables — inspired by the carts used in Tokyo fish markets — are hand-finished and custom-painted with Kanji characters, according to the release.
The restaurant was designed by Flagship co-owner Tom Allisma and art director Haylie Rousek.
Blue Sushi Sake Grill has various menu items for happy hour, lunch and dinner. It features items such as coconut crab soup, river rock beef tenderloin and ceviche.
The restaurant also has specialty nigiri and sashimi dishes, such as the smoked salmon and the Madai chimichurri, which is red sea bream topped with cucumber, cherry tomato, aji rocoto, olive oil, almonds, sea salt and chino chimichurri sauce.
The maki menu is broken into three sections: specialty, classic and vegan. It features everything from raw to cooked rolls, including the vegan Cowgirl Roll made with pickle vegan tempura, sriracha-fried onions, barbecue paper, vegan mayo and tonkatsu sauce.
For drinks, the bar offers selections of sake, Japanese whiskey, beers and wine. It also features cocktails such as Sake Sangria" made with Gekkeikan sake, red wine, lemon and lime; and the Far East Mary with onion, pepper, herb-infused vodka, sriracha, ponzu and tomato juice.
"The COVID-19 pandemic brought many setbacks for restaurant groups around the world, and although it may have seemed easy to give up on our beloved industry at times, my team and I never lost hope," Hogan said. "Here we are, a year and a half later, getting to do what we love: opening new restaurants for guests to enjoy and feel that same passion we have for culinary, beverage and responsible sourcing."
Blue Sushi Sake Grill's hours are 11 a.m.-10 p.m. Monday-Thursday, 11 a.m.-11 p.m. Fridays, noon-11 p.m. Saturdays and noon-9 p.m. Sundays.
Happy hours are 3-6 p.m. Monday-Saturday and all day Sundays.
Jake Wittich is a Report for America corps member covering Lakeview, Lincoln Park and LGBTQ communities across the city for Block Club Chicago.
Listen to "It's All Good: A Block Club Chicago Podcast" here: