PORTAGE PARK — For years, artist Riah Dunton dreamt about opening her own gallery to help other creators show their work.
After scoping out spots in the Portage Park area, Dunton settled on a cozy storefront at 5031 W. Montrose Ave. and is opening Triple R Gallery this week. The gallery will host a grand opening 6-8 p.m Friday with drinks and appetizers.
"It's been a long-time dream to have some kind of gallery or space that I can share my art and have local artists be able to share and show theirs," said Dunton, who lives a few blocks away. "I have shown some of my stuff in other galleries and thought it would be exciting to be able to run that myself."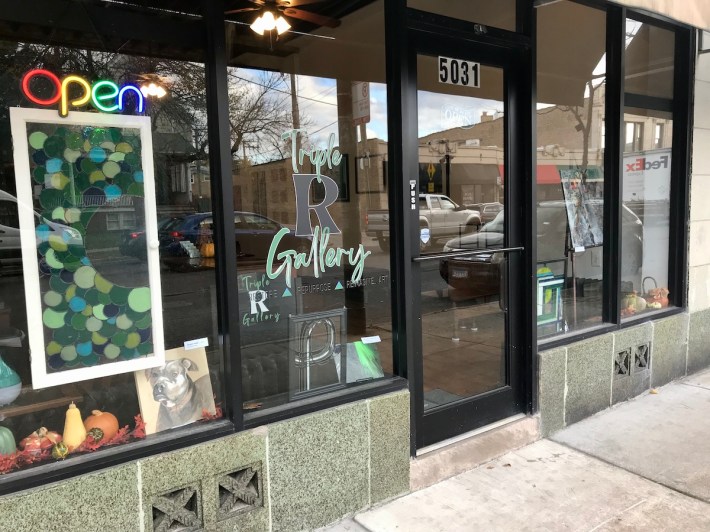 Triple R Gallery focuses on restored, reimagined and repurposed art from a featured local artist who will get the spotlight for one month. After that, their work will remain in the gallery for about four months while making room for the next featured artist.
Dunton, who is from Michigan and attended Kalamazoo Institute of Arts, will also show her own work, like wearable art purses, photography and paintings. She plans to phase it out as more artwork joins the collection.
The first featured artist will be painter Kristina Grosser Brucker, a Jefferson Park resident who creates portraits and abstract work with acrylic. Dunton found Grosser Brucker via a Block Club story about Alchemy Arts Chicago, a Jefferson Park multi-use space that closed over the summer.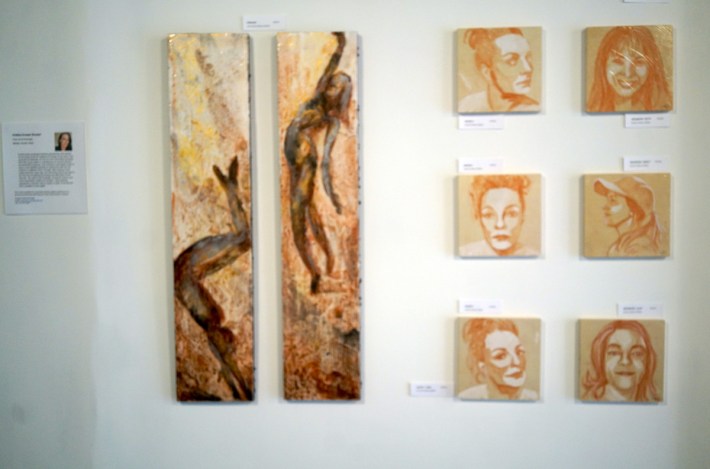 Grosser Brucker was showing her artwork at Alchemy Arts for the first time in 20 years when the pandemic hit Chicago and shut down indoor spaces. When Alchemy Arts permanently closed this year, she was discouraged from finding other unconventional places to showcase her work.
But when Grosser Brucker connected with Dunton, her excitement came back, she said. Grosser Brucker said Triple R Gallery will fill a need for local artists, especially those who are emerging or cannot afford to do it full-time, like herself.
"I feel very lucky — it's like lighting is striking twice," Grosser Brucker said. "It's an opportunity for a lot of people, and I'm thankful she is giving our little neighborhood a shot. We need to get some exposure and fill an empty storefront."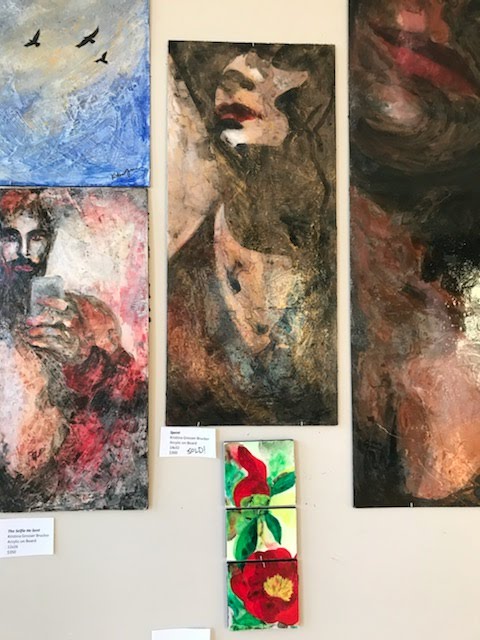 Dunton has dedicated two walls to Grosser Brucker's work, which she called "wonderful."
"Her ability to add that gloss and acrylic paint, layer upon layer, has made these two-dimensional pieces look more three-dimensional — a feat to do with acrylic paint," Dunton said. "I have not seen anything quite to this level before. I also like her portraits called 'Self Moods' and her neighborhood portraits. To be able to do that with a monochromatic tone is quite skilled."
As more art opportunities and galleries come about on the Far Northwest Side, Dunton hopes to add to that wave, especially as people feel more comfortable exploring again. She hopes the work at Triple R Gallery will change people's perspectives of what is characterized as art, especially multi-purpose and multi-dimensional work like sculpture and pottery.
"I have spoken with some artists who have a different take on how they see [art], which is exciting because I don't want something you always see," Dunton said. "Having that mixed in with other things might inspire people to see something new."
Chicago-area artists interested in showing can contact Dunton at TripleRgallery@outlook.com.
Listen to "It's All Good: A Block Club Chicago Podcast" here: