ALBANY PARK — Two parks and a school on the Northwest Side are vying for $1.5 million from the city to help renovate and improve their infrastructure. 
The funding comes through the Chicago Works Community Challenge initiative, which will give up to $10 million to support seven public projects on city-owned properties. These include upgrades to parks, libraries, outdoor public school facilities and vacant residential lots.
The application process began in June, and 21 finalists across the city were picked from over 500 proposals, said Adam Shimer, a senior manager with World Business Chicago. 
"They were deemed a real community need," Shimer said. 
On the Northwest Side, the three finalists are Volta Elementary and Ronan Park in Albany Park and Kelvyn Park in Hermosa. Supporters of the three finalists presented their plans at a virtual community meeting Tuesday.
The city will pick the winners by the end of the year, and work will begin sometime in 2022. Neighbors can weigh in on the three proposals via a community survey by clicking here. The survey will close 5 p.m. Nov. 11.
Here's more about the finalists:
Volta Elementary School playground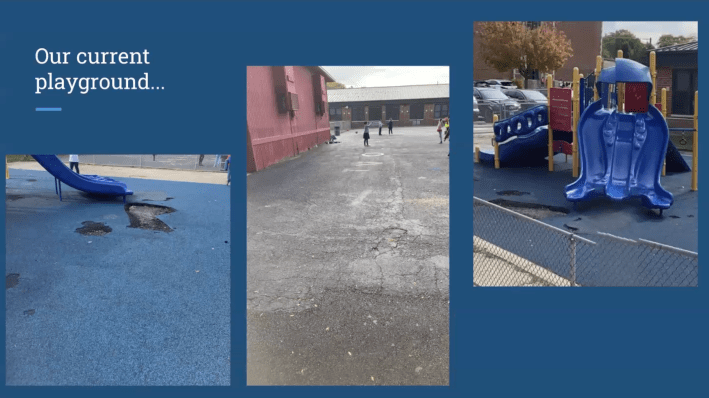 The playground at Volta, 4950 N. Avers Ave., has broken structural bars, multiple holes in the rubber protective flooring and is too small to serve the number of students that attend the school and play during recess, according to the school's staff.
The school serves more than 700 students, Principal Emily Mariano said. 
If selected, the school would use the funds to build a playground on an empty lot that would include an expanded turf field and areas for sitting and for teachers and students to use in outdoor learning as well as recreation, Mariano said.
"I'm here to show my full support for Volta Elementary," parent Bridget Murphy said at the meeting. "I'm a proud mom of two Volta students and can say that a new playground and outdoor space will be well-loved by a joyful school of 700 kids every day, and many families and community on the weekend and evenings."
Multicultural Sculpture Garden, new walkways at Ronan Park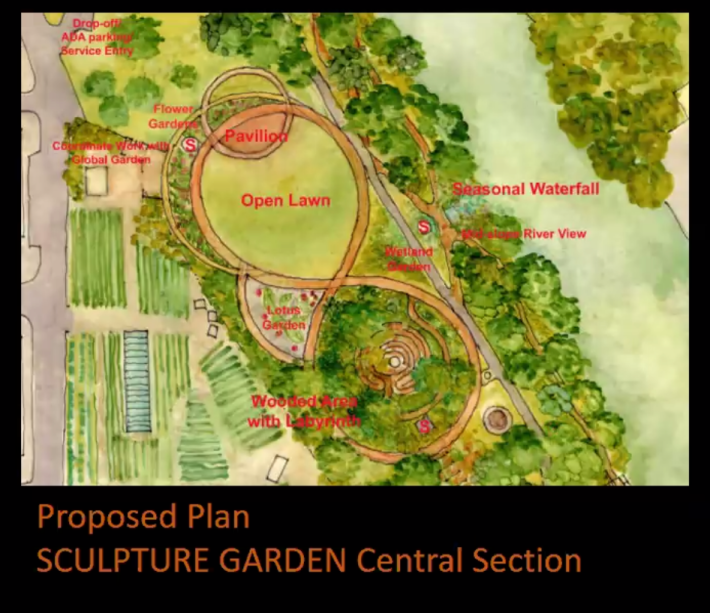 Ronan Park, 2900 W. Lawrence Ave., is located along the North Branch of the Chicago River and currently only has one main path through it that is shared by pedestrians, bicyclists and emergency vehicles.
The North River Commission wants to use the grant funds to add different walking paths throughout the park and near the river, make those paths ADA compliant, add community gardening spaces, create a community plaza, add more park seating and bring more art to the park. 
This plan for modifying the park was originally adopted in 2011 and is why there are outdoor sculptures at the park, said Tannys Langdon, a commission member.
The sculptures are on display until 2023, and the commission is already fundraising for the next art display that will come to the park.
The rest of the 2011 plan wasn't implemented because of lack of funding so the grant would allow the upgraded amenities the commission originally had envisioned to get back on track, she said.
"This project continues to have the support of North River Commission's original and new partners and countless individuals who volunteer in many ways," Langdon said. "We continue to raise funds, but to cover anywhere near the costs for building the infrastructure for this project, we definitely need the city's help."
Field House Improvements at Kelvyn Park
When the Northwest Park District was first formed more than 100 years ago, it began the process of purchasing land for Kelyvn Park and two other parks with the goal of providing one park for each 10 square miles for its area of the city. 
By 1914, the district acquired the land for Kelyvn Park, 4438 W. Wrightwood Ave., and hired architect Walter W. Ahlschlager to design a two-story brick field house that was completed in 1928. This field house is similar to those Ahlschlager designed at Riis and Simons parks. 
Kelvyn Park became part of the Chicago Park District in 1934, when all of the city's 22 independent park commissions were consolidated into a single agency.
But time took a toll on Kelyvn's field house. The roof is leaky, and the water damage has caused the ornamental plaster inside the building to peel or fall off the walls, said Kelvyn Park Advisory Council Vice President Lee Helmer.
The locker room's bathroom is unusable by the public and staff because of plumbing issues that include rusty water coming out of the faucets. Other problems at the field house include mold, asbestos, lead paint and a lack of ADA compliance, Helmer said.
"We care deeply about our park community and want to increase the quality of life for our neighbors," said Kelvyn Park Advisory Council President Casey Guerra. 
The field house is about 20,000 square feet and contains an auditorium, full-sized gymnasium with locker rooms and rooms for a preschool program. 
"But parts of the building are in need of extensive repairs and modernization," Guerra said. 
In addition to a few neighbors, state Rep. Will Guzzardi (D) and Ald. Felix Cardona Jr. (31st) voiced their support of Kelyvn Park getting the grant for repairs and upgrades to the field house during Tuesday's meeting.
RELATED
Rogers Park Nature Center, Lakeview School Playground And West Ridge Sports Fields In Running For City Grant
$1.5 Million In City Funds Will Go To One Of Three South Shore Projects: A Garden, The Cultural Center Or Rainbow Beach
Subscribe to Block Club Chicago. Every dime we make funds reporting from Chicago's neighborhoods.
Already subscribe? Click here to support Block Club with a tax-deductible donation.