HERMOSA — Nixon Elementary School's playground — built after years of parent advocacy — was destroyed in an arson fire Tuesday evening, devastating the school community.
The playground, 2121 N. Keeler Ave., went up in flames about 6 p.m. Tuesday. No one was hurt, but the flames torched the playground, authorities said. The blaze was caused by rubbish, Fire Department spokesman Larry Merritt said. He declined to answer further questions.
Police are investigating the fire as arson, police spokeswoman Kellie Bartoli said. No one was in custody as of Wednesday morning.
The Nixon community is reeling after the fire, which ravaged a play area that students loved and parents fought to build.
"The kids are crying. It's too much for us," local school council President Briceyra Zermeno said Wednesday.
An online petition calls upon Chicago Public Schools to rebuild the playground immediately. It's gotten more than 170 signatures so far.
"It's time for CPS to finally fund a new playground for Hermosa and Nixon families," according to the petition.
The playground was rebuilt in the summer of 2018 thanks to tenacious Nixon parents.
The school's 30-year-old playground had deteriorated to the point that it had become dangerous. Kids would get hurt using the slide and the metal bridge, which were both falling apart. Old wood chips gave kids splinters, parents told Block Club in 2018.
Concerned for students' safety, Nixon parents raised about $220,000 to replace the deteriorating playground, bringing on financial partners KaBOOM!, Investor Foresters Financial and Ald. Carlos Ramirez-Rosa (35th) to fill the gap. The project didn't receive funding from CPS.
Colin Bird-Martinez, who raised money for the playground as a former member of Nixon's local school council, said the arson attack made him emotional, especially given the years of hard work many devoted to making the new playground a reality.
"The assumption is someone did it in the heat of the moment — a very flippant thing without thinking that it was for children, that it took hundreds and hundreds of hours, and hundreds and hundreds of thousands of dollars … to put together," Bird-Martinez said.
Nixon Elementary enrolls mostly low-income Latino students, according to CPS.
"It's very difficult … to get these sorts of things in disadvantaged communities. It's really sad to take that away from the children and from the community," Bird-Martinez said.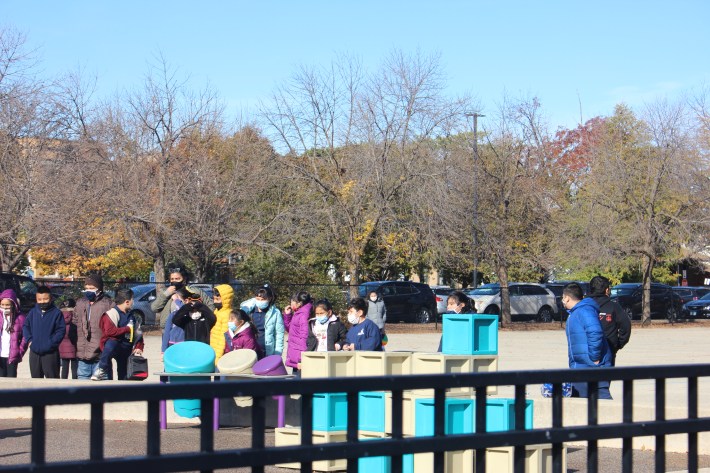 Wednesday morning, kids went out for recess to find their playground charred and surrounded by red crime tape. Some stood nearby and talked to their teachers while others played together on the concrete.
Zermeno said school leaders are crushed kids are suddenly without a playground, especially after such a difficult pandemic year.
"Kids didn't come into school for a year. They were so happy to see this school and see their friends and everything. They can't play right now. It's too much," she said.
Ramirez-Rosa, who represents the area where Nixon is, said he's working with Nixon Principal Diana Gomez on a plan to rebuild the playground. The alderman said he's also working with police to secure the area. Gomez didn't respond to a request for comment.
Bird-Martinez said the quick action gives him hope.
"I hope something good comes of it. Maybe it's more people getting involved in things, realizing how precious things are, not taking them for granted," he said.
Listen to "It's All Good: A Block Club Chicago Podcast" here: