WEST TOWN — Chicago is home to the oldest running occult shop in the United States — and it's looking to expand its work.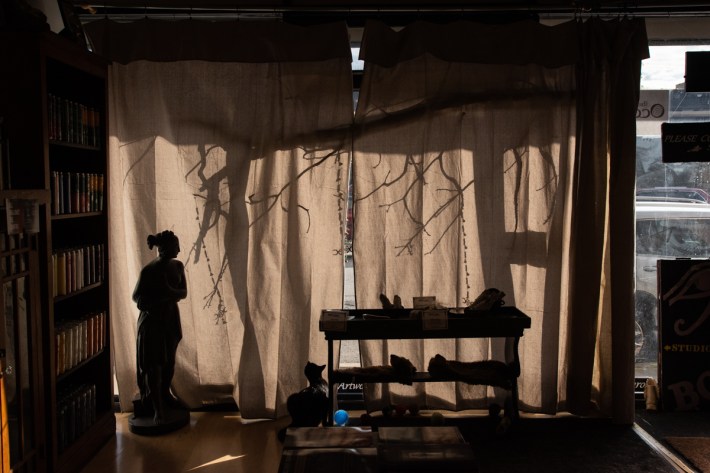 The Occult Bookstore opened on the Near North Side under occultist D.G. Nelson in 1918 with a mission to serve spiritualists, occultists and shamans. It moved a few times over the years before settling in a storefront at 2032 W. Grand Ave. It experienced another change in 2019, when it was recognized as a non-profit church, the Occult Spiritual Society.
But Occult's mission remains the same: to be a magical and mystical resource.
"Everyone who's associated with The Occult Bookstore and with the Occult Spiritual Society is a practitioner along the path," said the Rev. Bishop Lisa Gruber, one of the main clergy at the store and church. "If you come in and speak to somebody, you're speaking to somebody who's a co-traveler along the spiritual path."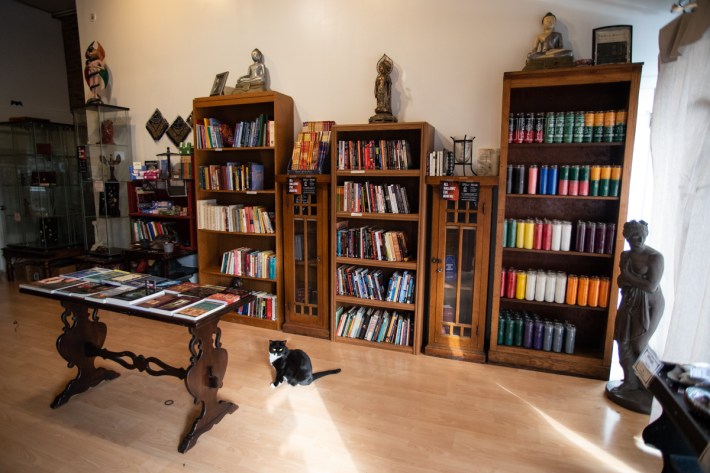 Soon, Gruber and the current primary owner, the Rev. Bishop Louvel Delon — who began working at the store as a teenager in the 1980s — expect to have a new space under their wing, as well. The duo is looking for a permanent sanctuary location near Wicker Park for the church.
They want to use the space to put down roots and educate Chicagoans on the mysteries of the occult world. To help along that path, the shop is hosting a bonfire and ritual this weekend to bless the ancestors of the Chicago pagan community. There will be music and mysticism.
The event runs 7 p.m.-midnight Saturday at Occult Gardens, 523 N. Spaulding Ave. Tickets are $10 in advance and $15 at the door. They can be bought online.
This time of year is particularly busy for the store as regulars pop in and others visit for the first time, celebrating Halloween and Samhain, a pagan holiday marking the end of harvest season. Customers come in to learn about witchcraft and explore their more spiritual side, Gruber said.
"A lot of times during this time of year, we specifically will have parents come in because their children will be experiencing metaphysical things or having dreams or some sort of activity," Gruber said. "We're a really good resource for those parents, to be able to give good advice or hold space for what their child is experiencing."
The church portion of Occult's work also sees an uptick in inquiries from people looking for consultations and guidance work, similar to spiritual counseling. 
"No matter who you are, if you come in, you're going to get individualized counsel and attention," Gruber said. "It's just what we do. We're very dedicated to the people who walk into our doors, especially when they're coming in from a place of genuinely seeking knowledge and guidance."
For those who can't make the bonfire but want to dip their toes in the occult world, The Occult Bookstore has hosted weekly roundtable discussions about mystical topics since the '90s. They're on hold while pandemic regulations are ironed out for the group, but they will return.
In the meantime, visitors to the store can talk with Gruber, Delon and other knowledgeable staffers for recommendations on books to become acquainted with the magical path. They can also help customers with questions about occultism and those looking for custom products for protection and spiritual cleanliness.
The shop sells books, oils, candles, crystal balls, cauldrons, items for casting spells and more.
"We're servants of the public," Gruber said. "We're clergy and dedicated to keeping the mysteries of the ancients alive. We've always been caretaking that knowledge and providing that resource for Chicagoans."
Listen to "It's All Good: A Block Club Chicago Podcast" here: