JEFFERSON PARK — A skeleton fashion show inspired by Disney's "Cruella" has been delighting Jefferson Park residents for Halloween.
At the corner of North Long Avenue and West Giddings Street, five skeletons show off their colorful dresses and accessories. Thirteen more wait behind black curtains, ready for their chance to strut their style on a front lawn stage. "I Wanna Be Your Dog" by The Stooges and "One Way Or Another" by Blondie play in turn.
The star of the show stands atop a silver car parked in the driveway along Long Avenue, with her nemesis, Baroness Von Hellman, sitting in the driver's seat.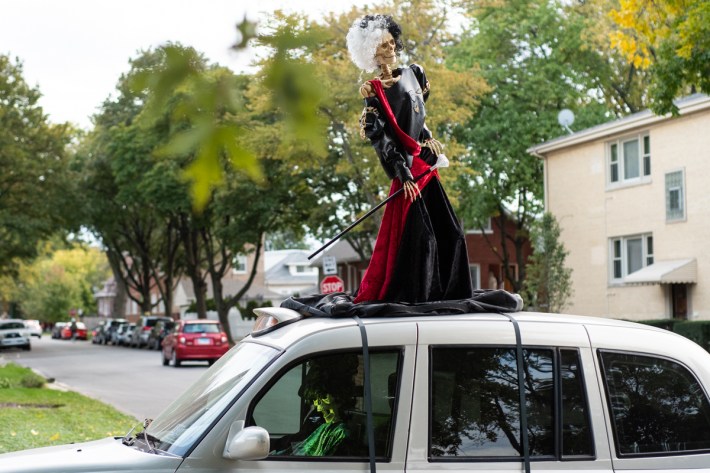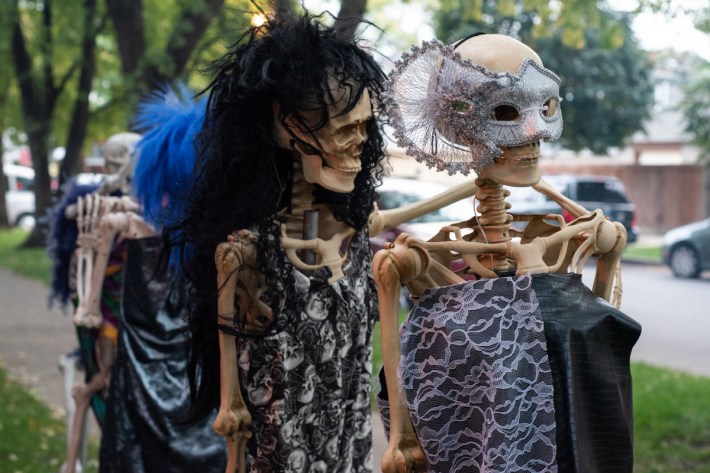 Lily and Mila Rabb, 13 and 9, who live at the corner, are the masterminds behind the Halloween display.
Last year, the girls created a skeleton conga line that was the talk of the neighborhood and brought people out of their houses to admire the creation during darker days of the pandemic.
Now, the family is keeping its Halloween theme going by expanding its fashionable skeletons with two scenes inspired by Disney's "Cruella," which was one of their favorite movies this summer, Lily Rabb said. The movie serves as the origin story for Cruella de Vil from "The Hundred And One Dalmatians."
"Last summer in June, we were having breakfast with our dad and talking about what we were going to do for Halloween — the conga line came up and we said, 'We have to do something better,'" Lily Rabb said.
The Rabb sisters enlisted help from their friends, Amanda and Amalia Pedota-Quesada, to create the display. It includes 22 skeletons, a skeleton dog, two smoke machines and two songs from the movie. The four got together every week since June to create the exhibit.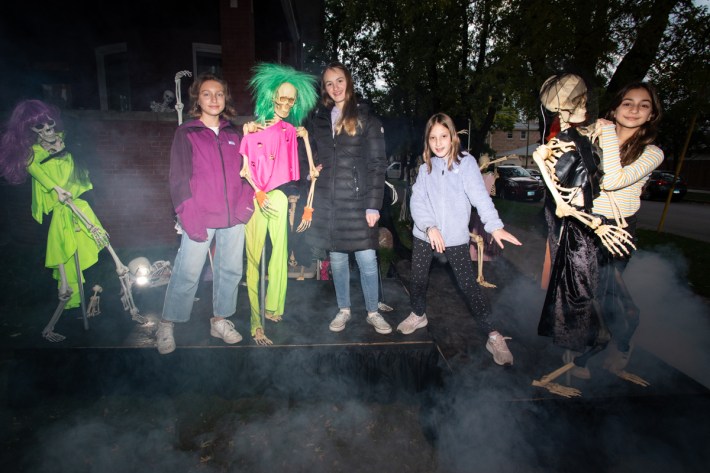 The girls, all classmates at Intercultural Montessori Language School, said the experience of creating all of the costumes — from designing them on paper to picking out the fabrics at the craft store and gluing on accessories like nails and necklaces — was a fun, creative project.
"We had a day where we put everything together, and it was really fun seeing everything come together in the basement," said Amanda Pedota-Quesada, 13.
The creators didn't expect their display to get a lot of attention, but Lily Rabb said her neighbors have really taken to it. People driving, cycling and walking by often stop to admire it and shout out compliments to the family if they are outside. They have even received handwritten letters thanking them for bringing joy to the block.
"We have gotten cards from people that say, 'Thank you for making our neighborhood beautiful,'" said Lily Rabb, who wants to pursue fashion design. "They are really touching and [make] me super happy."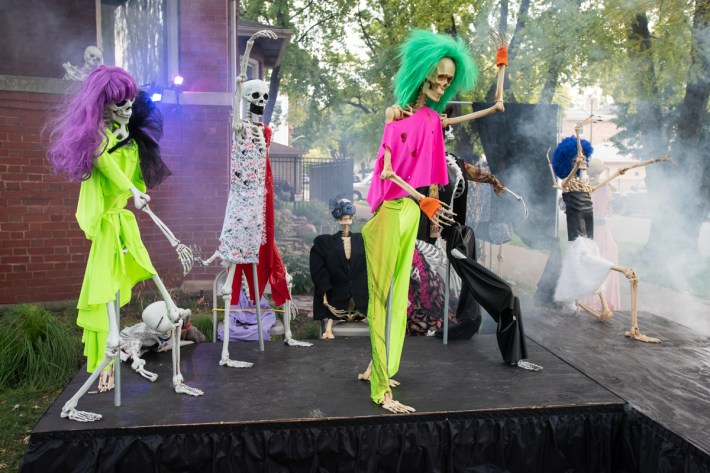 Father Lionel Rabb, who is the co-founder of the nearby Ed Paschke Art Center along with his partner, Vesna Stelcer, said the family has received many positive messages from the community on the skeleton display.
Two skeletons were stolen from the fashion line. The family replaced them — and hope the pilfered ones are being used for another Halloween display, Lionel Rabb said.
"People like to journey over," Lionel Rabb said. "We see a lot of folks coming over from other neighborhoods to see."
Stelcer, who is often outside working in the backyard, said people of all ages visited their house after remembering the family's conga line from last year.
"All day, I sit outside and … people come by and take photos, and they seem really happy," Stelcer said. "It's nice and they say how talented all these girls are. They are so creative and talented; we are very proud of them."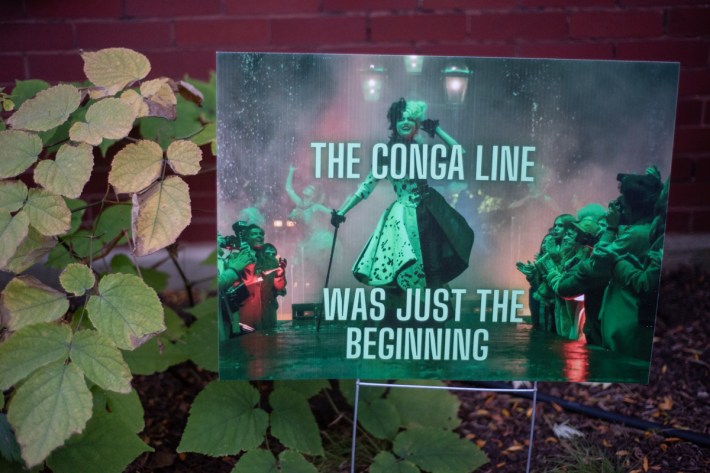 The Rabb sisters plan to do something special on Halloween with the display, though they are still working out the details. Now that they've made a name for themselves in the neighborhood for the holiday, the girls are determined not to let the community down.
They said they are already thinking of what display to put on next year, and they plan to reuse the skeletons.
"Come back next year," Lily Rabb said with a smile.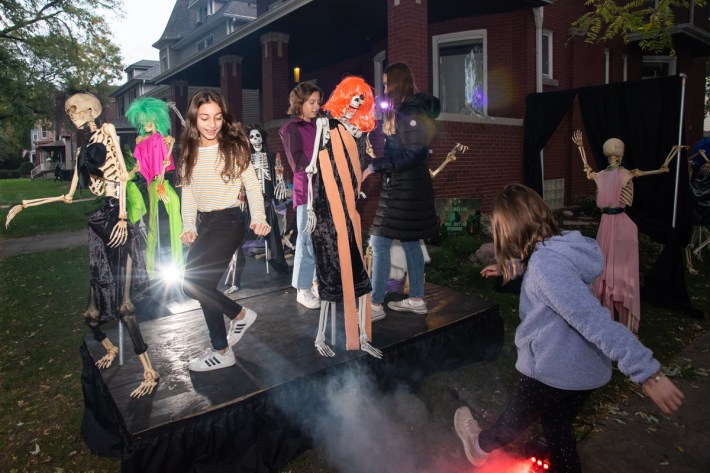 Listen to "It's All Good: A Block Club Chicago Podcast" here: