CHICAGO — Thousands of Chicagoans scarfed down hot dogs in hopes of being named Vienna Beef's Top Dog — but no one was quite as passionate as Stephanie Esposito.
Esposito, of the Southwest Side, visited 367 hot dog stands in just five weeks to win Vienna Beef's Hot Dog Stand Challenge. The second- and third-place winners — sisters Karen Buralli and Rose Lamont — also ate at all 367 participating stands, but they finished in six weeks.
Esposito doesn't know how many hot dogs she ate during the challenge — but, at 367 stands in just 35 days, she visited an average of more than 10 stands per day. She said she racked up an extra 9,000 miles on her car.
More than 4,300 people participated in the challenge, and there were 29,000 check-ins at participating stands, according to Vienna Beef. The winners were announced Thursday.
By becoming Vienna Beef Top dog, Esposito, a Park District emmployee, received a Top Dog T-shirt, a $1,000 Vienna Beef gift card and a one-of-a-kind Top Dog trophy — with a Vienna Beef hot dog on top, of course. She will also receive VIP tickets to several sporting and entertainment venues over the next year.
Esposito started the challenge after her boyfriend mentioned it to her in passing.
"I was like, 'OK, that's something that we could do [during the pandemic]. It will be fun to do something because there's nothing else going on,'" Esposito said. "And then two days later, I'd already been to a bunch of [hot dog] stands, and [my boyfriend] was like 'Oh, you're really gonna do this,' and I was like, 'Yeah.'"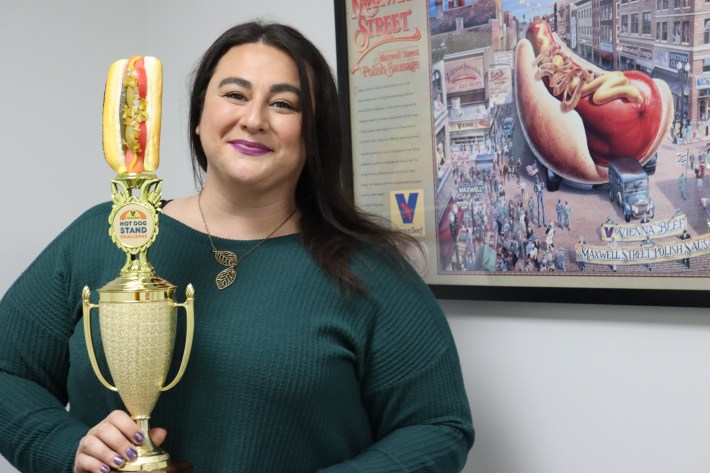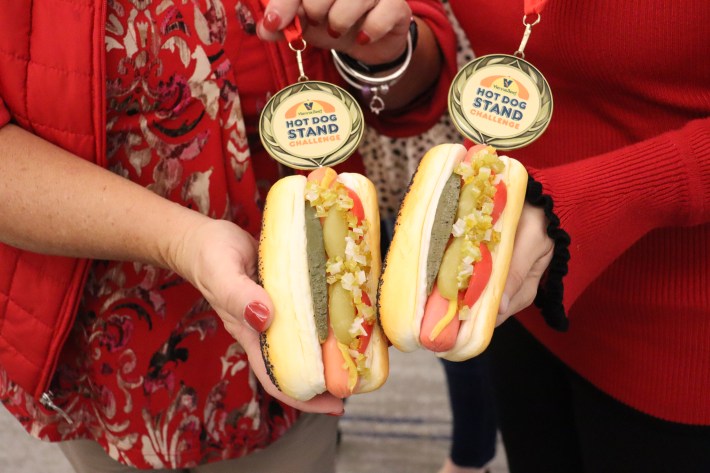 Esposito said her boyfriend thought the challenge was a cool event but wasn't seriously interested in participating in the challenge — while she, a highly competitive person, was determined to win. Just a week in, she'd already visited about 60 of the stands.
At times, Esposito would eat at hot dog stands every day after work and on weekends. When she started experiencing burnout from eating several hot dogs each week, she would change which items she ordered. Seeing others get close to winning the challenge, including Buralli and Lamont, kept her motivated to continue. 
"I just started making it a priority and going to it all the time," Esposito said. "It just became a fun, competitive driving thing to do, and you could do social distancing and not have to worry about anybody else."
Esposito will use part of her prize on the kids and older people she works with in her job teaching sports and recreation at the Park District. 
"Part of this prize is going to go directly back to the kids that I work with, because what else are you going to do with $1,000 and hot dogs?" Esposito said. "It's gonna go back to the community and the seniors and the kids, and getting to share it with other people. That's part of the hot dog stands, it's your community. And being able to share it back is kind of a cool thing."
Buralli and Lamont started the challenge about a week after it began. Lamont's husband knew about the competition — but didn't tell her because she's so competitive, Buralli said. Instead, Buralli told her sister.
Lamont finished her 367th hot dog stand 26 hours behind her sister.
As the second- and third-place winners, Buralli and Lamont each received a mini hot dog cart, a T-shirt, a ribbon featuring a hot dog and will get a catered hot dog party for 60 people.
Tom McGlade, the vice president of marketing and commerce at Vienna Beef, said the company wanted to figure out how to help independent restaurants struggling during the pandemic.
"They were suffering from the effects of the pandemic," McGlade said. "Unfortunately, some of them still are. But we thought that we would do a few things. We thought that we'd use our brand, our association with the city and the community and the connections and we would like to drive some awareness and traffic and excitement and fun at all of these independents throughout Illinois multiplicity and in southern Wisconsin. And we feel we did that."
Vienna Beef is donating $10,000 to the Illinois Restaurant Association Educational Foundation Employee Relief Fund. The fund helps restaurant workers affected by the pandemic, natural disasters, injury and other unexpected life events.
Other winners will also get prizes for checking in the most in various neighborhoods or for eating the most at an individual stand, among other categories.
Vienna Beef said there could a similar competition next year.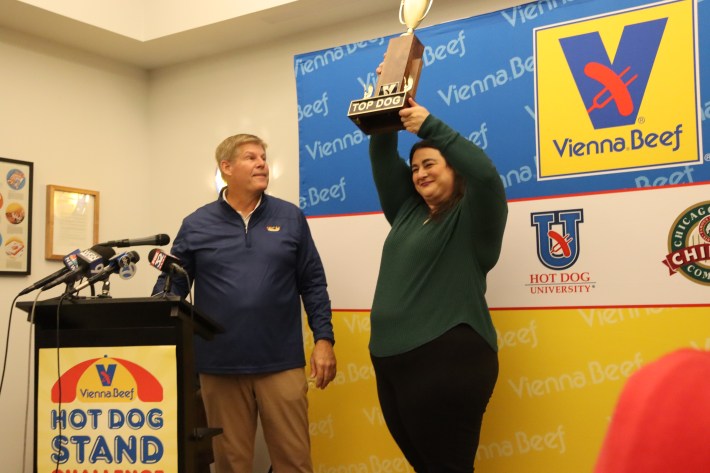 Subscribe to Block Club Chicago, an independent, 501(c)(3), journalist-run newsroom. Every dime we make funds reporting from Chicago's neighborhoods.
Already subscribe? Click here to support Block Club with a tax-deductible donation. 
Listen to "It's All Good: A Block Club Chicago Podcast" here: