GREATER GRAND CROSSING — Loved ones and admirers paid respects to Timuel Black and his 102 years of life as an activist, educator and inspiration at his public viewing Thursday afternoon.
Black, the icon of Black Chicago who spent his life working for social and economic equality, was born to Alabama sharecroppers Dec. 7, 1918. He moved to the Black Belt as an infant in 1919 and remained a Chicagoan for the next century.
He died at his Drexel Boulevard home Oct. 13, less than two months shy of his 103rd birthday.
Black's public viewing took place at AA Rayner and Sons Funeral Home in Greater Grand Crossing. His private funeral service will be held at 11 a.m. Friday morning at his home church, the First Unitarian Church of Chicago, 5650 S. Woodlawn Ave. in Hyde Park. It will be livestreamed here.
Father Michael Pfleger of St. Sabina Church will give Black's eulogy. Speakers include Mayor Lori Lightfoot; Cook County Board President Toni Preckwinkle; Michael Strautmanis, Obama Foundation executive vice president; and Peggy Montes, DuSable Museum of African American History chair emeritus.
A public memorial is planned for Dec. 5 at Rockefeller Chapel, 5850 S. Woodlawn Ave.
Black was "a vital force" with an open-door policy, a passionate and thoughtful demeanor, and a vast knowledge of his city, mourners said Thursday.
"He supported my interests," said Dorretta Evans-Parker, Black's former student at Hyde Park High School and classmate of his daughter Ermetra. "He's been the history of Chicago, as well as the historian of Black Chicago."
Evans-Parker was a member of the "Negro in History" club led by Black, which encouraged Black students to learn more about their collective past at a time where such a club was considered radical, she said.
"We didn't know our history," Evans-Parker said. "Some of us, we talked to our grandparents and relatives, but he was the one who brought it to us, had us read books and be able to discuss it."
The experience encouraged her to learn more about her own family history, Evans-Parker said. She later learned her mother and aunt's experiences as children during the 1919 race riot; they lived at 57th and State streets and witnessed people being dragged from their homes, she said.
Black maintained relationships with his students after graduation, said Jesse Jefferson, who was his student at Farragut High School in 1959 and 1960.
Jefferson and his best friend Melvin Williams stayed in touch with Black after school, as Williams — like many other Chicagoans over the years — had a direct phone line to Black.
In the years after Farragut, they'd chat "about politics, mostly, and about the way things were going today," Jefferson said. Black "would give his input as to what he thought about it, and he was always on point."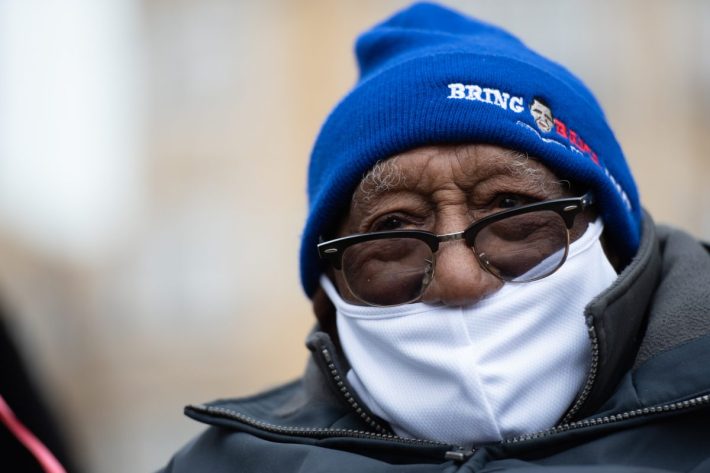 Black would act on his thoughts and beliefs whenever possible, said James Compton, who led the Chicago Urban League from 1972-2006. They worked together to elect Harold Washington and Barack Obama, as well as on civil rights and labor organizing movements.
"He was an excellent leader, but he was also an excellent follower," Compton said. "He did a lot for the labor movement in terms of trying to bring about parity and equity and fairness for workers. He was a real force for good here in the city of Chicago."
Key to Black's labor work was his desire to see increased wages and improved environmental conditions for Black workers, Compton said.
Even upon retiring from the City Colleges in 1989, he worked to "pass the baton" to younger generations by sharing his wisdom in more informal settings like community events and panel discussions, Compton said.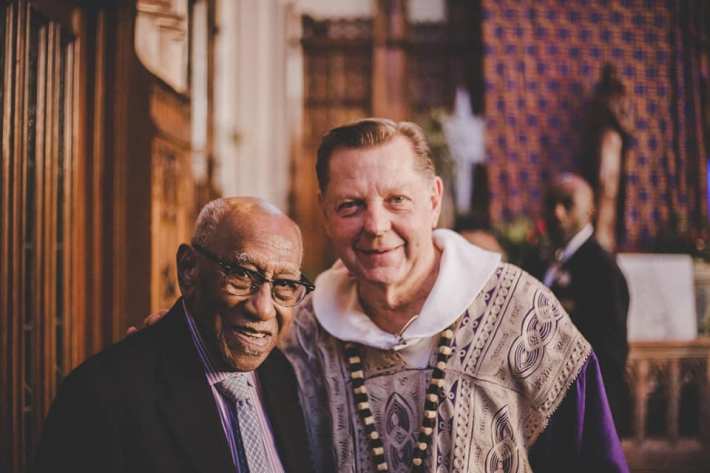 Admirer Noe Barnes met Black while working with a Canadian company to film a documentary on the history of jazz.
Barnes coordinated the interview with Black, who was in his 70s at the time and dropped knowledge between takes about the jazz greats in Chicago he knew and socialized with.
Jazz tunes played during Thursday's viewing for Black, a noted lover and historian of the genre.
Beyond his wealth of musical expertise, Barnes recalled discussing with Black the heavyweight champion Jack Johnson, "a personal hero of mine" who fled Chicago in exile after his conviction under racist laws for his relationships with white women.
"Mr. Black actually had contact with Jack Johnson," who died in 1946 and is buried at Graceland Cemetery, Barnes said. "I only read about him; I'd never spoke to someone who actually knew the person."
Whether on documentary crew members or fellow activists in the struggle for equality, Black's impact often went beyond the professional realm and into the personal.
After the film wrapped, Barnes visited Black at his residence, and Barnes would often appear at Black's book events with several copies in tow to be autographed.
"He was a beautiful person who was willing to share his life experience and vast knowledge of Chicago history to anybody who was willing to sit down and listen to him," Barnes said. "He was very blunt, but very honest; never biased and spoke his mind. He spoke from his heart, and he did it with love."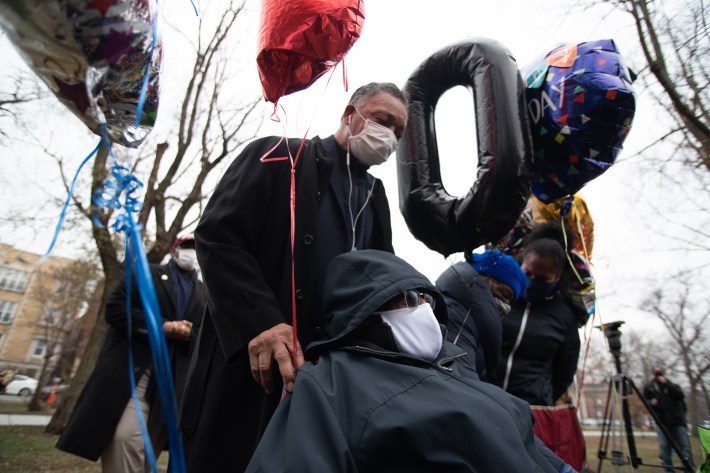 Subscribe to Block Club Chicago. Every dime we make funds reporting from Chicago's neighborhoods.
Already subscribe? Click here to support Block Club with a tax-deductible donation.