LITTLE VILLAGE — Chance the Rapper and Common are advocating for changes to Illinois' parole laws.
This comes two weeks before state lawmakers consider Senate Bill 2333, which would amend Illinois' criminal law to make people eligible for parole after they've served in the Illinois Department of Corrections for at least 20 years. 
The rappers spoke at a news conference outside the Cook County Jail on Wednesday to urge state lawmakers to pass the bill. 
"SB 2333 is a necessary policy that will begin to correct the harms of long-term incarceration in this state and putting an end to negative impacts that incarceration has on our community, family members, and the loved ones of those who are incarcerated," Chance the Rapper said. "We need a criminal justice system that reflects the values we want to see in this world." 
Illinois ended discretionary parole in 1978.
"Illinois, what are we doing?" Common said. "Other states are granting parole."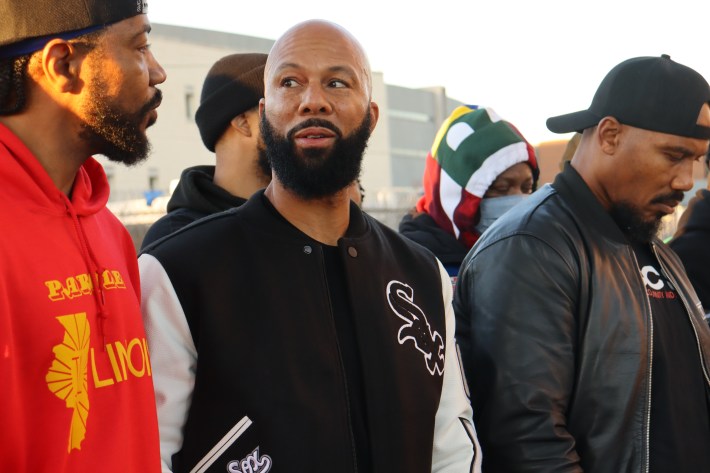 The Illinois Parole System
Illinois lawmakers got rid of discretionary parole "at the beginning of the tough-on-crime era," Katrina Burlet, campaign director and operations manager of Parole Illinois, said. Her group has been pushing the bill and organized the news conference.
At the time, some thought fixed-length sentencing would help address racism in the state's criminal justice system, according to Parole Illinois. The change was supposed to provide equal treatment in sentencing — but Black and Latino people were still disproportionately affected, often receiving longer prison sentences than white people, according to the goup.
"So that whole [idea of] 'everyone's going to be released one day' lasted maybe two years before we started stacking on huge amounts of sentencing enhancements and lengthening sentences and adding things that were considered crimes that would be met with prison time, and then truth-in-sentencing, and three strikes laws and like we just stacked it on over the last over the last four decades," Burlet said.
Illinois now uses what's known as mandatory supervised release, a time period of supervision after a person has been released. Parole Illinois is among those who say that's an additional punishment.
After past attempts at parole reform bills, groups such as Parole Illinois are hoping SB 2333, drafted with the help of Illinois inmates, passes. The lead sponsors are Sens. Celina Villanueva, Robert Peters and Jacqueline Y. Collins.
Parole Illinois representatives from the Chicago area also spoke at the news conference before leaving on buses to travel downstate to a rally Wednesday in Springfield at the Illinois State Capitol building, along with state lawmakers.
"Most people in Illinois prisons don't get evaluated for the potential for early restoration to their communities," Burlet said of the current system. "So this movement was really born from that and because it is people in prison who are the mind behind all of this, and the energy and the heart behind all this."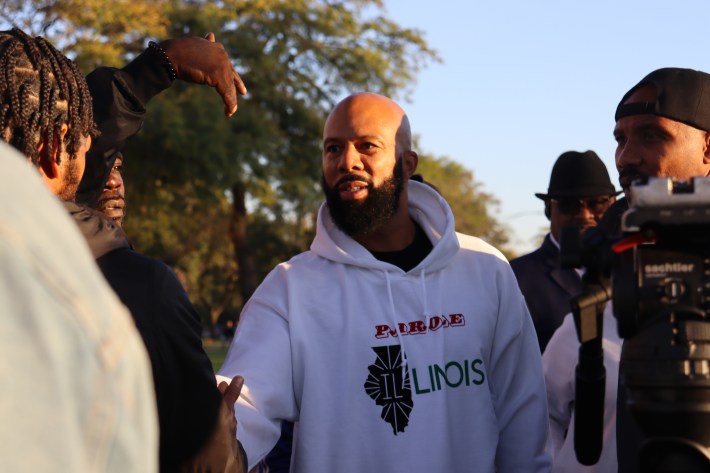 The Impact Of Prison With No Possibility Of Parole
Common and Chance the Rapper spoke at the news conference about meeting Chicago inmates and the impact it had on them.
Chance the Rapper recalled performing at Stateville Correctional Center in 2019 to celebrate seven inmates who'd earned their bachelor's degrees. The rapper said though he's known many people impacted by the criminal justice system, going to the prison in Crest Hill, Illinois, and seeing it in person profoundly affected him. 
"Driving out through endless cornfields to a walled-off compound isolated from the rest of society, walking into an auditorium to be greeted by armed guards and then to sit and see the rows of men I was there to perform for shackled hands and feet, draped all in blue," Chance said, "and then to know that after this performance, and after the ceremony, each man would be forced back into his tiny, dilapidated cell for the remainder of that day and for days on end — we need to understand incarceration for what it is: torture. 
"We need to start pushing and transforming our criminal justice system in sentencing laws. With this reality in mind, that means pushing for policies like parole."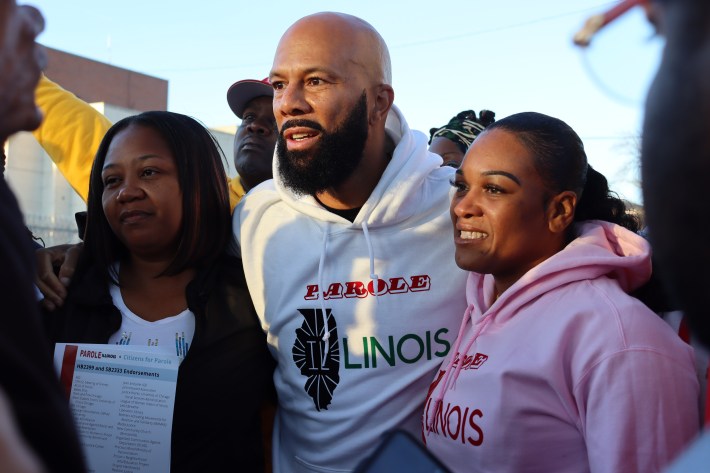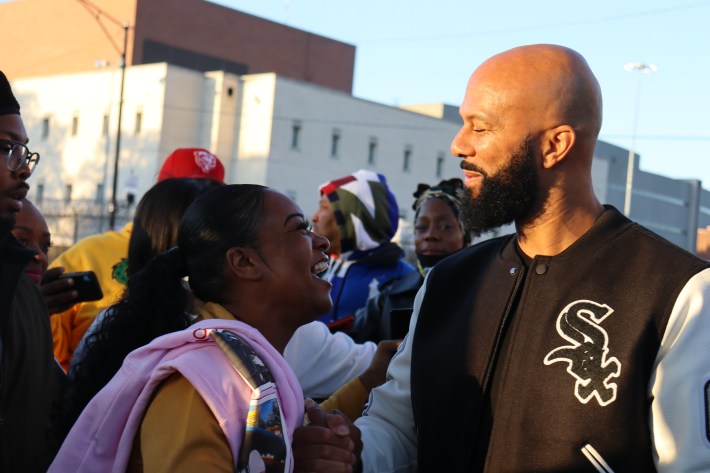 Common also talked about his own connection to parole and incarceration in Illinois.
The Chicago native spoke about reconnecting with a man he'd grown up with while making an appearance at Stateville prison for his nonprofit Imagine Justice's Rebirth of Sound program, which teaches inmates music production, songwriting and audio engineering. 
According to the rapper, the man, who's serving a life sentence, said he wanted to change his life, apologize to his community and see it healed from its struggles. 
"He said … 'It's people like me that are dealing with mental sickness and dealing with mental pain, that can change and transform,'" Common said. "It really struck me because I knew this brother, and I knew what he used to be. I knew who he was then. I've met some of the most enlightened and inspiring people in prison. 
"One gentleman said to me, 'Imagine being trapped in one act for the rest of your life, the worst act, for the rest of your life.' I thought about that. Now, if that happened for me, I wouldn't be up here."
Little Village native Pablo Mendoza, a Parole Illinois organizer who served 22 years in prison, said the criminal justice system needs to focus on rehabilitation instead of "warehousing people."
Chicagoan Carmaletta Jones talked about her partner Brian Willis, now 43, who has been serving a life sentence he received at 18. Calling herself an advocate for the voiceless, Jones spoke at length about the steps her partner has made to better his life, like earning multiple master's degrees and certificates and inspiring her to go to college.
Jones said it's important to see incarcerated people beyond their confinement — as lawyers, professors, doctors, therapists and people who have the potential to do great things. Jones believes parole can help address what she calls "death by incarceration."
"It's inhumane, and I can't even begin to express to you what it felt like for me, for the judge to tell my best friend in the whole world that he'll never see these streets again, that he'll never walk on real ground again. I can't explain that to you," Jones said.
"[Me and Brian] used to sit up and talk about our future — how we were going to get out the hood, how we were gonna do all these great things, and for them to just slam the door on that for them to say, 'Oh, you've been accused of committing a crime and then we got you forever.' That's not right. That is just not right and it's time for us to make the judges and the senators and the lawmakers work for us."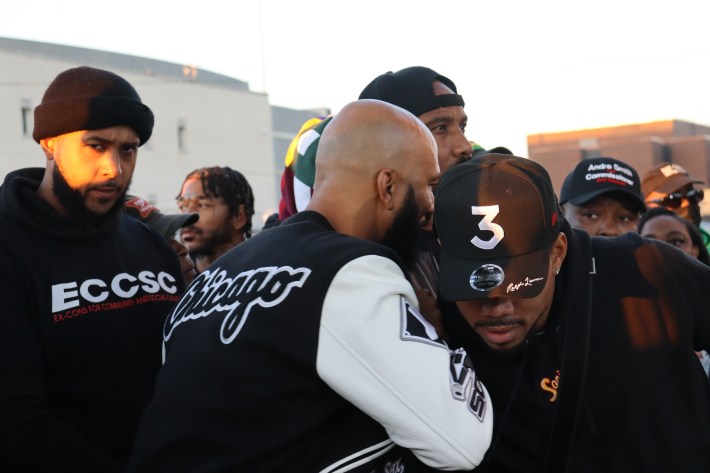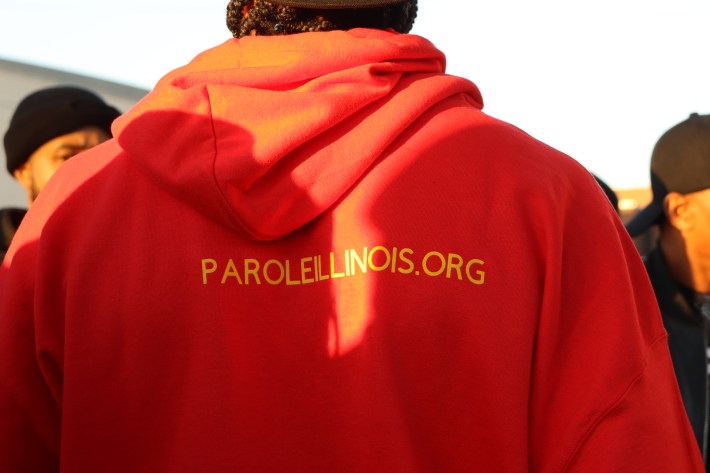 Subscribe to Block Club Chicago, an independent, 501(c)(3), journalist-run newsroom. Every dime we make funds reporting from Chicago's neighborhoods.
Already subscribe? Click here to support Block Club with a tax-deductible donation. 
Listen to "It's All Good: A Block Club Chicago Podcast" here: