CHICAGO — Candace Parker wanted to bring Chicago a title. On Sunday, she led the Chicago Sky to its first WNBA championship and city's first basketball title in more than 20 years.
The Sky were trailing after the third quarter, sparking fears the series against the Phoenix Mercury could go to a decisive fifth game back in Arizona. But propelled by 26 points from Joliet native Allie Quigley, the Sky surged past the Mercury in the final minutes to clinch it, 80-74 in Game 4.
It's the Sky's first title in franchise history, after losing to three-time champions Mercury in 2014. Kahleah Copper was named finals MVP.
Fans rushed the floor as Mayor Lori Lightfoot, Chance the Rapper and mascot Sky Guy joined in on the moment of joy and city pride. Kids left with their own pieces of gold streamers. The crowd at Wintrust Arena stood for more than 10 minutes after the win as the Sky lifted the championship trophy. Parker broke down and embraced her daughter, Lailaa. 
"It was just an amazing feeling to be from here and see so many people in the stands that have been supporting you since you started," Parker said after the game. She had 16 points.
The Sky's victory is the first basketball championship for Chicago since the Bulls dynasty won its last title in 1998.
It's the second championship for Parker, who grew up in Naperville, was a college star at Tennessee, and spent most of her career with the Los Angeles Sparks before joining the Sky this year.
It's the first title for point guard Quigley, a standout player at DePaul University, who bounced around the pros for years before becoming a critical member of the Sky's lineup. She also was part of the team that played in the 2014 finals.
RELATED: WNBA Stars Candace Parker, Allie Quigley Came Up In Chicago Area. Now, They're Powering Sky's Championship Run
Quigley took the mic alongside her wife and teammate Courtney Vandersloot to thank the fans. 
"The crowd got me going, my teammates got me going," Quigley said. "And everyone in this building gave me confidence."
Parker said she texted Quigley this morning a picture of the two playing basketball together as high schoolers.
"And it was like, man, not bad for two suburban kids, right?" Parker said. "Playing in the WNBA Finals together?"
Lightfoot tweeted that details for a rally in the Sky's honor are being finalized.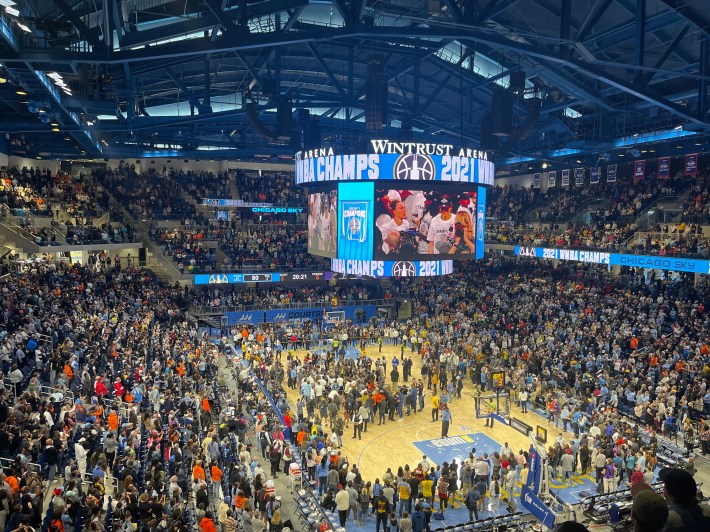 Danielle Brooks, a 14 year-old hooper from the West Side, came to the game with the basketball she won as MVP of a boys all-star game. Brooks clamored for Copper and other Sky players to sign autographs as they donned their championship hats.
Brooks met her best friends — sisters Ariella Henigan, 14, Amillya Henigan, 13 — through a travel basketball team organized by Parker's former coach. They persuaded their loved ones to buy them tickets last minute so they wouldn't miss out on their favorite team winning it all.
"It says women have power," Amillya Henigan said. "Fans really did their part and they understood the assignment."
"The Sky just work hard. They work as a team," Brooks said. "And they never stop."
RELATED: Chicago Sky Sell Out Stadium For Game 3 — And Are Inspiring Women And Girl Hoopers: 'I Can Do What The Sky Are Doing'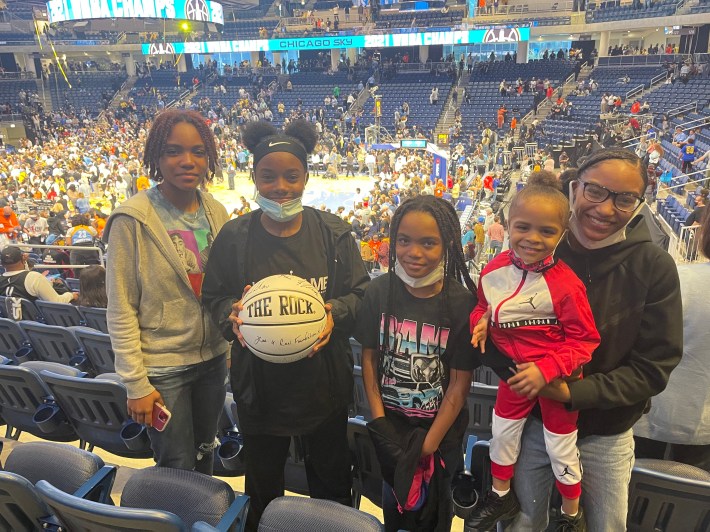 Fan Robert Rodriguez made his way to the floor and draped a Chicago flag over his back. Earlier in the day he ripped it off the wall in his Pilsen home and got a ticket to the game. Rodriguez started following the team this year, and said Chicago will always show out for a homegrown winner.
"I saw that they were building up to this moment," Rodriguez said. "All Chicago sports fans come together and cheer for each other, support each other. It's nice to see."
Outside the stadium, Brandon Tiller pumped his chest and showed off his "WNBA 2021 Champions" t-shirt with Parker on the front — the one he had custom-made even before the game. Tiller said stores were sold out of Sky gear in men's sizes.
"I already knew we were going to win," Tiller said. "It's just that confidence we have in Chicago."
Former player and coach LeKesha Triplett posted up in front of Wintrust with her "basketball babies," a group of girl players from around the city she mentors. Triplett wore a sweatshirt that read "Female Ballers Been Dope" and shouted, "Work is cancelled!"
"We just won a championship. And when the Bulls won, what was we doing the next day? Kicking it! We gotta kick it like we did with the Bulls, the Bears, the Blackhawks," Triplett said. "Women's basketball is here to stay."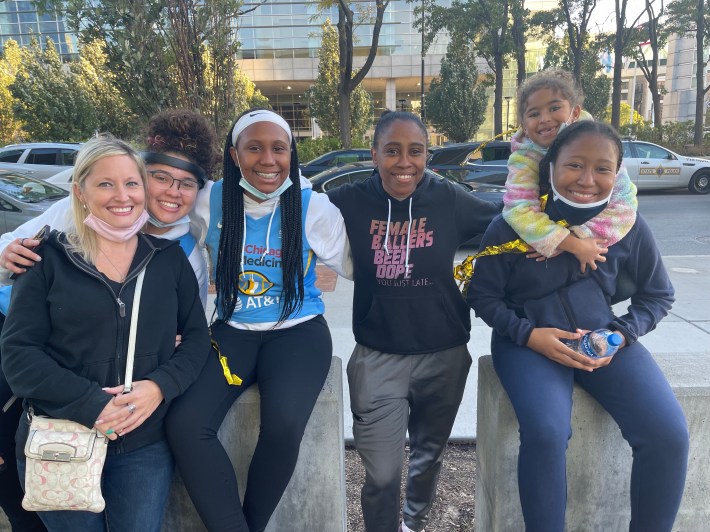 Local celebrities, fans, athletes and officials flooded social media with praise for the Sky, including Chance the Rapper, who attended both games at Wintrust over the weekend.
See more reaction from the Sky's win:
Subscribe to Block Club Chicago, an independent, 501(c)(3), journalist-run newsroom. Every dime we make funds reporting from Chicago's neighborhoods.
Already subscribe? Click here to support Block Club with a tax-deductible donation. 
Listen to "It's All Good: A Block Club Chicago Podcast" here: