NORTH LAWNDALE — West Side kids can try out new sports thanks to a neighborhood group devoted to breaking down barriers that keep some young people from participating.
The North Lawndale Athletic and Recreation Association is hosting community events to introduce neighborhood kids to lacrosse, rowing, rugby and chess, which are not typically offered at local schools. If kids show an interest, the association leaders connect them and their families to recreational or competitive city teams and clubs where they can take up the sport or activity.
The North Lawndale group is working with A Step Ahead Chess, Chicago Lions Rugby, the Chicago Training Center for rowing and Girls in the Game for Lacrosse to help kids get started.
"Basketball is king and queen in Chicago, so anytime we do anything with basketball, there's a huge, huge showing," said Claude Robinson, executive vice president for external affairs and diversity at UCAN, the youth development group that sponsors the athletic association. "We also wanted to show those youth who are passionate about basketball that there are other opportunities."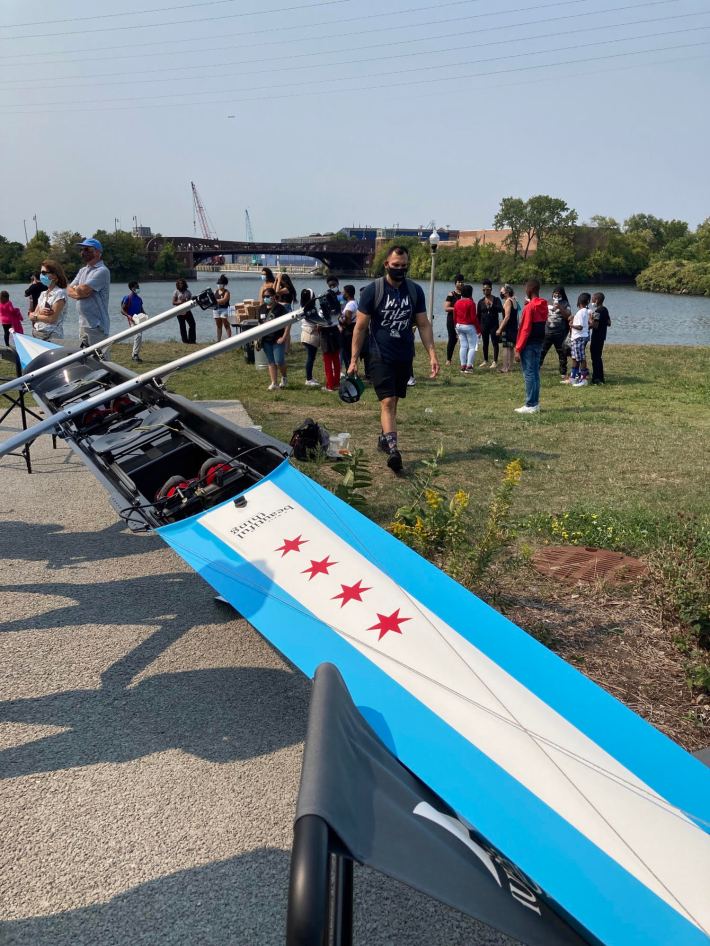 Sports like rowing, lacrosse and rugby — some of which require expensive equipment and access to specialized facilities and coaching — aren't common at most West Side schools and youth centers.
UCAN and the North Lawndale group recently had a community sports day to demonstrate the sports to neighborhood kids and encourage them to give it a try. Ultimately, the group wants to develop a local culture around activities that haven't traditionally had much of a foothold in North Lawndale, Robinson said.
"It takes time. You just don't introduce something and all of a sudden it becomes a sport or activity of choice," Robinson said. "A lot of young people already think they have something they want to be part of and invest their time in. We want to provide an alternative that the could see and potentially get involved in."
It's important for West Side youth to have options for sports and recreation so they can find something they feel passionate about, Robinson said. Many young people have unstable home lives, and having structured environments where they feel warm and invited can keep them from going down the wrong path, he said. Sports, games and activities like chess give youth a way to "express themselves in a positive way," he said.
"By having a multitude of opportunities, young people are learning teamwork, they're learning how to deal with disappointment, how to deal with frustration, how to problem solve, conflict management. All of these things are happening through sports," Robinson said.
The North Lawndale Athletic and Recreation Association was created as an initiative of the North Lawndale Community Coordinating Council after a 2017 community needs assessment showed a lack of competitive and recreational programs in the area.
Many of the programs offered by the athletic association are free. Programs that do have a fee are maintained at a highly affordable cost, Robinson said.
Building a world-class neighborhood athletic association to promote wellness is one of the strategies outlined in the North Lawndale Quality of Life Plan, a community-made blueprint to improved several key community issues like, including public safety, health, education and youth development.
The North Lawndale Athletic and Recreation Association served about 3,000 local kids last year. The group's 2021 goal is to reach at least 5,000 kids through its programs and outreach.
"We want them to be involved in multiple things, and not only the sports aspect, but also being involved in your community, as well," Robinson said.
Families interested in joining the programs can email Claude.Robinson@UCANChicago.org.
Subscribe to Block Club Chicago, an independent, 501(c)(3), journalist-run newsroom. Every dime we make funds reporting from Chicago's neighborhoods.
Already subscribe? Click here to support Block Club with a tax-deductible donation. 
Listen to "It's All Good: A Block Club Chicago Podcast" here: