CHICAGO — Some alderpeople are not getting vaccinated for coronavirus and pushing back against a fast-approaching deadline for all city workers to get their shots.
All city employees and volunteers must be fully vaccinated by Oct. 15, which means they have until Friday to get their final dose, since the shots take two weeks to offer full protection. Those that don't will have to get tested regularly.
But alderpeople are not subject to the city rule, a mayoral spokesperson said.
RELATED: City Workers Have Until Friday To Get Vaccinated And Meet Lightfoot's Deadline
Most City Council members are fully vaccinated and have attended in-person council meetings in recent months, but a few are resisting the vaccine and think the requirement infringes on individual choice. Others said council members should lead by example in getting vaccinated as the city continues to battle the pandemic.
As that debate swirls, some council members also are asking for remote participation in budget hearings to protect themselves and vulnerable family members.
Ald. Nick Sposato (38th), one of the few aldermen who has been vocal about not being vaccinated, said he is not ruling out the vaccine and doesn't oppose it, but he does not feel comfortable getting it yet because of potential side effects and how they could affect his multiple sclerosis. Though the National MS Society recommends the shots, he said his family doctor advised him to wait.
"I'm feeling better about getting it sooner than later, but a high fever could kill me. … It could be worse to me than the average person," Sposato said.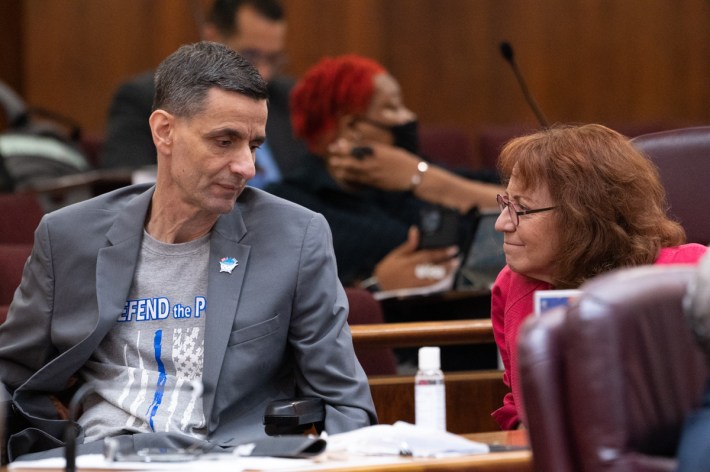 Sposato and five other aldermen sent a letter to Mayor Lori Lightfoot on Wednesday asking her to reconsider the vaccine requirement. Alderman Derrick G. Curtis (18th), Ald. Felix Cardona (31st), Ald. Anthony Napolitano (41st), Ald. Jim Gardiner (45th) and Silvana Tabares (23rd) joined Sposato in signing the letter, stating that they would continue educating their communities on how to stay safe against COVID-19, but getting vaccinated should be a personal decision.
"We firmly believe that your order to mandate the vaccination for all City of Chicago employees is an infringement on their personal freedoms," the letter reads.
The government long has required many other vaccines, starting with smallpox in the early 1900s.
In a statement to Block Club, the Mayor's Office said getting vaccinated is the safest way to protect workplaces and the office will continue to work with elected leaders to get their communities vaccinated.
But Lightfoot has not mandated alderpeople be vaccinated, and her office did not say if there would be any repercussions for alderpeople who refuse the vaccine.
"At this point, nearly all aldermen are fully vaccinated, and although they are considered city employees, they are elected officials who do not report to the mayor," said spokesperson Victor Owoeye.
Ald. Maria Hadden (49th) said all of her colleagues should be vaccinated unless they have physical or medical barriers issues. Doing so will help the city get through this crisis, she said.
"I think we have more than enough data and evidence to show that being vaccinated helps protect you and your community," Hadden said. "As public servants and elected officials, that is at the core of our jobs."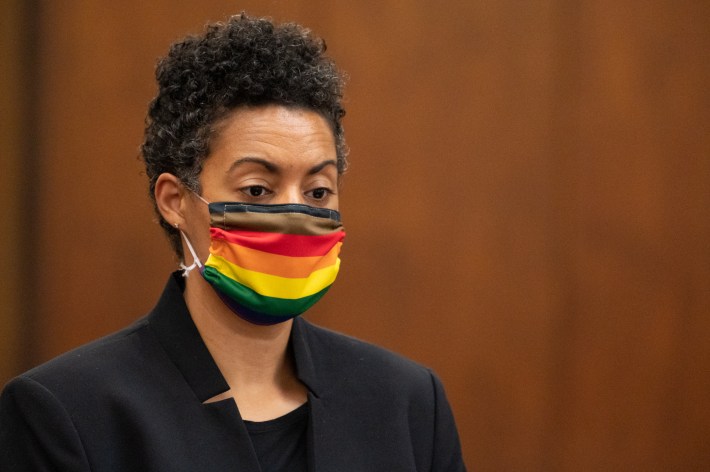 Hadden said she does not think it's fair the city's rule excludes alderpeople, but she understands Lightfoot's hesitation since she is not their boss.
"I respect my colleagues having different opinions, but this is not an infringement on constitutional rights," Hadden said. "We need to get on the same page, get the with the program, accept data and science, and adapt."
Council members also are not seeing eye to eye about arrangements for this week's budget hearings. At least seven council members have asked for a remote option, particularly since South Side Ald. Jeanette Taylor (20th) tested positive for coronavirus. Budget committee chair Ald. Pat Dowell (3rd) has insisted on in-person sessions.
Dowell held firm after Wednesday's hearings, saying, "We have to lead by example."
"As leaders of the city, we cannot require police, fire, teachers, health care workers and other city departments and their employees to work in person, while we play by a different set of rules and work remote," Dowell said.
Sposato also said he opposes remote budget hearings.
"We have to have these meetings [in person] because at some point, the pandemic is going to end," he said. "Maybe one day each could [be] remotely … but you should dedicate your time two times a week." 
Dowell said City Hall staffers have increased cleaning measures above what was in place at prior meetings. Alderpeople cannot ask questions during the meeting virtually, but they are free to watch the livestream and submit questions via email to committee staff, she said. Hybrid models for other council meetings are to be determined.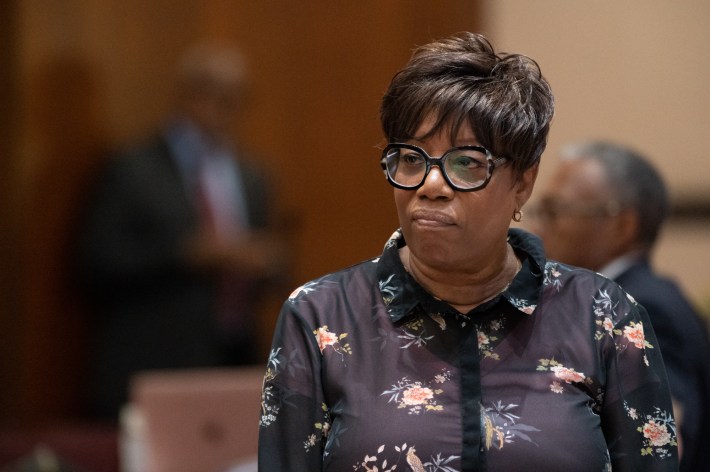 Ald. Brian Hopkins (2nd) emailed Dowell and his colleagues expressing concern over indoor meetings, noting some council members have pre-existing medical conditions or have children unable to be vaccinated. 
"Denying an option for remote participation in budget hearings to those at higher risk is unfair and unnecessary, given that remote participation is by now very familiar and fully functional for all. I join my colleagues on this email thread to respectfully ask that the hybrid model be reinstated for the 2022 budget process," Hopkins wrote.
Alderpeople are required to be vaccinated or have proof of a negative COVID-19 test within the past 48 hours to attend the meetings. On Monday and Tuesday, the committee struggled to reach the 15-member quorum necessary to begin the hearing, delaying the start time by more than an hour. 
Dowell said the delays were unrelated to the "whole swirl that's going on with some members" pushing for remote participation, saying some aldermen have cited traffic, scheduling conflicts and illness for showing up late.
Block Club Chicago's coronavirus coverage is free for all readers. Block Club is an independent, 501(c)(3), journalist-run newsroom.
Subscribe to Block Club Chicago, an independent, 501(c)(3), journalist-run newsroom. Every dime we make funds reporting from Chicago's neighborhoods.
Already subscribe? Click here to support Block Club with a tax-deductible donation. 
Listen to "It's All Good: A Block Club Chicago Podcast" here: