BRIGHTON PARK — Annoyed with the speed bumps in his Brighton Park alley, Nicolas Benitez took matters into his own hands.
For about three weeks, he's been hacking away at the decades-old asphalt speed bumps outside his garage in the alley off the 4200 block of South Mozart Street. It's tedious work, all after he gets off of work — one swing of a pickaxe at a time. 
It's costly, too — as he's now been slapped with a $500 fine.
The long-haul trucker jumped into action after meeting with Ald. Raymond Lopez (15th) to discuss a legal removal of the bumps that were nicking his SUV suspension. Benitez, who's lived in the area for 20 years, said the old-school speed bump was already cracked and caused almost $1,000 in damage to his two cars.
Lopez said he'd look into it. To Benitez, picking up a pickaxe seemed like a faster alternative than working through slow-churning city government. 
"This neighborhood needs a lot of repairs in the old alleys," Benitez said. "I think maybe they don't pay attention to the neighbors. Because of the North Side neighborhoods, it's nice and clean … . In the South Side, they ignore it; I don't know what's going on." 
After removing the asphalt, Benitez stacked it neatly by his garbage cans. Neighbor Bobby Mason snapped a photo of the evidence and tweeted it to Lopez. The alderman came within the hour and with news for Benitez: He now had a $500 fine for destruction of city property, a date in court and will likely have to foot the bill for a replacement. 
Benitez said he didn't talk to his neighbors about his plans and felt the ticket was unfair.
"The alderman made a little thing a big deal. That's a problem," Benitez said. "I'm only one resident. I pay my taxes. I don't owe anything. This man, he has to take care of the neighbor, the resident. It should be easy to just come by and see what's a problem, and just replace it with a new one. Why he give a ticket for?"
Installing and removing a speed bump costs about $1,800 each, "give or take," Lopez said. He described his alleyway meeting with Benitez as "cordial, just unfortunate." The two ended their conversation with a handshake. 
"Generally, I have never seen residents go to this length," Lopez said. "There's a process — it doesn't move fast. But if we know and can work together, we can avoid a lot of these types of situations."
That process can take up to a year, depending if there is funding earmarked in the annual menu that aldermen are given for ward improvements. Inconvenient speed bumps can be a common grievance for residents who want to see local government moving fast. 
"We find speed bumps in the oddest of places," Lopez said. "I've removed speed bumps directly in front of people's garages. Which had me scratching my head, 'Who put it there?'"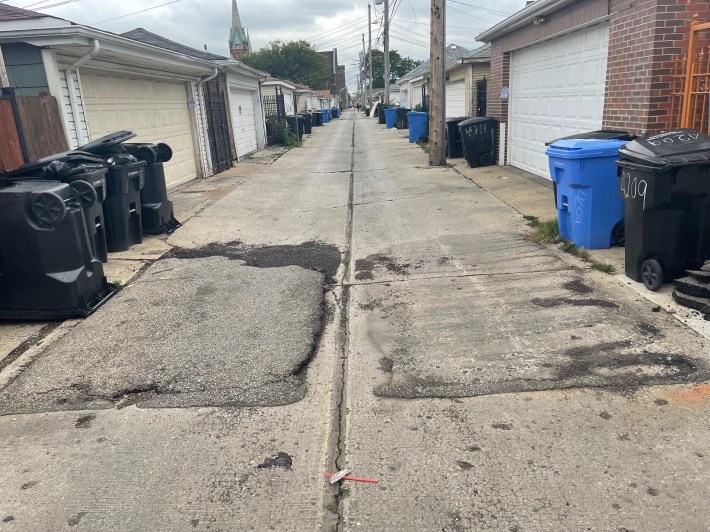 Other neighbors that share the busy alleyway off South Mozart Street and South California Avenue said the speed bumps are needed to keep fast-and-furious parents from high-tailing it to nearby Thomas Kelly College Preparatory for the best pickup and dropoff spots.
Benitez agrees but said the asphalt speed bump should have been replaced with a rubber one that is gentler on cars.
Karina Rodriguez lives across from Benitez but hasn't heard the thump of a single pickaxe. The incomplete, work-in-progress removal has caused traffic congestion and made neighbors worried about piercing their car tires. 
But as long as the job gets cleaned up somehow, Rodriguez will be cool with it. 
"The speed bumps were fine. They were no problem at all," Rodriguez said. "Yeah, it's just weird." 
Mason has lived in his house on the California side of the alleyway for his entire life. The dogwalker sets out most days to pick up several goldendoodles, a poodle, a Yorkie and a black Lab — only to find another half section of the double-sided speed bump hacked away. Mason remembers the bumps being installed around the turn of the millennium when he was a kid and said what Benitez did was "needless." 
"Just doing it for your own personal benefit, it doesn't help anyone else," Mason said. "You know you don't own the alley. You know what you're doing."
Lopez said a speed bump will certainly be installed — hopefully soon. 
"The speed bump is for the safety of everyone in the entire alley, not just one resident. We will put a speed bump back there," Lopez said. "If you don't, you're encouraging people to take matters into their own hands."
Subscribe to Block Club Chicago, an independent, 501(c)(3), journalist-run newsroom. Every dime we make funds reporting from Chicago's neighborhoods.
Already subscribe? Click here to support Block Club with a tax-deductible donation.
Listen to "It's All Good: A Block Club Chicago Podcast" here: