AVONDALE — It wasn't until bicyclist Jeremy Glover was next in line, waiting behind a car at a CVS COVID-19 testing drive-thru window, that he realized his plan might veer off route. 
He spotted a sign with the words, "VEHICLE REQUIRED FOR COVID TESTING."
Considering this was the first he'd heard of this rule, Glover stayed in line hoping it wouldn't be enforced. But when he pulled up to the window, the pharmacist didn't skip a beat. 
"They just flat out said, 'You have to be in a car to get a test,'" Glover told me. 
After Glover tweeted what happened, his post quickly went viral. Many responded they also have had mixed luck accessing COVID-19 testing without a car. Even at places where bikes are allowed, some say the rules are inconsistent. Some bicyclists said they've found drive-up slots are more plentiful and make them feel safer than getting tested in-store, but they have few options for that.  
For Glover and other bicyclists, it's part of a larger issue of ensuring equitable opportunities for a critical service during the pandemic. In Chicago, 27 percent of households don't have access to a vehicle, according to Chicago Metropolitan Agency for Planning. 
"This is part of a pattern where access to important health care is a lot harder with people who don't have cars — it's not just COVID-19 testing," Glover said. "It's getting the vaccine, it's getting any manner of health care really. Really anywhere, but especially in a place like Chicago that should be unacceptable from a public health standpoint."
Glover works for the Metropolitan Planning Council as a transportation associate and used some of his expertise to "try to reason and protest" with the CVS staff. 
Glover saw the driver-side window of the car in front of him was down the entire time. The pharmacist confirmed they'd service people on motorcycles and convertibles, so it wasn't clear why bicyclists weren't allowed. 
To add to the confusion, the motor-only policy seems to be somewhat hit or miss when it comes to whether the testing administrators will follow the rule. Some bicyclists said they successfully made it through drive-thru COVID test sites at CVS and Walgreens. Glover got tested on his bike at a Walgreens drive-thru a few weeks before trying at CVS. 
But Jen Walling, executive director at Illinois Environmental Council, said she waited in line for 30 minutes at a Walgreens in Edgewater before ultimately being turned away. 
Walling has to get regularly tested before going to the state capitol for her work as a lobbyist. 
"When I got to the front of the line, they refused to serve me," Walling said. "It's just a nasal swab — I easily could have done that on my bike. If the confirmation email had said no bicycles, I wouldn't have gotten in line."
When she explained to the test administrator she didn't have access to a car, she received the same suggestion as Glover — get somebody else to drive or take a rideshare. 
"So, not only now do you have to call an Uber and pay to get this test that's supposed to be free, you also risk exposing someone," Glover said. 
Both Glover and Walling instead opted for a third option — take the loss and scramble to find a new testing location that doesn't require a car for access.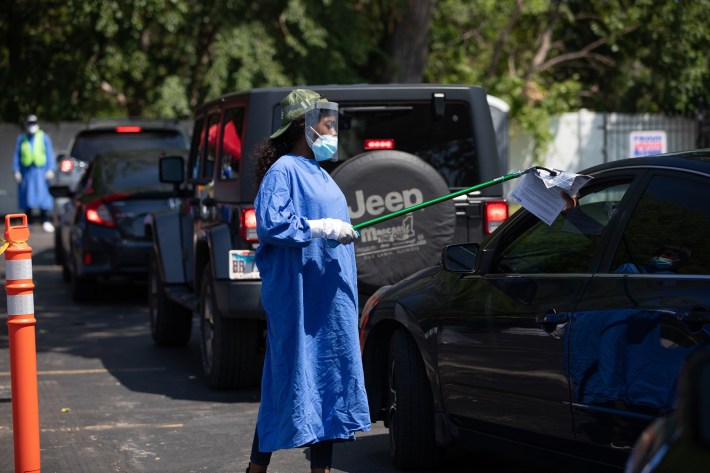 A Walgreens spokesperson said bicyclists should be able to obtain a COVID-19 test through their drive-thru testing locations. 
The CVS website specifies a motor vehicle is required for drive-up testing. A spokesperson said in a statement they "require the use of a motor vehicle in our drive-thru lanes to help ensure the safety of our patients." E-bikes don't count, the spokesperson said, since the primary concerns is someone on a bicycle or e-bike being hit by a larger vehicle. 
According to state law, bicyclists have the same rights as motorists. But attorney Mike Keating said any private corporation like CVS can dictate what type of vehicles come on their property. 
"Ideally, large-scale retailers like CVS or Walgreens at a minimum would have policies in place to reflect the state laws," said Keating who specializes in bicycle injury lawsuits. 
Some cities have passed laws or ordinances addressing the bike-through issue.
In Portland, as of 2018, businesses "must serve customers using modes other than a vehicle such as pedestrians and bicyclists" while open and "other pedestrian-oriented customer entrances" are unavailable or locked. 
"It's inconsistent to say that you're going to exclude bicyclists for safety reasons, but you don't exclude large SUVs or other cars that have a short turning radius," Keating said. "A large motor vehicle that doesn't navigate well in a tight space would seem to be a far greater liability concern than a bicyclist."
W. Robert Schultz III, a campaign organizer at Active Transportation Alliance, also said it's critical for health providers to understand the various ways people access health care.
Schultz is also on the board of directors for Howard Brown Health Center, which offers three walk-up locations for COVID testing, two on the South Side and one on the North Side. 
"Access to transportation and access to health care are two important and complementary human rights issues," Schultz said. "One of the social determinants of health is the ability to transport oneself from where you reside to a location where you can get health care, and the proximity of that is important as well as the ways that you can access that care." 
Citing Portland's legislative change, Seattle transit activists called on their mayor and City Council to adopt similar guidelines as a result of "businesses converting to drive-thru only," and "transit-dependent people, in particular members of the disability community who are blind and low-vision," lacking access to services that are even more important during a national health crisis.  
"Long story short, bikes are good for business. Bikes are good for communities," Keating said. "These large-scale pharmacies want to say that they're in the communities to help people — here's an opportunity for them to do just that and for an illogical reason they are denying help to people who need it just because they're on a bicycle."
Subscribe to Block Club Chicago, an independent, 501(c)(3), journalist-run newsroom. Every dime we make funds reporting from Chicago's neighborhoods.
Already subscribe? Click here to support Block Club with a tax-deductible donation.
Listen to "It's All Good: A Block Club Chicago Podcast" here: