NORWOOD PARK — After more than a year of being closed, popular Polish restaurant and buffet Red Apple is ready to welcome back diners.
The buffet at 6474 N. Milwaukee Ave., which has been in the neighborhood for 30 years, has been closed due to the pandemic since March 2020. But customers who have been begging the owners to reopen can breathe a sigh of relief: The Red Apple reopens Saturday for weekend service and will be open weekdays by appointment only for large parties.
Co-owner Anna Hebal decided to reopen in August as the "vacation craziness" dwindles down and as students prepare to go back to school. But she said reopening after more than a year of silence has not come without its adjustments.
"We were thinking of opening on Labor Day but we decided to do it a little earlier to oil the wheels because when you open up after a year, you have to adjust," Hebel said.
"Food prices changed dramatically, some equipment, after a year of standing, was getting rusty and had to be renovated and oiled. People that used to work with us had other jobs and are coming back slowly."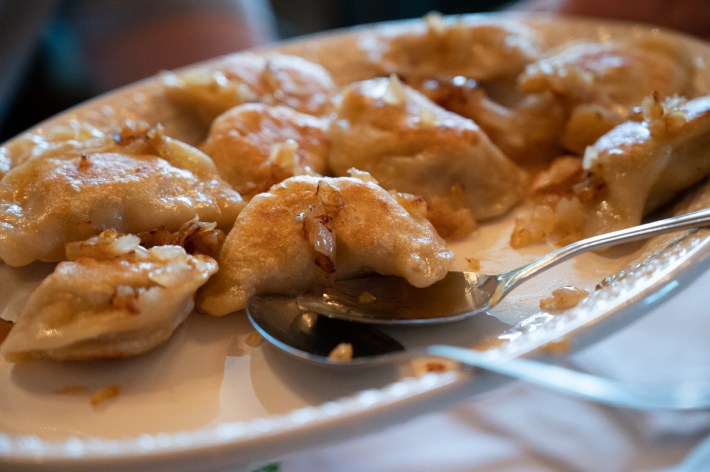 Hebel, who is from Poland, co-owns the restaurant with her husband.
The couple opened their first location in Avondale in 1989. The Norwood Park restaurant opened a few years later.
They shut down the Avondale eatery in 2019, saying it was too much to manage two locations.
RELATED: Red Apple Buffet Closes After 30 Years In Avondale To Make Way For New Apartment Building
Hebel said they could weather the pandemic closure thanks to savings that covered their property taxes, even without revenue coming in. They own the Milwaukee Avenue building.
Customers are eager to come back, get their fill of the Polish cuisine and support the neighborhood staple.
In recent months, Hebel has been bombarded with calls from customers as far as Michigan and Wisconsin who frequented the restaurant on the weekends. She even received a certificate from Restaurant Guru recommending Red Apple, even though it's been closed for 16 months.
"People want to go out and share a meal together, so let's see how it plays out," she said. "It's a lot of food, it's freshly made, it's a good deal, so you can't lose. … Let's just talk and eat and laugh."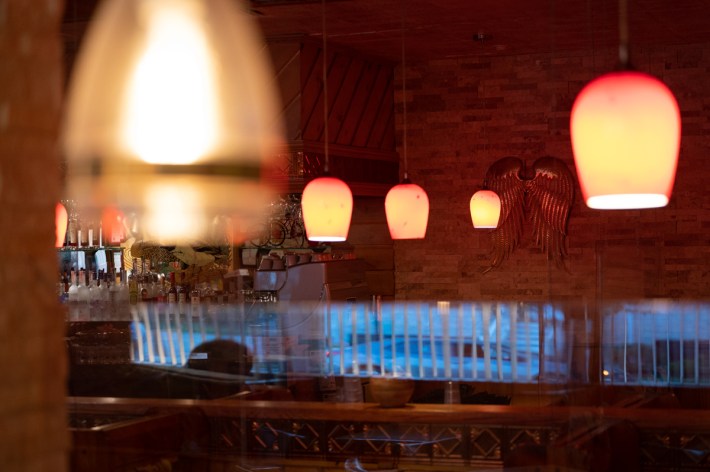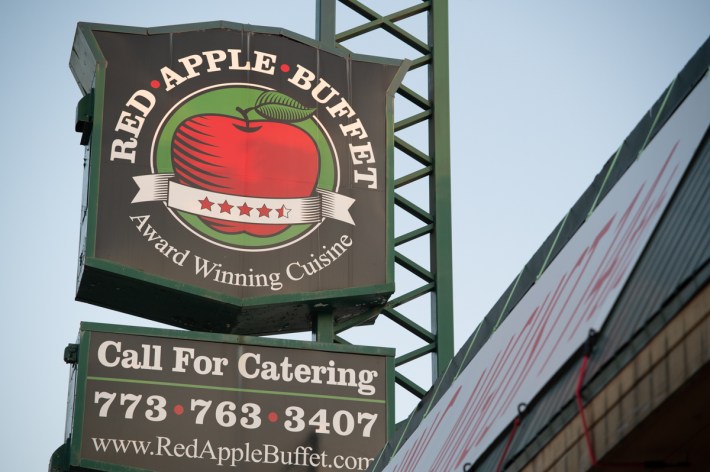 Władysława Domaradzka, a retired typesetter for the Dziennik Chicagoski who lives a few blocks from Red Apple, drove by the restaurant two weeks ago after seeing the large banner across the top of the building promoting the reopening.
She said she and her friends have been waiting patiently for the restaurant to start serving again.
"It's not just me — a lot of people are asking when they are finally going to reopen," Domaradzka said through a translator.
Domaradzka, also from Poland, has lived in Norwood Park since 1993. She said she frequents Red Apple and can't wait to get her fill again.
"I will eat anything, most often pierogi and gołąbki [stuffed cabbage], but everything," she said.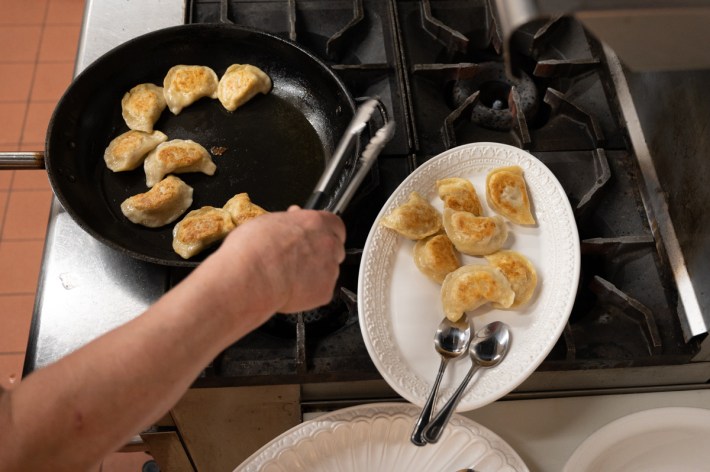 Red Apple will also offer catering for 10 or more and a weekend takeout menu for those who don't feel comfortable eating indoors yet. People will be able to choose from 14 classic Polish dishes, including herb baked chicken, tilapia, stuffed cabbage and pierogi.
With the rise of the Delta variant, Hebel said she encourages people to wear masks when not at their table to make sure everyone feels safe, especially those who are not yet vaccinated.
The buffet will have a pump with hand sanitizer and gloves if people would like to use them.
Hebel said she will see how the business does on weekends and might consider opening the buffet during the week in the future. She already knows the restaurant will be open for Thanksgiving, a busy time for the staff "because no one makes turkey like we do."
Hebel also hopes to host neighborhood events in the future and use the space to showcase local talent like music and visual art.
Over the years, she and her husband have collected paintings that represent the old lifestyle of Poland, featuring historical country houses, carriages and landscape views. Some still hang in the restaurant, while others will be donated or sold to help local schools and Polish-related causes.
"It's the super old way of living that we even don't remember but it represents the old country," she said, adding they are an ode to the heritage of the culture that can be felt at the restaurant.
But for now, she is excited to welcome people back into the restaurant — though she's not sure she will get much sleep before the weekend because of the stresses of reopening.
"It's scary, it's a different era. People are acting differently but we are very excited," she said.
The buffet will be open noon-9 p.m. Saturdays and noon-8 p.m. Sundays.
Weekday service will accommodate groups of 39 to 139, and the food will be served family style. To reserve a family-style appointment, call the restaurant at 773-763-3407.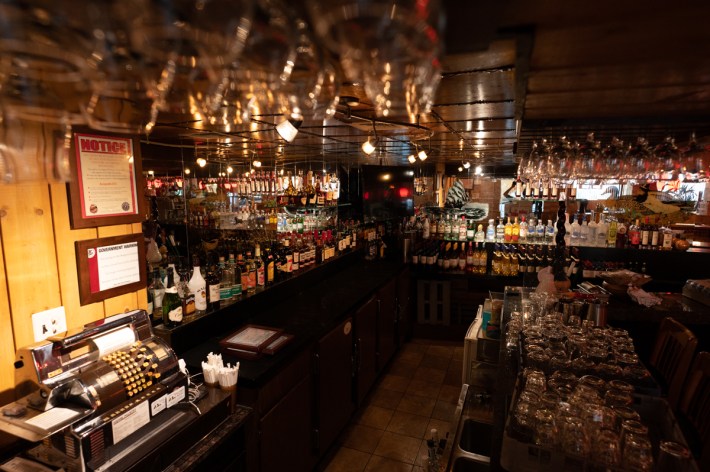 Subscribe to Block Club Chicago. Every dime we make funds reporting from Chicago's neighborhoods.
Already subscribe? Click here to support Block Club with a tax-deductible donation.
Listen to "It's All Good: A Block Club Chicago Podcast" here: