CHICAGO — The pedestal that once held a 33-foot Christopher Columbus statue has stood empty for a year now. An advisory committee commissioned by the city last summer is still figuring out what to do about it and other city monuments deemed problematic.
The Chicago Monuments Project was started last summer by Mayor Lori Lightfoot after a protest in Grant Park where people attempted to remove the Columbus statue. The protesters and police violently clashed — and the Columbus statue, as well as two others in the city, were removed in the dark of night.
The city created the advisory committee — composed of city officials, artists, activists, historians, scholars, architects and educators — in October and launched a six-month-long community engagement project.
But a year since the Columbus statues were moved, there remains no final decision on what will happen to the pieces that were deemed problematic. The committee has said it wants to hear more from residents before making recommendations to the city.
Some local artists have said perhaps monuments and the way people are memorialized needs to be changed altogether.
"Monuments themselves — as we traditionally envision, as these larger-than-life figures, usually on a pedestal outside — are actually incredibly ineffective ways of remembrance," said Jojo Galvan, a public historian, museum consultant and Northwestern doctorate student who served on the advisory committee. He specializes in Latino histories and experiences in American cities.
The discourse revolves around several core questions: Who has a right to public memory? Which histories have been written over? How do we make public art an inclusive, restorative process?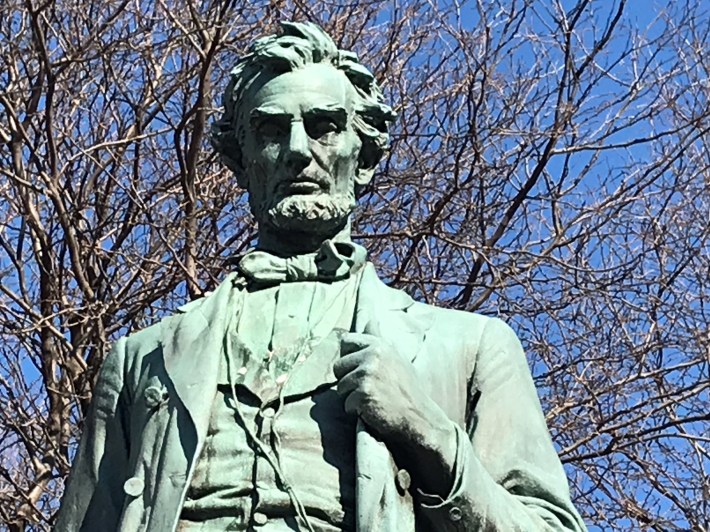 'Public Spaces Are For Everyone'
The city's goal was to bring together community members and the advisory committee to get feedback on how the city should handle its stock of statues, memorials and monuments.
In February, the Department of Cultural Affairs and Special Events released a list of more than 40 monuments that were deemed "problematic" and were said to need "further review."
The list includes a number of works that have been the subject of controversy, including multiple statues of Columbus and a monument to Italo Balbo, a fascist politician who served under Italian dictator Benito Mussolini.
Also flagged were statues of a number of presidents — including five of Abraham Lincoln, two of George Washington and one of Ulysses S. Grant — and multiple pieces of work that feature Indigenous people.
The Chicago Monuments Project's website does not say why individual pieces were flagged for review. But previously, officials said monuments on the list promoted white supremacy, presented one-sided views of history or presented inaccurate characterizations of Indigenous people, among other things.
For months, the committee held virtual events to hear from residents about what, if anything, should happen to such monuments.
But the committee has not yet released its recommendations for the flagged monuments. Now, they're calling for more in-person engagement before final decisions can be made. 
In the year since the Columbus statues were removed, there's been much public debate and tension over what monuments should stay, which should go and how Chicago should represent its communities and histories in public art.
For instance, Lake Shore Drive was renamed DuSable Lake Shore Drive in a heated 33-15 City Council vote. The name honors Jean Baptiste Point du Sable, the city's first Black, non-Indigenous settler, but the vote was contentious — and the move was not supported by Mayor Lori Lightfoot and a handful of aldermen.
And last week, an Italian American group filed a lawsuit against the Park District in an attempt to bring back a Columbus statue that was removed last summer from Arrigo Park. 
Galvan said the traditional process of monument creation is flawed in and of itself. 
"They're a part of our day-to-day built environment," he said. "We often walk past them so much that we just stop noticing them after a while. We seem to only pay attention to when the person or individual the monument depicts comes into question."
The static nature of these monuments has created problematic dynamics between the monuments and the spaces they preside over, Galvan said. 
"… Public spaces are for everyone. And for far too long, Chicago has really made its public space exclusionary for a lot of people through the monuments and the stories that are told," he said. "Because many of those are historically incorrect. Many of those stories present historical violence." 
The current citywide and nationwide movement to re-evaluate monuments is about "democratizing public space " and about creating a new vision for what American cities should represent, Galvan said.
Jalen Kobayashi, a musician, community organizer and healer from the West Side, said monuments must transcend traditional static forms and pay tribute to Chicago's most underrepresented communities if they are to be truly inclusive. Kobayashi had protested the Columbus statues and celebrated their removal outside Lightfoot's block last summer.
"We need to be monumentalizing communities," Kobayashi said. "I need to see more scenarios, more visions for the future in my everyday life reflected in public art. It needs to offer energy and a sense of motion."
Kobayashi said that for public art to have impact, the surroundings of a community must reflect value and investment in the people who live there. They referenced a mural in East Garfield Park as an example of the way that investment in public art should be supported by real investment communities as a whole.
"The mural is beautiful," they said. "But all around it are liquor bottles, garbage, empty lots … . I don't want to see more empty promises." 
For Galvan and Kobayashi, the process of reimagining is one that involves more active uplifting of Black and Indigenous histories as well as an evaluation of what is functional and empowering for each specific community in Chicago. 
"Now more than ever, communities are veering away from a great man cast in bronze," Galvan said. "When thinking of representing a community, why can't a monument be an open space? Why not a park? Why can't it be something else … something that might serve a more functional purpose?"
For Kobayashi, a future of public art and monuments in Chicago must also directly involve the city's youth. 
"This is what communities have been saying," they said. "Give the kids a paint brush." 
Subscribe to Block Club Chicago, an independent, 501(c)(3), journalist-run newsroom. Every dime we make funds reporting from Chicago's neighborhoods.
Already subscribe? Click here to support Block Club with a tax-deductible donation. 
Listen to "It's All Good: A Block Club Chicago Podcast" here: