CHICAGO — Fluky's claims to have invented the Chicago-style hot dog, which alone places it in the most hallowed halls of Chicago fame.
But to denizens of West Ridge, the nearly century-old spot is known for a very different reason: its gum.
The hot dogs — and the classic trappings of a Chicago-style dog, originally known as a "Depression Sandwich" — were the initial draw at Fluky's, which started in 1929 on Maxwell Street, when Abe "Fluky" Drexler converted his father's fruit cart into a hot dog stand.
"Fluky's set the standard for what a hot dog stand should look like," said Richard Bowen, a retired Loyola University Chicago professor and the co-author of "Hot Dog Chicago." "And then it just got better and better."
Bowen was charmed by Fluky's owner Jack Drexler — Abe's son — who he described as "ebullient and a little mischievous." Drexler's playful spirit was the driving force behind Fluky's when it opened a sit-down spot at 6740 N. Western Ave. and when it moved to 6821 N. Western Ave. four years later.
The small chain wasn't just beloved for its sausages, though: For many years, Fluky's also provided miniature, bubblegum versions of its hot dogs to kids when they ordered.
"We had a friend in the confectionary business, and my dad and I went looking for novelty items," Jack Drexler said. "I saw the hot dog bubble gum and I thought that was a natural fit — but I had no idea it would take off like it did."
Fluky's would hand out hot dog gum for more than 40 years.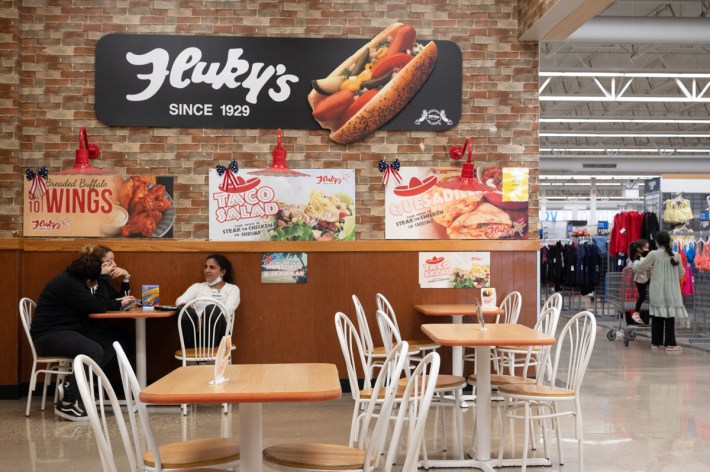 "The gum is the most nostalgic part for me because I haven't seen hot dog gum since," said Alyse Liebovich, a librarian in Chicago who loved Fluky's as a kid.
Michele Steele, an ESPN reporter who grew up going to Fluky's, would watch as the restaurant's workers made her family's Chicago-style hot dogs.
"Fluky's was a singular experience as a child," Steele said. "It was one of the few places where an 8-year-old had agency."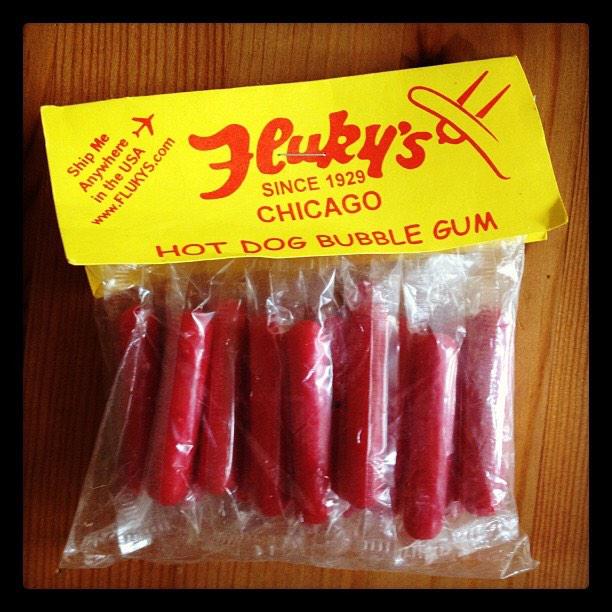 After the hot dog was dressed, the counterman would liberally sprinkle individually wrapped hot dog gum packets on a red tray for Steele — and other kids — to nab.
RELATED: Chicago's 10 Oldest Hot Dog Stands Have Stayed Within Families For Decades
Liebovich remembers the shocking red gum had a glossy, thick candy coating that took work to get open. 
"There was a sort of satisfaction from cracking open the little hot dog," Liebovich says. "It then melted into a very thin layer of little candy pieces. You definitely wouldn't chew it long or try to blow bubbles." 
For Chicagoans who frequented Flukey's in the '80s and '90, the gum was unlike anything they'd seen. It wasn't a stick or a blob — it was clearly a hot dog in candy form. 
"It was fun, something to give back to kids," Drexler said. "Even adults would come in and finish their meal and then ask for hot dog gum."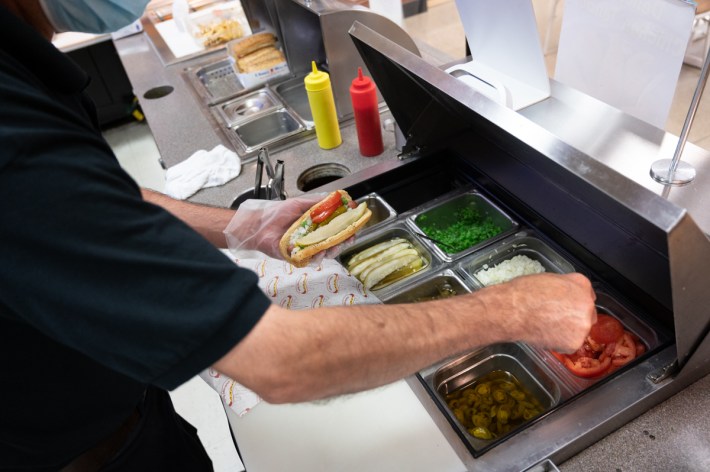 Beyond its shape, the hot dog gum was the rarest of childhood commodities: a piece of candy that parents seemed to overlook. Heather Kaplan, who works in advertising and lives in Chicago, had a father who was a dentist and a family that didn't give out candy on Halloween. 
"I didn't have to go to the drugstore and buy candy. It was presented on a tray to me, and that was so deliciously evil," Kaplan says. "I would savor the contraband. There was a ballast of cinnamon that just disappeared, and then it was like chewing rubber — but I'd still give it a couple of chews to defy my parents." 
The gum tasted of cinnamon — but only for a few smacks. It's allure was all in the anticipation: the moments spent at the Fluky's table next to the mini-jukeboxes, which had buttons that depressed but never played music, as you waited to unwrap dessert. 
"I don't remember relishing the gum," Steele said. "I think the flavor lasted as long it took for you to leave the premises." 
The flavor went quickly — but the memory of Fluky's lingered. For Kaplan and Liebovich, it was a connection to family, wrapped gum pressed into hands by grandmothers during visits and squirreled away in pockets and backpacks to be discovered years later. 
Fluky's on Western closed in 2006, and with that closing fans feel like a chapter shut on an iconic hot dog joint. 
"It was a simple and good family place that felt like a very important part of the West Rogers neighborhood," Kaplan said. 
A series of franchises never really took off. A Fluky's location failed to connect with tourists at the North Bridge shopping mall. A line of hot dogs came and went from grocery store shelves.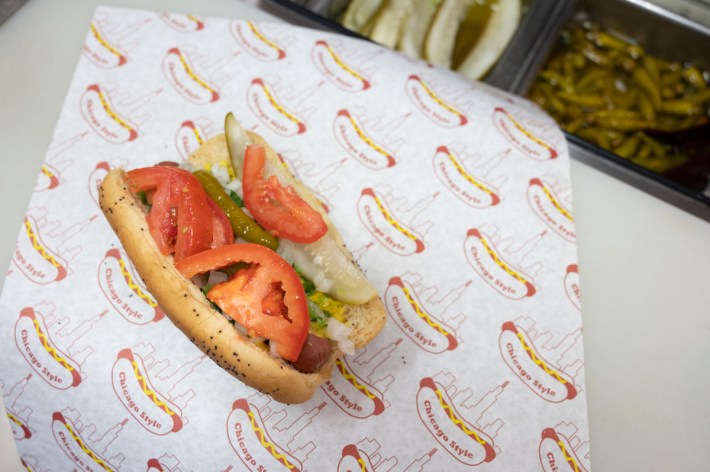 But Fluky's remains tied to the neighborhood where thousands of kids once waited for a cascade of cherry-red candy.
"Fluky's is part of the hot dog past," Steele says. "It's part of the North Side and anyone who grew up within 3 to 4 miles of Pratt and Western." 
The hot dog gum itself became more difficult to find and more expensive for Drexler. The candy company went bankrupt. A Mexican confectioner got the texture right, but not the cinnamon bite. At one point, Drexler said Fluky's was the sole U.S. distributor for the gum — made in Canada at the time — shipping out cases to like-minded hot dog joints from Arizona to Atlanta. But the uniqueness of hot dog gum eventually caught up with it. 
"It was a real niche item. Not everybody and their brother buys hot dog gum," Drexler said. "Hershey's decided not to make it anymore, and that was the end of that." 
Today, a single Fluky's hot dog stand operates inside a Walmart in suburban Niles. There's no gum — but customers still come to reminisce. Drexler is open to finding a second location for Fluky's. He's also hoping his family's restaurant can celebrate 100 years near the end of this decade. 
"I mean, to have a little place, a hot dog operation, last this long — obviously, we're doing something right," he said.
Block Club is celebrating National Hot Dog Month. Tell us about your favorite hot dog memories by emailing Newsroom@BlockClubChi.org, and read more stories here.
Subscribe to Block Club Chicago, an independent, 501(c)(3), journalist-run newsroom. Every dime we make funds reporting from Chicago's neighborhoods.
Already subscribe? Click here to support Block Club with a tax-deductible donation. 
Listen to "It's All Good: A Block Club Chicago Podcast" here: