PORTAGE PARK — A group of local artists and friends want to make Portage Park a little more artsy and weird.
The Seventh Corner Gallery, founded by five artists who are recent transplants to Portage Park, wants to bring more creativity to the Northwest Side. The goal: create a space that can foster the visual arts community, showcase emerging artists and collaborate with local businesses to bring back arts entertainment that has been dormant in the neighborhood.
The gallery wants to focus on showing illustrative, lowbrow artwork with a street-art aesthetic and creating a community hub that's lacking in Portage Park, said Steve Seeley, one of the founders and a member of the board. He has shown his pop culture work around the country.
"It's like street art meets pop culture art," Seeley said. "It's a market that is represented well, but there are not galleries that really focus on that."
The Seventh Corner Gallery does not have a physical space, but the founders hope to find a permanent storefront next year. For now, the gallery plans to host art shows and pop-ups with local businesses.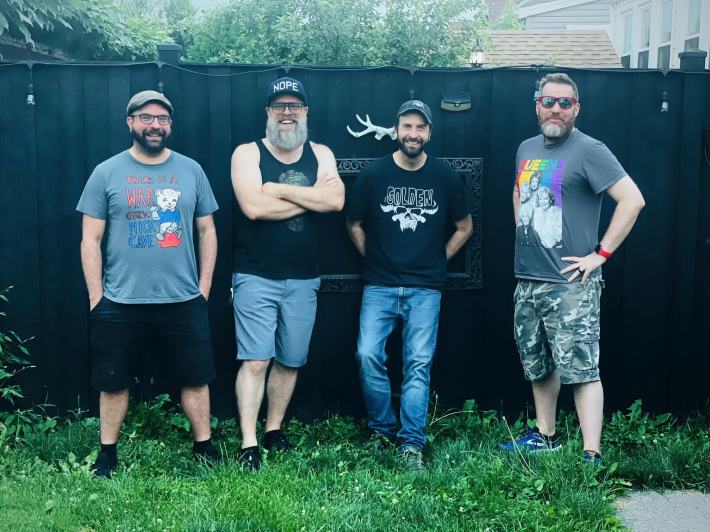 The gallery's first pop-up, called "Intersections," takes place 5-9 p.m.Saturday at the Irish American Heritage Center, 4626 N. Knox Ave. It will feature work from five Northwest Side illustrators.
"We wanted to have a show before we got a final space because that will take a little while," said co-founder Tim Seeley. "Get these artists shown and take advantage that people are going out again."
The writer, artist and professor, who has lived in Portage Park for about two years, said the team wants to educate the area about diverse art collecting.
Tim Seeley said the team has worked with local business owners to get artwork displayed and is always on the hunt for more business partnerships. The gallery is working with ERIS Brewery and Cider House in Old Irving Park, which is showing artist Corinne Halbert's work.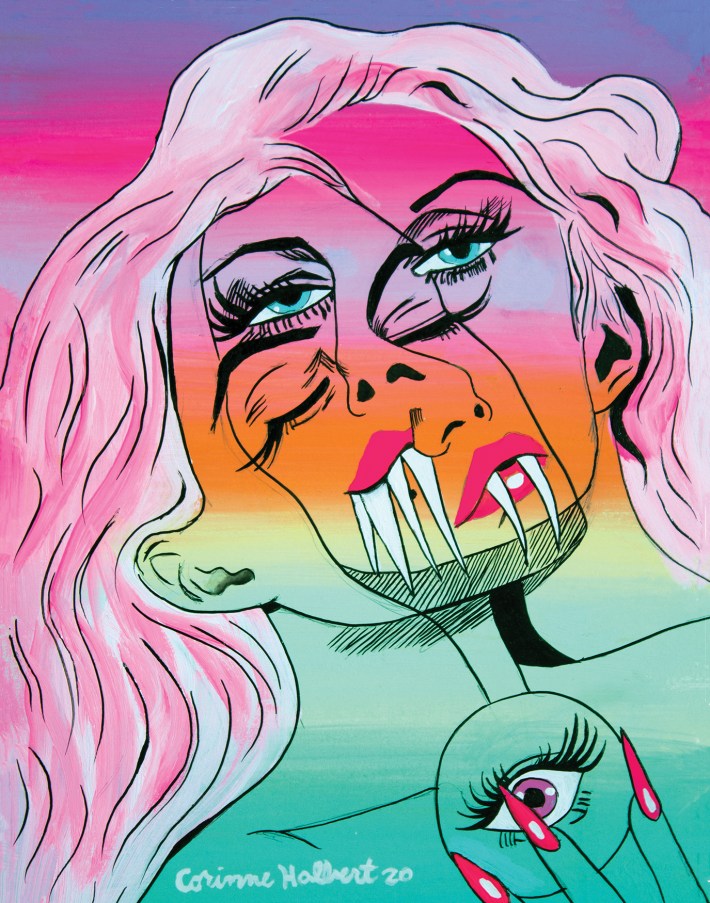 Halbert is one of the five local artists whose work will be exhibited at the Saturday pop-up. The Portage Park painter, illustrator and cartoonist specializes in erotic horror and horror comics.
"I think it's fantastic because this area really needs it," Halbert said of Seventh Corner Gallery. "It has a lot of young art professionals who live in the area. I think it will be a big boost to the cultural impact over here."
Halbert plans to show eight paintings from her "Mutations" series at Saturday's show, which were born out of the pandemic and exist in "a playful world rich with abstract figuration, haunted femininity and psychedelic vibrations," she said.
"When the pandemic started, I had a burning desire to make work that just makes me feel good," she said. "So with my 'Mutations' series, I used colors that made me happy and started a new way of building experimental compositions that felt really organic and therapeutic."
Other visual artists — Nick Pyle, Isamar Medina, Mitch O'Connell and Oscar Joyo will show their work at the pop-up.
Tim Seeley wants the gallery to revitalize the neighborhood's arts scene and put Portage Park on the map as an artistic community.
"When I tell people here in the city, 'I live in Portage Park,' they say, 'Where's that?'" he said. "It's not associated with Chicago, even though it's one of the oldest neighborhoods.
"People that do know it, know it for these old theaters, which are now empty. It would be amazing to get that creative heat back to some degree, even if there are some means of reminding people that this used to be a place where you came for shows, theater, movies — things that it's not anymore."
The Seventh Gallery hopes to create more opportunities for artists to collaborate, Tim Seeley said. More pop-ups and art events are on the way, including holiday-themed events.
"We encourage artists who live in the area to come up and talk to us," Tim Seeley said. "We want to meet you."
Subscribe to Block Club Chicago. Every dime we make funds reporting from Chicago's neighborhoods.
Already subscribe? Click here to support Block Club with a tax-deductible donation.