GARFIELD PARK — A Chicago police program rerouting people arrested for drug offenses out of the criminal justice system and toward treatment will be citywide by the end of the year, officials announced Thursday.
The Narcotics Arrest Diversion program offers treatment for substance use disorder, provided by community health partners. Individuals who agree to participate are screened and referred to the appropriate treatment by a clinician, then released without charges and transported to a treatment center, Deputy Police Chief Antoinette Ursitti said. 
At least 700 individuals have been steered toward treatment since the program launched three years ago, Ursitti said.
The program started at the Harrison Police District (11th) and has expanded to 11 others, Ursitti said. Those stations offer walk-in support for those struggling with substance use disorder, who can talk to a provider, get connected to local resources and get access to naloxone, the lifesaving medication that can reverse otherwise fatal opioid overdoses in just minutes.
By the end of the year, the program will be available at all of the city's 25 police districts. Making the program citywide signals a larger shift toward treating substance use disorder as a problem requiring medical intervention instead of criminal prosecution, Ursitti said.
"Three strikes and mass incarceration failed and did more harm than good. It has long been obvious that we cannot arrest and jail our way out of this," Ursitti said.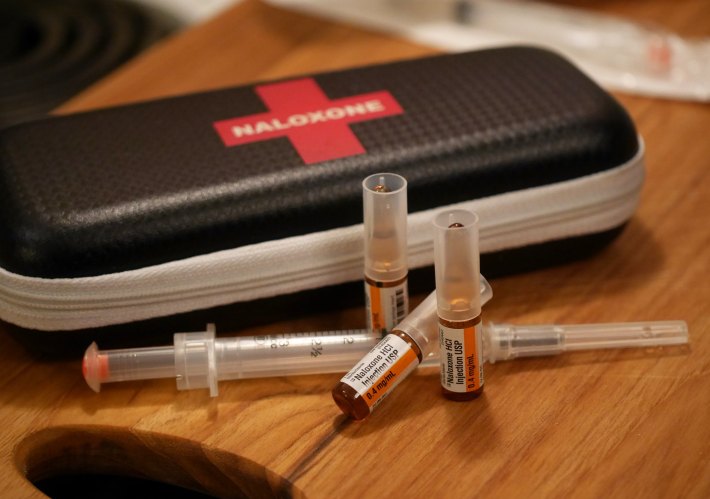 Narcotics Arrest Diversion started as a pilot in 2018 as a partnership between Chicago Police, the city's public health department, the University of Chicago's Crime Lab and Thresholds.
The Harrison district was chosen as a launch site because it's one of the areas in the city with the most opioid overdoses and drug arrests. The program initially focused on four communities most impacted by opioids, according to the Chicago Department of Public Health: Garfield Park, North Lawndale, Austin and Humboldt Park.
RELATED: West Side Overdoses Surge As Coronavirus Shutdown Makes It Harder To Access Addiction Help
There have been more 1,500 fatal opioid overdoses in Chicago in the past year, a 50 percent increase over the previous year, said Dr. Allison Arwady, CDPH commissioner.
Overdoses are concentrated in areas with high levels of economic hardship, like the West Side, she said. Half of the fatal overdoses occurred among Black Chicagoans, data shows, even though around one-third of the city is Black.
The expanded program will help people suffering with substance use disorder, a treatable and chronic medical issue, get medical care regardless of where they live in the city, Arwady said. Approximately 25 percent of participants had never before sought out treatment, so the program is helping steer people towards medical care they may not otherwise access, Arwady said.
Medical providers provide immediate treatment for those experiencing overdoses, and also help ensure participants can access long-term care, said Tim Devitt, vice president for clinical operations at Thresholds.
"This project serves as a recovery pathway for people who have a high risk for opioid overdose," Devitt said. "… We also focus on connecting people to care and following-up."
The strategy helps keep people with substance use disorder out of jail while also keeping "law enforcement resources focused on prevention and response to crime, especially violent crime," Arwady said.
"There are ways that the criminal justice system has been trying to handle problems that are really primarily medical problems," Arwady said.
Subscribe to Block Club Chicago, an independent, 501(c)(3), journalist-run newsroom. Every dime we make funds reporting from Chicago's neighborhoods.
Already subscribe? Click here to support Block Club with a tax-deductible donation.