AUSTIN — Drug overdoses have skyrocketed this year — and Black and Latino communities are being devastated.
About 1,400 people in Cook County have died of opioid overdoses, already surpassing last year's death toll, according to the Cook County Medical Examiner's Office. Half of the people who died of overdoses this year are Black.
RELATED: From Murders To Suicides To Coronavirus, An 'Unprecedented' Number Of People Are Dying In Cook County
Black people are being hospitalized for overdoses at seven times the rate of white people, according to Illinois Department of Public Health data from June.
The West Side has long been the epicenter of the opioid epidemic, and multiple community programs have sprung up to support people struggling with addiction. But by March, the coronavirus pandemic had swept in, shifting attention from the opioid crisis to another.
The shutdown and social distancing guidelines aimed at curbing the spread of coronavirus made it more difficult for health and treatment centers to provide clinical care, recovery groups and counseling to those suffering from opioid addiction.
Combined with the hopelessness from the pandemic, those challenges have contributed to a devastating rise in overdoses and deaths, experts said.
"We saw a great number of patients that came in that were overdosed," said Sherrie Spencer, chief nursing officer at Saint Anthony Hospital in Lawndale. "The anxiety of COVID, it does lead to people drinking more and using more. Because this fear leads people to self-medicate."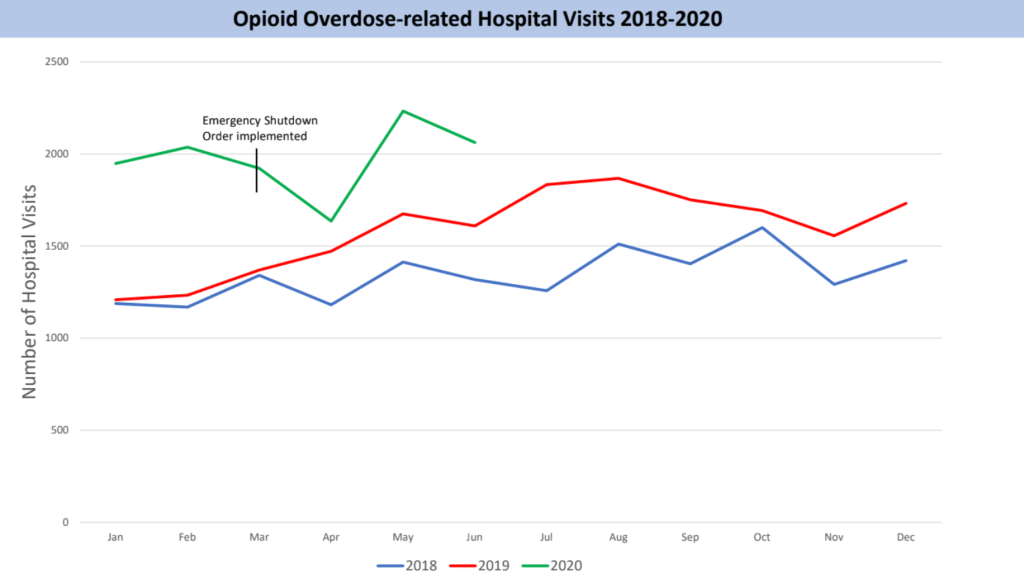 State Rep. La Shawn Ford convened the West Side Heroin and Opioid Task Force in 2016 to address the overwhelming concentration of overdoses on the West Side. Ford said the task force now is focused on helping people struggling with addiction see doctors, counselors and attend recovery meetings.
Many fighting opioid addiction use behavioral health support, group meetings and medication-assisted recovery drugs like methadone, suboxone or vivitrol to help break addiction. But the pandemic forced many 12-step recovery programs to shut down, and it's been much harder to have face-to-face visits with counselors and doctors for treatment, Ford said.
"People were not able to go in to see their providers," Ford said. "It's very difficult to have people who struggle with substance use disorder to have arrived at a structured program, only to be later kicked off of that particular schedule and program, asking them to adjust."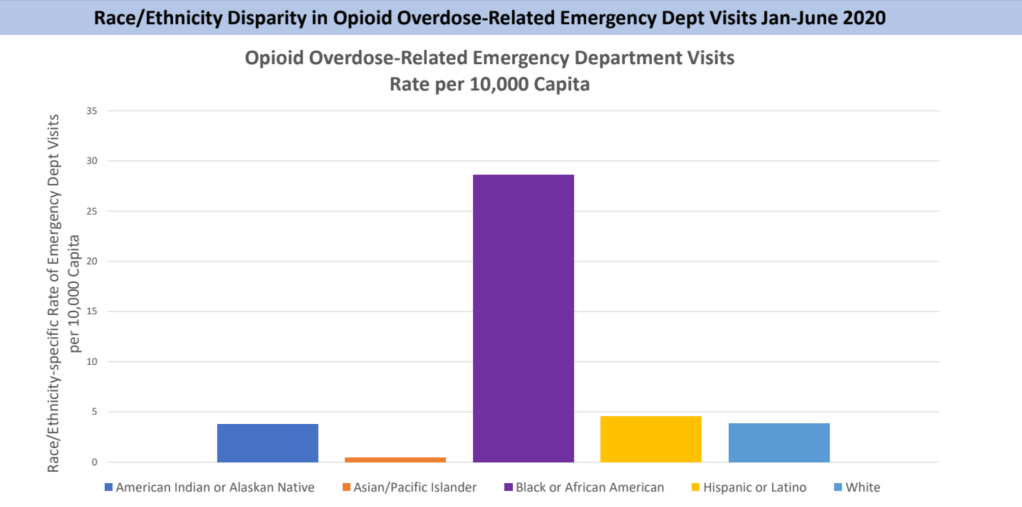 At Saint Anthony, the medical stabilization unit that offers short-term treatment for opioid use and coordinates longer-term recovery was forced to downsize to accommodate the surge in coronavirus patients.
As the hospital shifted to respond to the pandemic, Spencer said fewer patients were coming to the hospital for opioid addiction treatment.
"We did see that patients were reluctant to come into the hospital to seek care, and that could be due to fear and anxiety of COVID," Spencer said.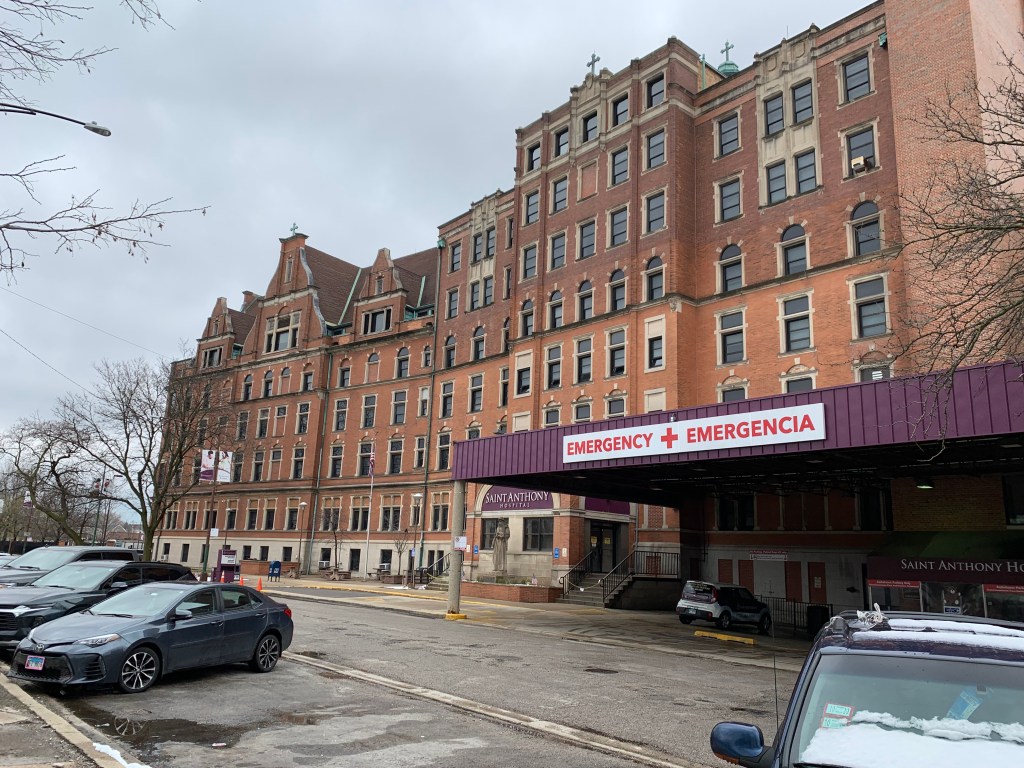 Dr. Thomas Huggett of the Lawndale Christian Health Center said he was forced to stop seeing patients in-person in March. Huggett has been able to see patients virtually, but he said the transition to telehealth has made it hard for some patients to get treatment, especially since there are far fewer options for walk-in care.
RELATED: Needle Exchange Programs Cutting Back During Coronavirus Crisis (BGA)
Lawndale Christian's Breakthrough Clinic at Kedzie and Carroll avenues was also forced to close temporarily. The clinic is a critical resource for several homeless shelters, and Huggett said many patients he serves at Lawndale Christian are experiencing homelessness.
Without easy access to a clinic within walking distance, people are much less likely to seek care, Huggett said, especially since many patients hear of the clinic through word-of-mouth from others in recovery.
The Kedzie corridor near the clinic has been a hotspot for overdoses, Huggett said.
Patients experiencing homelessness also have another barrier to getting clinical care: They often lack the phones and computers needed for virtual care. That makes it particularly difficult for new patients to get prescriptions and treatment.
"Most of the folks that I've started on medication for a opioid use disorder are experiencing homelessness up and down that Kedzie corridor," Huggett said. "I have one patient who has a phone, I think he lets about five other people use his phone to call me. They don't have their own phones."
Most 12-step group meetings in the area were canceled for some time, Huggett said. With fewer options for face-to-face counseling, there is a lot less social support and accountability for those in recovery.
"It's just very social in nature. That's part of the support. So if that's taken away from you, it makes recovery just so much more challenging," Huggett said.
Like other addiction programs, Phoenix Recovery Support Services in Austin has had to make changes to accommodate social distancing rules. The organization is the only state-licensed recovery home in the neighborhood, and it's had to limit residential treatment to only folks coming from other licensed facilities.
Since it is a residential center, organizers have been able to continue their own in-person group meetings and counseling. But Executive Director Vauna Hernandez said the already low capacity for inpatient treatment in the area has been diminished.
"It is limited because the facilities have to kind of limit the people that come in," she said.
And with few in-person 12-step meetings, Hernandez said the recovery community has adapted by using virtual meetings. But those meetings just aren't a perfect substitute for the kind of support that comes with a typical group.
"With the online meetings in particular, there's not that sense of community and warmth for somebody who is new," Hernandez said.
Without the face-to-face connection, it is also harder for people to find a sponsor, which Hernandez said is an important part of recovery.
Recovery groups recently have been expanding outreach to improve access to treatment. Saint Anthony's opioid unit reopened in mid-July and already has served more than 84 patients. Even when there isn't enough capacity, the hospital and other treatment centers don't turn away patients and can help to find an appropriate program.
Many previously shuttered 12-step meetings are reopening. Treatment centers like Healthcare Alternative Systems have increased their mental health service offerings while stepping up social distancing and sanitation measures.
"We're constantly expanding so that we're able to accommodate the need in the community," Hernandez said. "But we definitely need more resources to deal with this epidemic."
Pascal Sabino is a Report for America corps member covering Austin, North Lawndale and Garfield Park for Block Club Chicago.
Block Club Chicago's coronavirus coverage is free for all readers. Block Club is an independent, 501(c)(3), journalist-run newsroom.
Subscribe to Block Club Chicago. Every dime we make funds reporting from Chicago's neighborhoods.
Already subscribe? Click here to support Block Club with a tax-deductible donation.