BUCKTOWN — About 7 a.m. each morning, Keith Skogstrom steps inside a brick building down the street from The Hideout and goes to a room smelling of wood stain and sawdust.
Skogstrom turns Pandora radio on to whatever his coworkers want to hear — lately, that's Cults, LCD Soundsystem and Roosevelt — and prepares materials for his next project: made-to-order cabinetry, tables, doors and more.
As the city reopens and businesses spring back, Skogstrom's Geodesic Designs, 1680 N. Ada St., is slowly returning to its bread and butter of custom woodwork for homeowners. But Skogstrom's not quite out of the woods yet.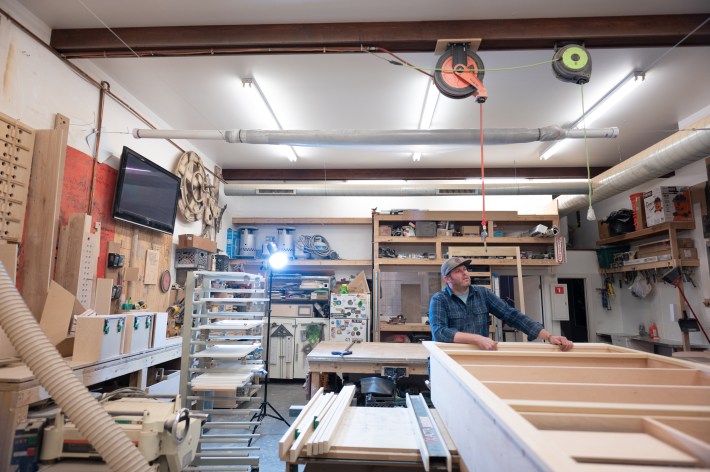 Many independent businesses have struggled or closed altogether during the pandemic. Skogstrom furloughed his staff because coronavirus made working inside homes impossible.
Skogstrom can now be in closer contact with clients thanks to vaccinations, and he's brought back three employees part-time. But ongoing logjams in the global economy — including lumber and paint shortages — are driving up costs and making it tough to fulfill orders. A critical piece of equipment that got held up in the Suez Canal didn't help.
Even as demand for Skogstrom's services is rising — after a year inside, some homeowners are finding time and money to tackle a big project — he still has to cobble together "random jobs" to stay afloat until supplies are more available. There's little time or financial flexibility to devote to community art projects.
"This is definitely a COVID story," he said. "The frailty of the supply chain has definitely been illustrated. I'm losing sleep over getting edge tape for cabinets.
"Most of my creative energy has gone toward survival."
From His Parents' Basement To The Chicago Board Of Trade
Skogstrom grew up in Springfield, Ohio, and studied fine art at Ohio University. After graduating, he worked construction jobs to learn the art of woodworking. He created sculptures in his parents' basement until 2008, when he moved to Ukrainian Village.
The artist worked in bars and restaurants while learning more about woodworking. He did odd jobs for contractors and spent a few years at Home Depot.
While living at the corner of Greenview and Blackhawk, Skogstrom noticed his landlord was not renting an unfinished garden unit. Skogstrom moved some equipment into the basement and unofficially started his wood shop.
Skogstrom worked out of the basement for four years before his landlord "caught" him, at which point he started paying rent. Shortly after that, he signed his lease for Geodesic on Ada Street.
The bulk of Skogstrom's business is custom orders from homeowners. Skogstrom has about 30 clients at any given time.
"Slowly, in the last four years, we're coming into our own," he said. "It's the art of it that people have lost the ability to do."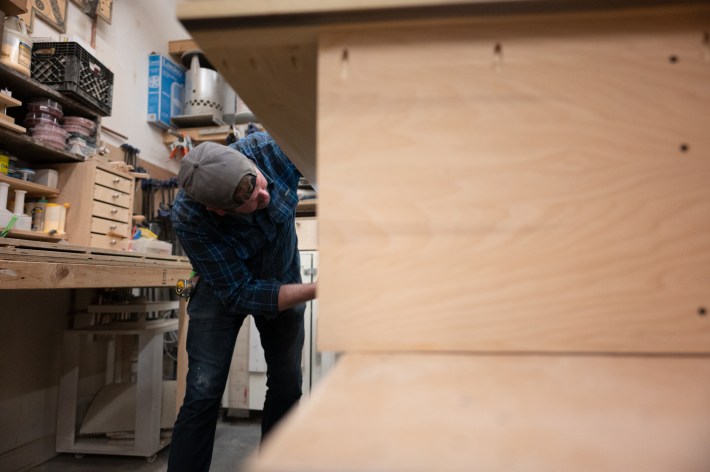 Skogstrom's business flourished on solo home projects until the pandemic hit Chicago and he no longer could be inside clients' homes.
"Everything stopped," he said.
Then came the lumber shortage. Before the pandemic, a standard wall stud cost $4.18. Now, that same amount of wood costs $14.42, Skogstrom said.
The prices have steadily increased, which affects the clients' project bids. Six months after agreeing to a project, Skogstrom had to tell the client lumber costs had gone up roughly $10,000.
Paint itself was plentiful, but the aluminum needed for the cans was hard to come by, Skogstrom said.
"It's very hard to explain to people who are used to getting things," he said. "Our bread and butter is artistic furniture … features done by hand. They understand."
Different projects require various dimensions of wood cuttings. Before the pandemic, Skogstrom bought pre-cut wood. But the increased cost of wood brought on by the global shortage meant Skogstrom had to use equipment, called a planer, to measure and cut wood himself.
Skogstrom's planer was old and small and couldn't keep up with the sudden demand. Four months ago, he bought a new $12,000 planer from a German company.
The manufacturing of the planer was delayed because parts were out of stock due to a global steel shortage. Once it was finally built and ready to ship, a massive container ship blocked the Suez Canal in Egypt, delaying the planer's transport yet again.
The equipment is still sitting on top of a cargo ship outside San Diego, Skogstrom said.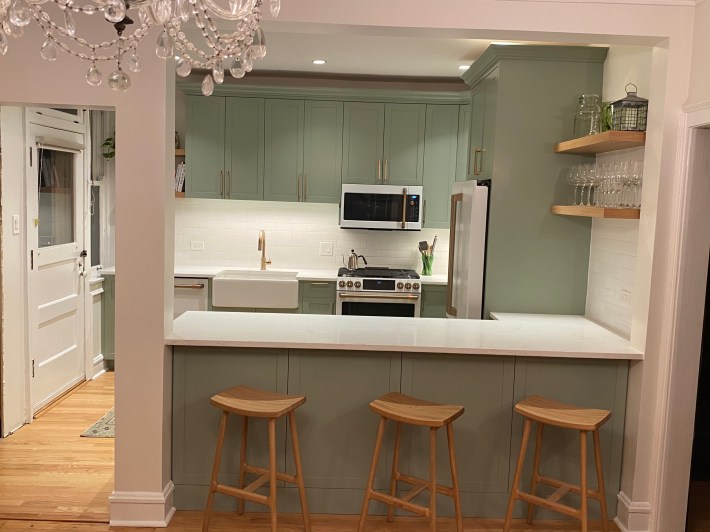 'Never Has This Place Been More Valuable To Me'
Despite all the challenges, Skogstrom maintains a positive outlook. His next community project will be building lockers for The Bloc, a nonprofit boxing club.
"If you can survive a pandemic, you can survive anything," he said.
The best way neighbors can help is to place orders, Skogstrom said. Those who aren't in the market for custom woodwork can help Skogstrom and his city-based colleagues by advocating for maintaining manufacturing sites along the North Branch of the Chicago River.
When Elston Metal Tanks closed its neighborhood shop, Skogstrom had to start driving to suburban Addison to buy supplies he once bought locally.
Skogstrom also worries about continued development of Lincoln Yards, which is across the street from his front door. Once luxury condos are built, Skogstrom worried his new neighbors might not like the sound of trucks rolling down Ada.
"Never has this place been more valuable to me," he said. "We have to be cautious about going overboard with the removal of manufacturing. … I think people take for granted how accessible manufacturing is. They drive by our shop a million times a day and don't know we're here."
Follow Geodesic Designs on Facebook. For more information, call 937-215-4106 or visit the company's website.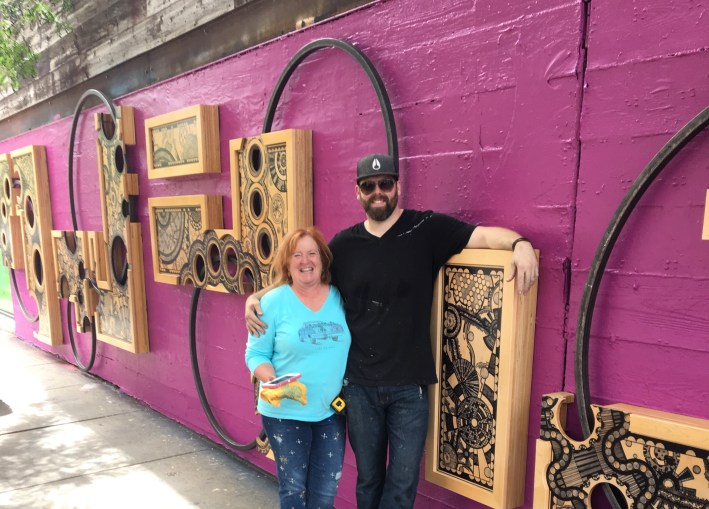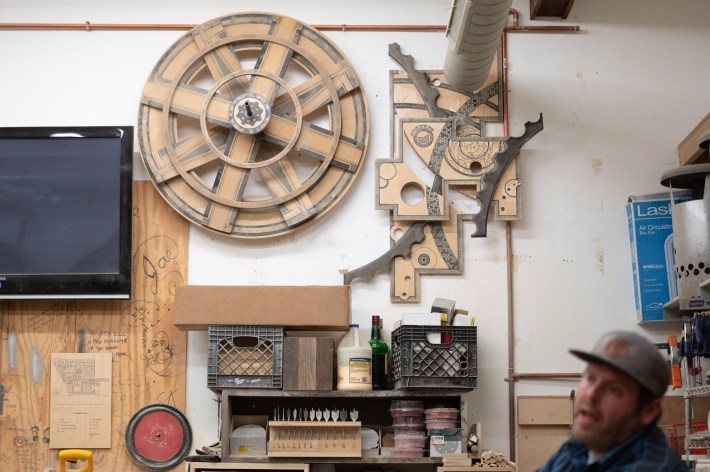 Subscribe to Block Club Chicago. Every dime we make funds reporting from Chicago's neighborhoods.
Already subscribe? Click here to support Block Club with a tax-deductible donation.
Listen to "It's All Good: A Block Club Chicago Podcast" here: