THE LOOP — The Downtown economy has sputtered during the pandemic — and the relative emptiness of the streets is also hurting houses of worship.
The president of the area's only synagogue said they, too, are being pushed to the brink.
Chicago Loop Synagogue was founded in 1929 and moved into 16 S. Clark St. upon the building's completion in 1957. The synagogue has lost members over the years, going from about 1,400 members in 1992 to 416 now. Dues that max out at $180 a year are not nearly enough to cover the temple's $400,000 in annual operating costs, congregation President Lee Zoldan said.
The majority of the congregation are Chicago Jews who belong to synagogues near home but work Downtown and sometimes attend services closer to their offices. With many of those workers still at home, and hardly any travelers from out of town, the synagogue is in a precarious situation, Zoldan said.
"COVID didn't help, and what that means is donations are down," Zoldan said. "People who come here during the week are now working from home, so they are going to their synagogues in Skokie or Rogers Park or wherever they live."
The lack of financial support means the synagogue cannot offset the costs of operating the three-story space, including covering expenses such as heating and cooling. If people don't return to services soon, the synagogue won't last more than 18 months, Zoldan said.
And if the temple is forced to relocate, it'll call into question the future of the synagogue's 30-by-40-foot stained glass window, which attracts tourists from all over the world.
"Technically, we could pull up our stakes and move; it's not unheard of. We don't need this big building for our congregation. But we can't move this," Zoldan said, referring to the window.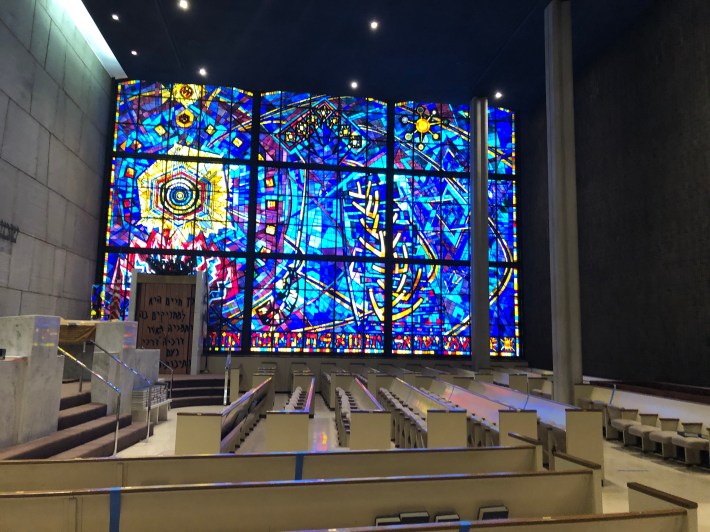 The window was designed by renowned artist Abraham Rattner. It is on the second floor and extends to the fourth floor of the open sanctuary. The exterior is protected by plexiglass. Before the pandemic, architecture tours routinely brought nearly 2,500 to see it on weekends.
In the window's left corner there is a sun, along with symbols of creation and a tree of life. There are also 12 squares symbolizing the 12 tribes of Israel, Zoldan said. In the center panel near the top, there is a menorah; a fern, known as the Palm of Shins, a symbol from the fall Succoth festival, goes across three panels; a star of David; a sun and a shofar (the ram's horn used during the high holidays); a moon and planets; and a prayer in Hebrew. 
The building also features Rattner lithographs in the Beit Midrash and the entry to the Social Hall and the Hands of Peace by Henri Azaz, which crowns the entrance to the synagogue. But it is the stained glass window that Zoldan said her congregation is especially concerned about.
"The other synagogues that have gone out of business, they take their stained glass windows and actually bury them because it's considered like a death. So, we have people that are very distraught about this. They have an attachment, and we have some that are the third-generation coming here," Zoldan said.
Ward Miller, executive director of Preservation Chicago, said he spoke with Zoldan about other options to save the window and the building. Were they to secure landmark status for the building's exterior, that would include the window and ensure any new owner would have to keep it in place.
Zoldan said they have made no decision on whether to pursue landmark status.
Miller said losing the Loop synagogue would be a big blow to Chicago's Jewish community. The Standard Club, considered the social nexus for Chicago's Jewish elite for more than 150 years, closed in 2020.
"Certainly, the Standard Club closing was a blow to all of us," Zoldan said. "We're in the position where we are trying to learn from their experience what we should and shouldn't do.
"I think a lot of people felt like, 'Wow, I didn't know this was happening,' so I'm in the position that I want people to know what exactly is going on here, full disclosure, total transparency, so if the worst comes to pass people can't say we stuck our heads in the sand. I'm screaming from the rooftops."
While the synagogue is facing financial hardships because of the lack of attendance, other nearby religious institutions are seeing signs of hope.
St. Peter's Church at 110 W. Madison St. is the only Catholic Church in the Loop. Like the synagogue, parishioners are mostly members of churches near their homes, but they attend services at St. Peter's when Downtown for work. St. Peter's attendance, down by more than half of what it was before the pandemic, is slowly coming back, said Father Derran Combs.
"We get between 30 and 50 parishioners per day," Combs said. "It was probably double that" before the pandemic.
Pastor Michael Fowler echoed Combs and said they are not in danger of closing permanently.
"We're not anywhere near where we were before COVID, but people are starting to come back and starting to work more Downtown. … We will not be shutting down," Fowler said.
Muslims in the Loop are also slowly coming back to the Downtown Islamic Center at 231 S. State St., its officials said.
"Over the last year, we've been down considerably, but things are coming back. Hopefully the city opens back up soon and things will get back to normal soon," said employee Muhammad Nadeem.
Zoldan said that gives her hope for the synagogue.
"I'm thrilled to hear that. I feel like we all are in the same boat and we all kind of sink and rise together. So, if they are seeing people come back, that's excellent," Zoldan said.  "We've seen our numbers rise, but only by a person or two, but I'll take their version of it."
One option to raise money that the synagogue has considered is hosting concerts and educational programming, Zoldan said.
"We're open to anything. But theater isn't happening, either," she said.
Zoldan said if they do move, the congregation would want to stay in the area where it has served worshippers for decades.
"We feel like we still need to serve the neighborhood, but we don't need a free-standing building with all the expenses to do what we need to do," she said.
Chicago Loop Synagogue welcomes donations through its website.
Subscribe to Block Club Chicago. Every dime we make funds reporting from Chicago's neighborhoods.
Already subscribe? Click here to support Block Club with a tax-deductible donation.